How To Pack For Your Next Golf Trip
The second-greatest invention, after the wheel, is the suitcase with wheels. At the PGA Merchandise Show this past January, I fell in love with a new line of rolling luggage from Club Glove called TRS Ballistic (clubglove.com). The bags are made of the same kind of tough nylon that was used to make World War II flak jackets, and if you're traveling with more than one of them, you can hook them together and pull them as a unit, including your golf bag, if you have a Club Glove travel case. A couple of months ago, I realized that I needed a new carry-on bag (because the plastic bottom panel of my old standby, also by Club Glove, had cracked), so I went to the company's website, itchin' to buy. But guess what? A TRS Ballistic carry-on bag costs $700! And with a five-year warranty it costs $800!
So I followed my daughter's advice and, instead, bought a Mother Lode TLS Mini 21-inch rolling duffel, by eBags, which was on sale for a little less than $150, lifetime warranty included (ebags.com). I've now taken it, as my only suitcase, on week-long golf trips to Scotland and Ireland, and it's the best piece of luggage I've ever owned. It has handles where you need them, pockets and dividers in exactly the right places, a zippered expansion gusset, and a concealable strap for attaching another bag (à la TRS Ballistic).
eBags was founded in 1998 by five guys, four of whom had worked at Samsonite. The company sells products from several hundred manufacturers, but the stars of the collection are the house-brand bags. "We have received over 2.3 million customer reviews," Peter Cobb, one of the co-founders, told me recently, "and they play a huge role in designing our products." Among the customer-suggested features on my bag: an easy-to-access "forehead" pocket for liquids and gels, and a three-inches-longer pull handle, which was requested by tall people -- who, Cobb says, "were tired of kicking their heels on their luggage as they wheeled through airports."
Airlines, by charging for checked baggage, have done us a favor, because they've forced us to rethink how and what we pack. I now carry half as much stuff as I used to, even for long trips, yet I don't feel deprived, and I no longer dread moving from one hotel to another.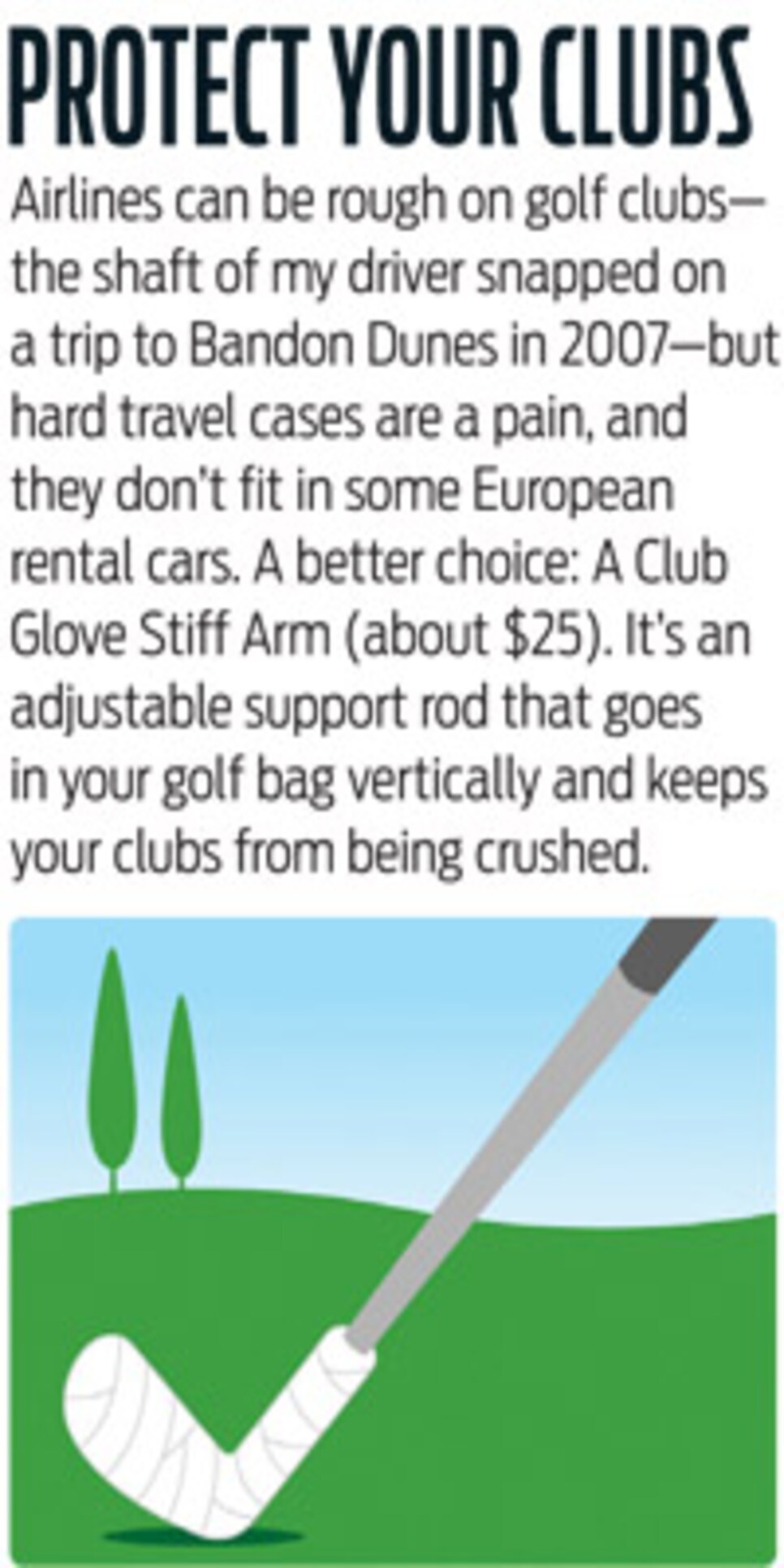 Here are some key elements of efficient packing:
1. Golf pants made of polyester microfiber, ideally in a dark color. They don't wrinkle, and you can "launder" them with a hotel washcloth, even if you get chocolate on them. Wear one pair on the plane, and pack a spare.
2. Fewer shirts than you think you'll need (because you're going to buy souvenirs).
3. Golf shoes that can pass as regular shoes.
4. A selection of eBags Packing Cubes ($19-$30 for three, various sizes), which are soft, box-shaped modules that simplify intra-suitcase organization and make it easy to use your golf bag's travel case for overflow packing.
5. A "travel kit" of Nalgene mini-bottles (less than $8; nalgene.com) for shampoo, etc.
On a golf trip to England in 2008, my friends and I had to take sportcoats so we could eat dinner in the clubhouse at Royal Lytham & St. Annes. Hacker (real name) took a crummy old one, intending to abandon it there -- a plan I foiled by spotting it in a closet and returning it to him at the airport. But the concept is brilliant: clothes you can wear, then leave behind.