Courses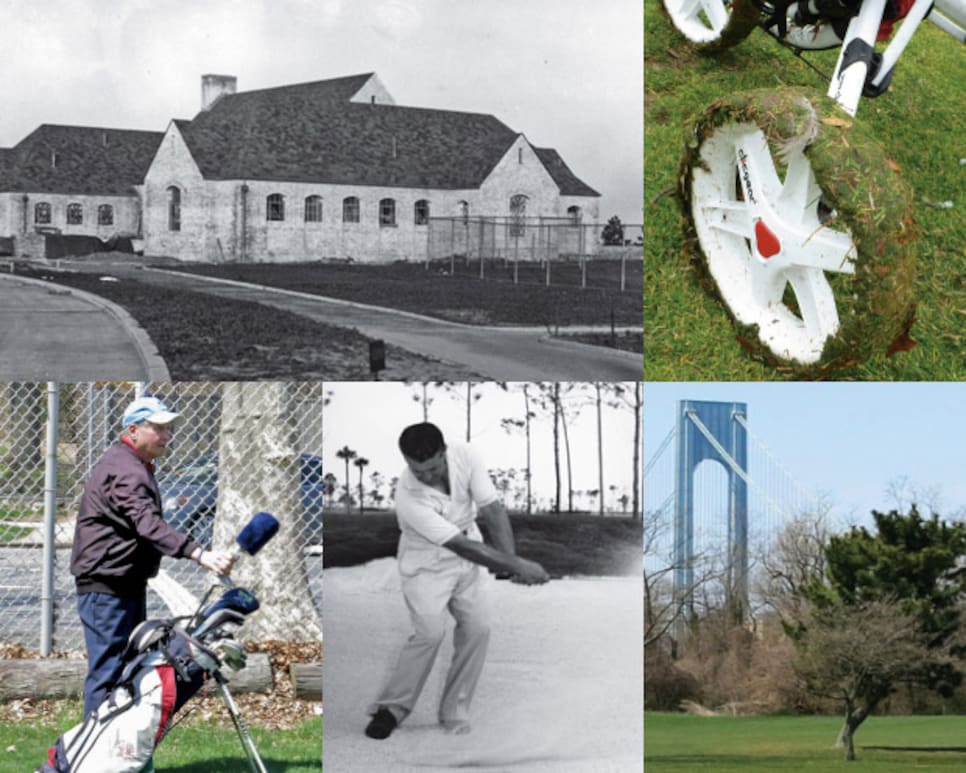 Clockwise from top left: the Dyker Beach clubhouse (circa 1930s), goose droppings, the Verrazano-Narrows Bridge, Frank Strafaci, Hacker (real name).
Clubhouse photo: New York City Parks Dept; Strafaci: Courtesy of Strafaci Family
Lou Carducci, a retired customs agent, has trouble sleeping the night before a round of golf. "I can't wait for morning," he told me recently. "I'll be tossing and turning in bed, and looking at my phone." One Sunday a number of years ago, he arrived at Dyker Beach Golf Course, in Brooklyn, N.Y., at 4:30 in the morning—not necessarily early for him. He was the tournament chairman of Shore View Golf Club, which is based at Dyker, and the club's annual Father's Day event was scheduled for that day.
"When I got there, I saw cop cars and fire engines and ambulances," he said. "I identified myself as a law-enforcement guy, and a detective said the course was closed because somebody took two in the back of the head by the 14th green." Carducci told the detective he was expecting 80 or 90 golfers in a few hours, and, the mob hit notwithstanding, would prefer to keep the course open. "The detective said, 'You're kidding me, right?' But he reluctantly agreed to ride me out there so I could have a look." The shooting had taken place near the edge of a greenside bunker, and Carducci suggested the police could isolate the crime scene by closing the 13th and 14th holes—two long par 4s that Dyker regulars dread anyway. "Again, the detective said, 'You're kidding me, right?' But in the end that's what we did."
Dyker was a rough place in the old days. Joseph Colombo Sr. lived three blocks from the clubhouse, and Salvatore (Sammy the Bull) Gravano lived a mile to the east of the 15th tee. Neighborhood kids stole the flagsticks and bunker rakes, and the course was a dumping ground for stolen cars. Until this spring, in fact, you could see the burned-out remains of a 1970s-era police cruiser in dense brush near the eighth green.
But Dyker today is one of the city's best and busiest golf courses, and it has a distinguished history. The earliest holes were laid out in the late 1800s, and the modern routing was devised in 1935, by John Van Kleek. The clubhouse was allowed to deteriorate during the final decades of the 20th century, but two years ago it was restored and enlarged by architect Page Ayres Cowley, who specializes in historic buildings. Dyker has always been the home course of the Strafaci family, whose most talented member, Frank, played in the Masters in 1938 and 1950. (Paul Strafaci, a city detective, is a Shore View member today; his father and grandfather were Dyker head pros.) Earl Woods took up golf at Dyker in 1972, when he was stationed virtually next door, at Fort Hamilton, near the Brooklyn end of the Verrazano-Narrows Bridge. Shore View, which was founded in 1930, is one of the oldest public-course golf clubs in the United States. It has 140 members and a waiting list of 40, and more than a few of the men who are waiting won't live long enough to get in.
My friends and I have taken many field trips to Dyker over the years, often on New Year's Day. Not long ago, eight of us set out a little before 5 in the morning so that we could get to Brooklyn in time to play as guests in Shore View's regular Sunday-morning game. John Perez, the club's president, supervised the picking of the teams, using a handicap-based method that he referred to as Captain and His Men.
"What's your number?" he asked one member.
My friend Hacker (real name) and I played with Ronnie Clyne, who works for a headhunter. "I grew up on the Brooklyn waterfront," he told us. "If you played golf, we beat you up and took your lunch money." Like most Shore View guys, he's self-taught and deeply addicted. "I had a hole-in-one once, at a course in the Catskills," he said. "As I picked the ball out of the hole, a tear rolled down my cheek. It was the closest thing I've had to a religious experience."
Lou Carducci played in a different group, but we saw him in the grillroom afterward. He retired in 2002, and he and his wife now live in Williamsburg, Va., in a development that has three golf courses. He's the secretary of the men's club there, but he plays in Brooklyn every chance he gets. One of his sons is a supervisor with the Department of Homeland Security, and the other is a chiropractor, and they're both Shore View members. The drive is only six to eight hours each way, and if you're too excited to sleep you might as well be on the road.