Mixing It Up At L.A.'s Historic Griffith Park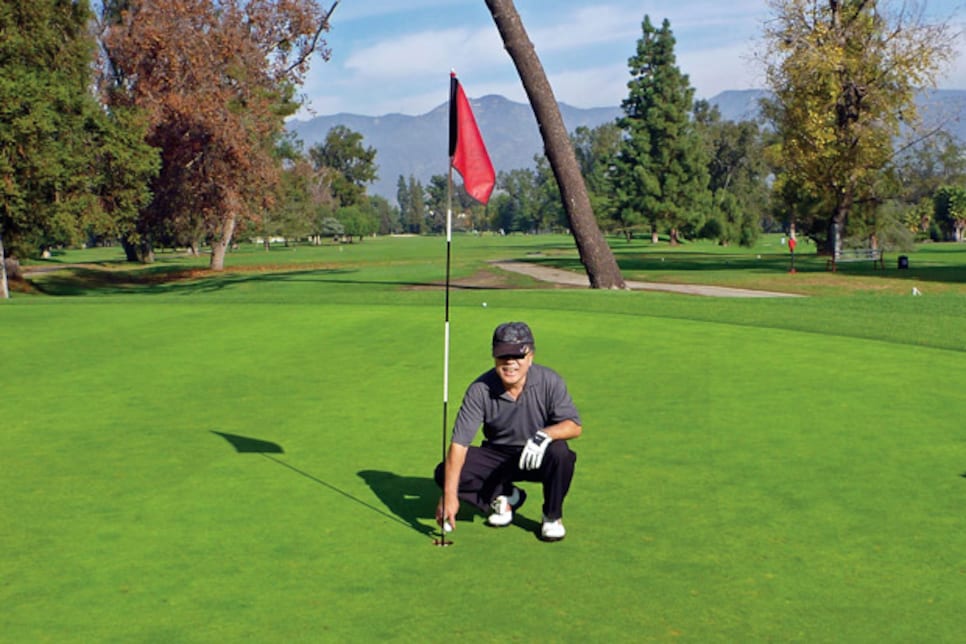 In a hotel elevator in Los Angeles, a rich-looking guy noticed my golf bag, and before we were halfway across the lobby he'd told me about the famous clubs he belongs to (among them Sunningdale and Royal Cinque Ports, both in England) and the summer house he owns near Bandon Dunes
. Somehow, the conversation never got around to me--but that's OK, because I'd come to California to play three courses that wouldn't have impressed him: Wilson, Harding and Roosevelt--all in Griffith Park, all named after presidents, all owned and operated by the city of Los Angeles.
Municipal golf used to have more cachet than it does today. Babe Ruth was a regular at Griffith Park, and, in fact, he played there on the day in 1920 when he learned about the trade that would make him a New York Yankee. The Los Angeles Open (now the Northern Trust) was played at Griffith from 1937-'39, and it was there in 1938 that Babe Didrikson became the first woman to play in a men's tour event.
Nowadays, stars like the Babes tend not to hang out at courses where the starter calls names over a loudspeaker. For the rest of us, though, there's a lot to be said for muny golf, beginning with the price. On a soggy Monday morning, I paid just $27 for 18 holes on the Wilson course
(whose namesake played 1,200 rounds while he was in the White House--more than any other president). I was paired with Troy, a Korean-American, who owns several cellphone stores and taught himself to play after becoming captivated by Tiger Woods and K.J. Choi. "Before, on weekends, my friends and I would kick back and watch football on TV," he said."Now, I'm like, 'Man, what do you stay home for?' "
After a few holes, we were joined by a Korean-American couple in their late 70s. The wife, who was shorter than my pushcart, hit her 3-wood the same distance I hit my pitching wedge, but with greater accuracy. Almost immediately, she did something that Troy and I had been reluctant to do: She walked up to the group ahead of us--two oldish Korean-American couples, who were agonizingly slow--and asked if we could play through. I can't report fully on what happened next, because the shouting was in Korean, but I do know one of the men had to be held back, and that the argument took far longer than waving us up would have. Eventually, we got back to golf, and I discovered that adrenaline had temporarily added 15 yards to my drives.

Griffith Park head Tom Barber; tempers flare over slow play.
There are no rangers at Griffith Park--a counterproductive cost-cutting measure, because slow rounds reduce revenue and discourage non-compulsives. The parks department has also closed the golf shops at several of its courses. The most notable survivor is the shop at Wilson and Harding, which has been run since 1965 by Tom Barber, whose office looks like a time capsule from the middle years of the Nixon administration. Tom's father, Jerry, won the PGA Championship in 1961, co-invented the full-fingered leather golf glove, and appeared as himself in a 1966 episode of "I Dream of Jeannie," among other accomplishments. In 1968, after seeing multi-level driving ranges during a trip to Japan, he and Tom decided to add a second story to the range at Griffith, and that range--the first double-decker west of the Mississippi--is still one of the most popular recreational facilities in the city.
(where a member of my foursome made a hole-in-one). But my favorite Griffith course is Roosevelt
. It has just nine holes, and most of them are short, but it's fun to play, and it's walking only, and the terrain and the views are dramatic. (From several spots, you can see the domes of the Griffith Observatory, which opened in 1935 on the park's highest point, the summit of Mount Hollywood.) I played one of my three nines there with Paul, who spoke more Korean than English; Lawrence, a former college baseball player and a member of the Los Angeles chapter of the National Organization of Minority Architects; and Matthew, a young sales rep for a company that sells titanium screws and other trauma-related surgical supplies. Matthew was wearing scrubs, because he had come from a nearby hospital, where he had spent the morning teaching a surgeon to use one of his company's products. He didn't have to be back in the O.R. for a couple of hours, and his clubs were in the trunk of his car, so why not?