Courses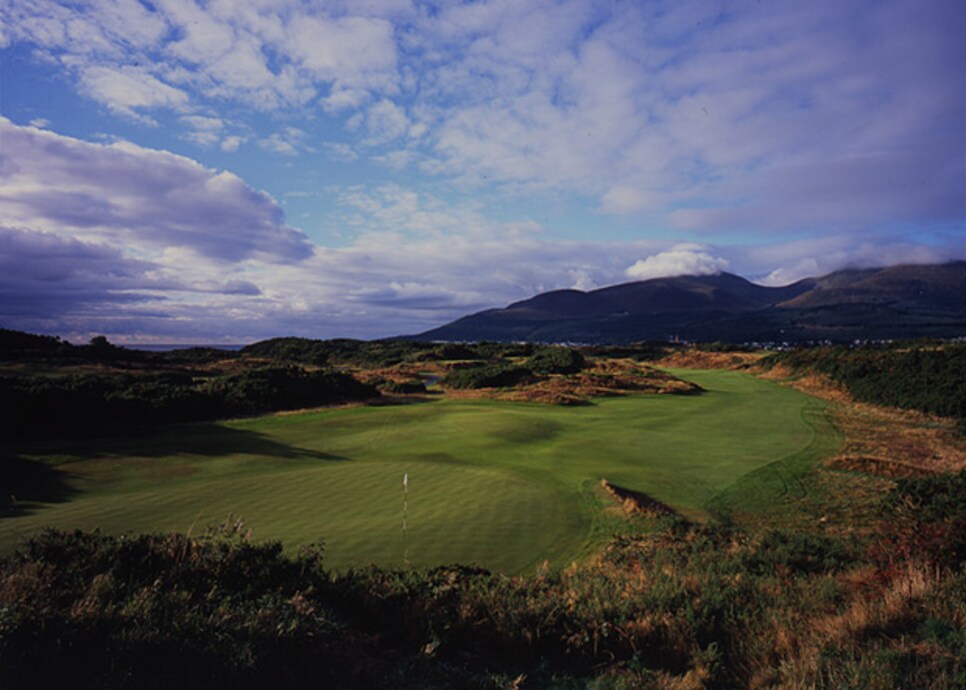 When American golfers visit western Ireland, they typically follow an itinerary as established as the Spice Route. They begin at Lahinch, which is less than an hour from Shannon International Airport, and then they head south, along the coast, to Doonbeg (designed by Greg Norman); Ballybunion (truly one of the world's greatest); Tralee (which convinces you that Arnold Palmer, who designed it in the early 1980s, knows something about golf); Waterville (co-owned by a golfaholic American hedge-fund zillionaire); and Old Head (which isn't old but sits on one of the most spectacular landforms on the planet). I've taken that trip, and if you're short a player, I could pack in an hour.
But there's a less-traveled route out of Shannon: to the north. I went that way recently and found what are now some of my favorite courses in the world. What's more, the golf was a bargain, the people I met were extraordinarily welcoming, the scenery was otherworldly, and I didn't encounter anyone drinking Bud Light or smoking a cigar.
When I first played golf in Ireland, in 1993, the country had a double-digit unemployment rate, and the most expensive course I played was the new, super-fancy K Club, which charged just less than $100 for 18 holes. The Irish economy took off shortly after that and was renamed the Celtic Tiger, but golf in Ireland was still on sale in the spring of 2001, when I returned with five friends from home. For a seven-day trip -- including single-occupancy hotel rooms, rented minivans, and 13 rounds of golf -- we paid $2,500 a man (meals and airfare extra). Things got much pricier soon after that, however, and by the mid-2000s green fees at the best-known courses were approaching Pebble Beach levels -- a blow compounded by the weakness of the U.S. dollar. Today, the Irish economy stinks again -- and that's good news for visitors. The best-known courses are still relatively expensive, but green fees at most of the places I played were less than $100, and if you're traveling with others you might be able to negotiate group discounts or free replays or other goodies. Almost all the clubs on my itinerary were extremely interested in being visited by Americans, so you don't have to be shy about inquiring.
It takes willpower to steer your rented Passat past the turnoff for Lahinch, which I first played 15 years ago and love like a brother -- but I did it. My first stop was a good two and a half hours up the coast, at Connemara Golf Club, on the southwestern shore of a treeless peninsula near the micro-village of Ballyconneely. I arrived by 11, retrieved my golf shoes from the bottom of my suitcase and played with two regulars: Gareth Anthony, who works in the club's golf shop, and Dominic Ó Móráin, the general manager of a nearby hotel. (The best preventative for jet lag is to tee off as soon as possible after landing and keep playing until suppertime. No napping!) Dark clouds were churning, and I felt one or two drops of rain -- the worst weather of the trip, as it turned out. I had packed two new rainsuits, intending to give them an Irish field test, but to do that I would have had to wear them in the shower. My sunglasses and SPF-50 sunscreen did get a workout, though.
Connemara is the product of divine intervention. In the early 1970s, a local priest -- who believed that golf might anchor the community and attract tourists to what was then a gravely impoverished region -- raised money, persuaded local farmers to sell common grazing land, and enlisted the late Eddie Hackett, who worked as a golf professional from the late 1930s until the mid-1960s and almost by accident became the George Washington of modern Irish golf design. Hackett created courses the way Old Tom Morris did, by walking over the dunes and driving stakes into the ground. He didn't believe in bulldozers and barely believed in shovels. Anthony told me that a recent group of visitors from France had liked Connemara so much that they hiked all the way back from the farthest point to buy more balls. I liked it, too -- especially the second nine.
Afterward, I followed Ó Móráin to his home and workplace, the Lough Inagh Lodge Hotel, about 40 minutes to the east. Last fall, an online reviewer described the hotel's surroundings as "Breath taking!!!" -- a description that actually doesn't do justice to the place. The lodge was built in the late 1800s as a private fishing retreat, and as far as I could tell no part of the landscape has been touched since. There are 13 guest rooms (which start at about $125 a night, including breakfast), and from the windows of the ones in front you can see only the mountain range known as the Twelve Bens of Connemara and the magnificent unspoiled lake that gives the lodge its name. Ó Móráin conjured up a late lunch, which carried me through till breakfast the next day: poached salmon, smoked salmon, crab claws, crabmeat salad, local mussels, oysters and homemade bread, which I said I didn't want but then ate all of it. I couldn't spend the night -- I had promises to keep -- but if I'd hung around, Ó Móráin said, a guide would have rowed me onto the lake so that I could catch my supper.
Instead, I moved on to the Mount Falcon Estate, on the outskirts of Ballina, about an hour to the north. The original part of Mount Falcon's main building was constructed in the 1870s as a young man's enticement to the woman he hoped to marry (he was successful), and it has recently been enlarged and extensively renovated. Guests have included Tiger Woods and Mark O'Meara, who came not for the golf but for the salmon fishing, which is said to be among the best in the world. (The hotel owns the angling rights to a two-mile stretch of the River Moy, accessible from a pedestrian tunnel under the main road.) There's also a pond stocked with trout, a "clay ground" for shooting, a spa, a fleet of bicycles and a village-size assortment of guest lodges and apartments, in addition to 32 bedrooms in the main hotel.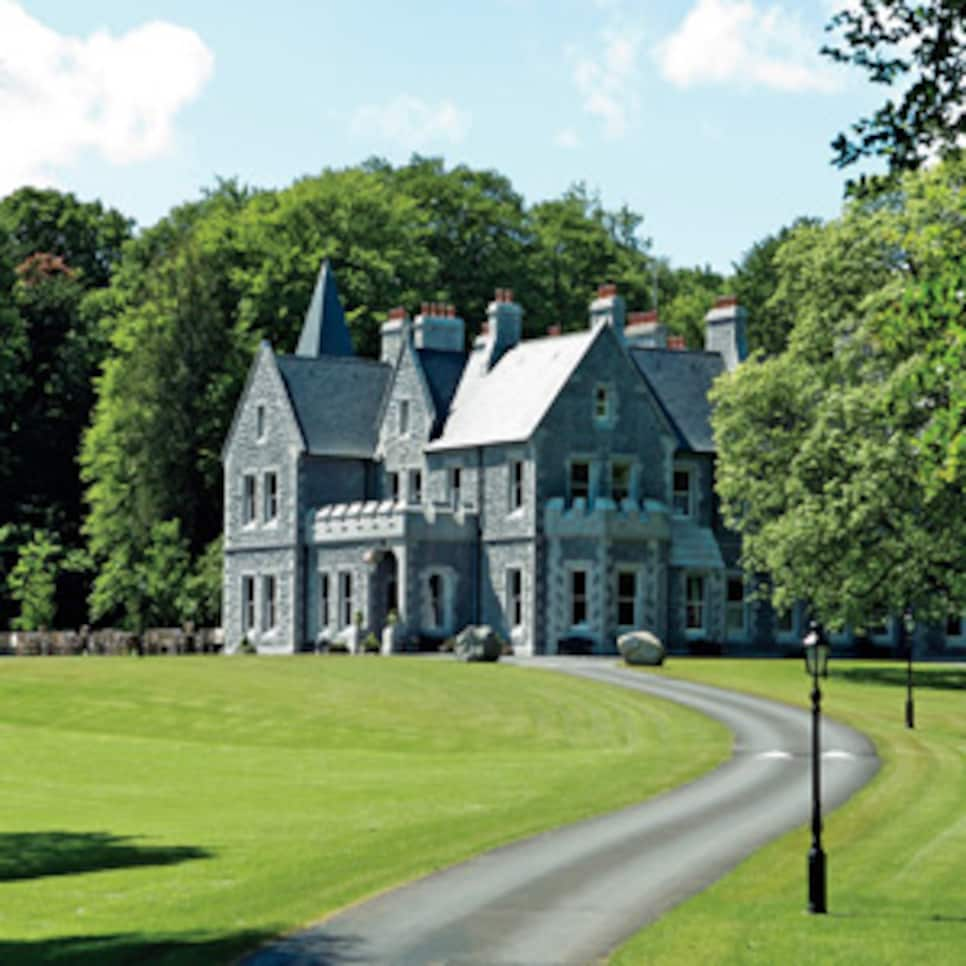 Ballina, which sits at the intersection of two main roads, is a convenient base for golf in the region. Single rooms at Mount Falcon begin at about $220, including breakfast, and the hotel often offers discounted packages. A recent deal included two nights, two breakfasts, one dinner and rounds of golf at the three best courses in the area, for about $500. And there are other, less-glamorous overnight possibilities, some of them quite inexpensive. A good place to begin looking for them is on golf-course websites, which often have links to local hotels and guest houses. Another source is the website of North & West Coast Links Golf, which is a sort of travel-promotion agency owned by a dozen golf clubs, including all but one of the ones I played.
The next morning, after a coma-like sleep and an immense Irish breakfast, I drove about an hour west, through the town of Belmullet, to Carne Golf Links -- which the tour operator Jerry Quinlan, of Celtic Golf, had described to me as "the new Ballybunion." I'd never heard of Carne before, but I now think of it almost as often as I do my children. (You can read about it in depth in John Garrity's Ancestral Links.) The course was built in the early 1990s and was Eddie Hackett's final creation. I played with Edmund McAndrew, a Belmullet milkman, who began with a tap-in birdie. On the fourth -- a par 5, on which I hooked my tee shot into a cluster of cows on the wrong side of a boundary fence -- he pointed across the road to a house and farm that used to belong to his grandfather. I went around again after lunch and was waved through by a pair of 10-year-olds competing in a junior tournament. When I asked how things were going, one said, "Not well."
Signs of economic distress are everywhere in Ireland today, most visibly in ill-conceived real-estate developments, some of which look as though they were dropped from spaceships overnight. As you enter Enniscrone -- my next stop, less than half an hour up the road from Ballina -- you encounter one of the most depressing examples, a hotel and housing complex that visitors usually mistake for a hospital, a military base or a minimum-security prison. You have to drive through the thing to get to the clubhouse, and as you do you notice vacant living rooms.
But the course -- thanks to Eddie Hackett and, mainly, to the English links specialist Donald Steel, who performed an inspired do-over on portions of the courses from 1999-2000 -- is wonderful and was one of my favorites of the trip. I played with the club's "golf convenor," or chairman, and with a young assistant pro and one of the owners of Mount Falcon. And in the afternoon I played again, with three other members: Ray and Irene, who've been married for 50 years, and Paddy, a waiter at the Loft, a pub and guest house in Ballina. (Paddy, despite the regionally appropriate nickname, is a Czech.) Ray and I played a match against Irene and Paddy, and after a few cheerily patronizing "Good shots" from me, I realized that all three of them were outdriving me. (Irene was the women's captain in 1982; Ray, who is 72, still plays to a single-digit.) Irene had a limp, which worsened as the afternoon went on; she was treated for cancer in one hip two years ago, she told me, and was expecting a similar diagnosis for the other hip in a few days. She had made sandwiches for Ray and herself but practically forced them on Paddy and me. We had a drink in the grillroom afterward, and when I stood up to intercept Ray, who had taken out his wallet at the bar, Irene said, "Sit. Down."
The toughest time to schedule a visitor round in Ireland (or Scotland or England or anywhere else) is Saturday morning, when tee times are usually reserved for members. County Sligo Golf Club, also known as Rosses Point, had a club competition scheduled for the next morning, but David O'Donovan, the director of golf, told me that he and I could play ahead of the pack if I didn't mind teeing off at 7:26. To make certain I'd be there on time, I moved to the Yeats Country Hotel, which -- according to the website where I made my room reservation -- is 0.0 miles from the clubhouse. (My single was about $80, including a breakfast I knew I wouldn't have time to eat.) I could see the course from my window, and in the morning I arrived at the golf shop a few minutes before O'Donovan.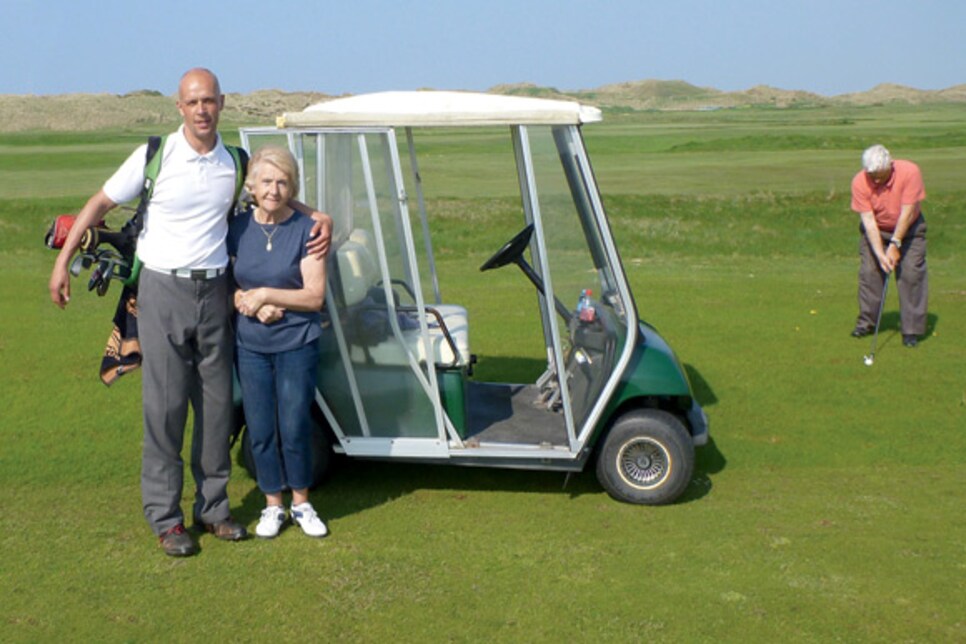 Rosses Point had just had a major amateur championship, the West of Ireland (whose past winners include Padraig Harrington and Rory McIlroy), so the playing conditions were ideal. O'Donovan, who grew up in town in a family of excellent players, insisted that we take a golf cart -- an Irish first for me, although riding was an option on all but one of the courses I played. When you're in a cart it's hard to get a feel for any golf hole, but we did make excellent time. Rosses Point begins with two good holes up a hill, followed by two very good holes back. Then you tee off over a cliff -- on a par 5 called The Jump -- and work your way around a stretch of linksland that appears flat from above but turns out to be filled with seductive complications. We finished in two and a half hours, and then, because the kitchen hadn't opened yet, played the club's third nine, which adjoins the lower portion of the championship course. With a couple of holes to go, we caught up to and joined an older member, who gave up golf for 20 years to please his second wife but had begun playing again (and was in the process of giving up the wife). "My game is coming back," he said -- a man at peace.
From Rosses Point, I drove about two hours north, to Narin & Portnoo Golf Club, among the dunes near a knock-you-over nub of the Atlantic called Gweebarra Bay. The club's entrance isn't captivating: You reach it by driving into the sort of tawdry-looking trailer park that the Irish and British seem to plant on all their choicest oceanfront real estate. But the course is tremendous, and the encampment of caravans -- whose occupants, it should be said, sustain the club and its bar -- are invisible after a hole or two. I played with the club's pro, Connor Mallon, and set a record for conversational tedium by saying "Wow! Great hole!" almost every time I opened my mouth other than to comment on the wind, which was intense. (Usually, when you mention wind on a links course, the natives you're playing with dismiss whatever's blowing as a breeze, even if you're having trouble standing. But Mallon, a good man, said he'd never known such a gale.) Later, on my way out the gate, I mentally composed an email to my wife, beginning: "Darling, how would you feel about living in a mobile home 800 miles from the Arctic Circle?"
Rosapenna, my next stop, is an hour and a half up the coast from Portnoo, and because there was plenty of daylight remaining, I turned off my GPS and left the navigation to serendipity. The region contains enclaves where the principal language is still Irish Gaelic -- which sounds like gargled marbles -- and not all the signs have English translations. A few of the roads, furthermore, would have seemed narrow even as sidewalks. But I drove through stunning countryside without becoming permanently lost, and I arrived at the (hopelessly ugly but perfectly comfortable) Rosapenna Hotel & Golf Resort in time to gorge on local seafood. (Single rooms begin at about $160, including breakfast, and there are discounted packages that include golf.)
There are two 18s at Rosapenna (plus a fifth nine): the Old Tom Morris, which includes significant contributions not only from Morris but from Harry Vardon, James Braid, Harry S. Colt and, more recently, Pat Ruddy, the creator of The European Club, which is an hour south of Dublin; and Sandy Hills, which Ruddy designed by himself and which James W. Finegan has described, accurately, as "hole after flabbergastingly brilliant hole." A better name for Sandy Hills might be Sandy Mountains: I was able to scale the tallest dune only by using my Odyssey Sabertooth putter as an ice axe. (At the summit, I was rewarded with a view of what might have been the entire Northern Hemisphere.) The wind was even stronger than it had been at Narin & Portnoo; it untucked my shirt, ripped a page from my notebook and forced me to abandon my hat. But I put it to work a couple of times and hit two of the longest drives I've ever hit -- to go with several of the shortest.
The next morning, I drove south and then north again, to Portsalon, one of the happiest surprises of my trip. The village's golf club is 120 years old, and the course, which was reworked by Ruddy a few years ago, is a beaut. The first and 18th fairways are traversed by what looks from a distance like the Swilcan Burn but is actually a sunken, stone-lined, mesh-covered walkway connecting a public parking lot and a two-mile-long beach. The beach runs the length of the course's eastern edge, and on the second hole, a 400-yard par 4, you can shorten your approach shot by driving over a corner of it while being careful to avoid a meandering stream that turns the fairway's final third into a peninsula. After my round, I ate lunch in the clubhouse.The only other occupants were a teenage girl doing her homework and a young family out for ice cream. The view through the huge windows was of staccato whitecaps on some of the bluest water I've ever seen.
Driving along the Northern Irish coast is like tracing your hand with a crayon in kindergarten: down one finger and up the next. I discovered later that I could have shortened my trip from Portsalon to Ballyliffin, my next stop, by taking a ferry across a fjord-like inlet known as Lough Swilly. But I got there anyway, spotted golf holes and a clubhouse as I descended from the encircling hills, and checked into the Ballyliffin Lodge & Spa Hotel, whose exterior is only marginally more prepossessing than that of the Rosapenna Hotel, although my room was nice and my meal in the restaurant was excellent. (Single rooms, with breakfast, begin at about $120.)
There are two 18s at Ballyliffin: the Old Links, which isn't very old (it was built just after the end of the Second World War), and the Glashedy Links, which was named for an unpopulated granite knob off the coast. The Glashedy was created in the mid-1990s by Ruddy and Tom Craddock, an Irish amateur player. I played it with a couple from London, John and Tessa, who own a vacation house in a nearby town. John grew up in the area and was among the early developers of laser-eye surgery; Tessa is a criminal-defense attorney. When I explained the purpose of my trip, she begged me not to mention the course for fear of encouraging visitors; in fact, she said, perhaps I could leave out the entire region, which is called the Inishowen Peninsula and is one of the most wildly beautiful corners of Ireland. "If you must write about it," she said, "be sure to mention the black flies. And the pollen." I wasn't bothered by either, but I might mention the wind, which turned the seventh, a par 3 whose upper tee is at cloud height, into an advanced exercise in aerodynamics and ballistics.
Ballyliffin is several miles farther north than the northernmost courses in Northern Ireland, whose western border is just a few miles to the southeast. If I'd had time, I'd have taken a second car ferry, across the ocean end of Lough Foyle, and played Portstewart and Royal Portrush, which are just an hour and a half away. But I had a tee time the next morning in Newcastle, 30 miles southeast of Belfast, so I headed cross-country instead, and early that evening I checked into the Slieve Donard, a huge Victorian railway hotel that sits at the southern end of one of the most remarkable stretches of linksland in the world. The hotel was a dump in 2001, when I first saw it, but it has been renovated and enlarged and is now the kind of joint you could take your wife to. (Double rooms, with breakfast, begin at about $160; singles are about $45 less.) It also has one of the coolest features of any hotel: a sign in the lobby pointing to Royal County Down Golf Club, which is just out the backdoor.
Royal County Down is No. 1 on Golf Digest's
. It's the best and most enduring of Old Tom Morris' many remarkable contributions to the game, and though the course has been tinkered with over the decades (including recent changes to the closing holes by Donald Steel) it retains a kind of primal power -- which you feel, for example, as you try to slash your way out of almost any of the bunkers, whose densely entangled upper margins look like the eyebrows of deranged old men. The tee shot on the ninth (which you launch blindly over a precipice, toward the steeple-like spire of the Slieve Donard) is simultaneously unnerving and irresistible, like a ride on a roller coaster. Near the 11th tee, a caddie pointed to a small stone structure at the base of a dune, just visible through gnarled undergrowth. It had been discovered during a recent gorse-taming operation, he said, and was thought, possibly, to be the hut of the original greenkeeper. I played two rounds and might have attempted a third if this had been the first day of my trip instead of the last.
A round at Royal County Down is still a luxury: about $245 on a weekday morning and nearly $300 on a Sunday afternoon. (If you're a two-a-day golfer, you can play 36 on a weekday for about $400.) But no other course I played came close to those prices. The dollar is still feeble, but it's stronger than it was a couple of years ago. Gasoline is more than double what it is at home, yet in all my wandering I used only a tank and a half. We're not getting any younger. The Irish are incredibly friendly, and their country, in addition to having no snakes, has very little lightning. Guinness. Bushmills. Those breakfasts. You can't redeem frequent-flier miles in the grave. (Do you really need more reasons?) Next spring, with friends from home, I'm going back.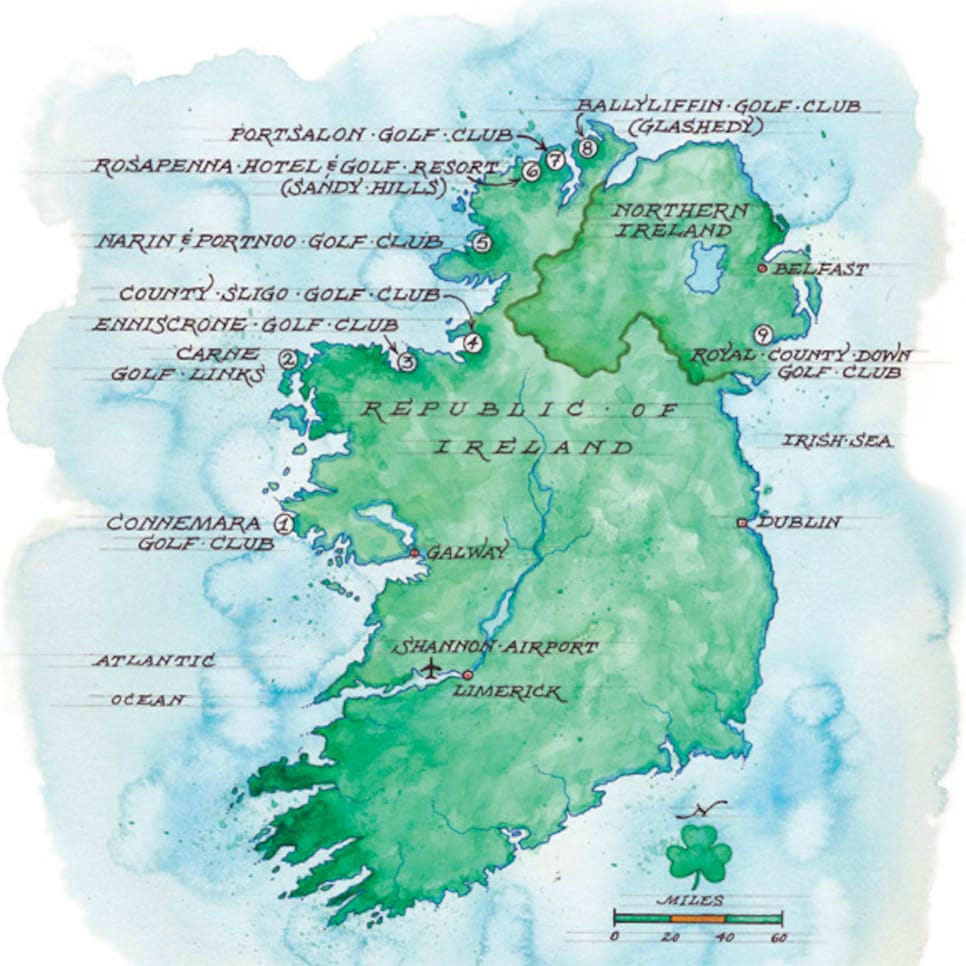 Ballyconneely, Clifden, County Galway.
011-353-95-23502, connemaragolflinks.com. Peak-season green fees: $79-$101. Group discounts and special offers available.
011-353-97-82292, carnegolflinks.com. Peak-season green fees: $94. Group discounts, daily rates, weekly rates and special offers available.
Enniscrone, County Sligo.
011-353-96-36297, enniscronegolf.com. Peak-season green fees: $87. Group discounts and three-day passes available.
4. COUNTY SLIGO GOLF CLUB,
Rosses Point, County Sligo.
5. NARIN & PORTNOO GOLF CLUB,
6. ROSAPENNA HOTEL & GOLF RESORT,
Downings, County Donegal.
011-353-7491-55000, rosapenna.ie. Peak-season green fees: $72 (website booking) to $101. Group rates and special offers available.
Portsalon, County Donegal.
8. BALLYLIFFIN GOLF CLUB,
Ballyliffin, Inishowen, County Donegal.
011-353-74-9376-119, ballyliffingolfclub.com. Peak-season green fees: $72-$116 (Glashedy Links); $72-$101 (Old Links). Daily rates and special offers available.
9. ROYAL COUNTY DOWN GOLF CLUB,
011-44-28-4372-3314, royalcountydown.org. Peak-season green fees: $245-$294. Two rounds in one day: $408.
1 euro = 1.44 U.S. dollars; 1 pound = 1.63 U.S. dollars