The Loop
David Graham still waiting for his Hall call
Former U.S. Open and PGA champion David Graham read with keen interest Raymond Floyd's recent published comments critical of the World Golf Hall of Fame. Perhaps because it hit so close to home.
"It's an interesting scenario because Raymond basically said some things that I have thought all along," Graham said by phone from his home in Whitefish, Mont. "The thing is Raymond has big boots in golf. He's a purist, and for him to say something like that was quite a statement."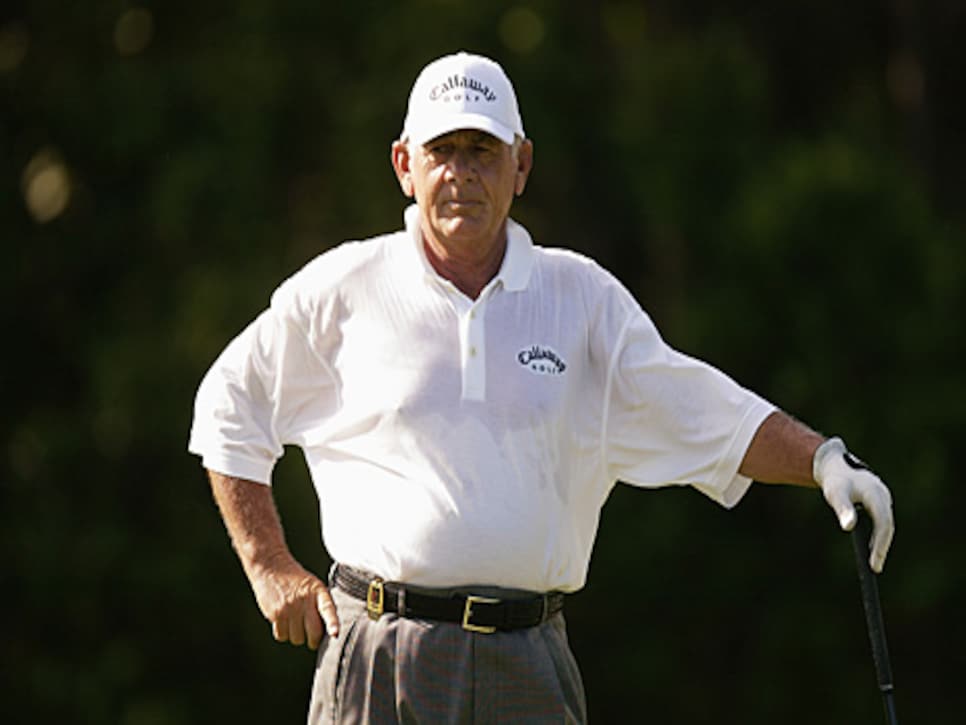 Floyd, a four-time major champion who was inducted into the Hall of Fame in 1989, recently was quoted by Golf Magazine as saying, "the bar has been lowered" on qualifications. "Guys get voted into the Hall of Fame who don't belong, who lack the numbers. I'm very upset at the Hall of Fame for that. . . . I'll just say that you should have at least two majors. . . . There are guys in there that it's a joke. It takes integrity away from the term, 'Hall of Fame.'"
This year's inductees include Fred Couples, who won the Masters among 15 PGA Tour titles, and Colin Montgomerie, who won the Order of Merit on the European Tour a record eight times but neither captured a major nor won an official event in the U.S.
Graham, meanwhile, competing in his prime when the eras of Jack Nicklaus and Tom Watson overlapped in the 1970s and early '80s, won eight times on tour, including the 1979 PGA Championship at Oakland Hills CC and the '81 U.S. Open at Merion, the latter with a punctilious final round of 67 that was so impressive that Ben Hogan called to congratulate him on the performance.
With 25 other worldwide victories, Graham, a native of Australia, joins Gary Player as the only men to win tournaments on six continents. He teamed with Bruce Devlin to capture the 1970 World Cup for Australia, and in 1994 he captained the International Team in the first Presidents Cup. He also earned five Champions Tour titles before congestive heart failure in 2004 ended his competitive career.
"It's hurtful," Graham, 66, said of his omission from the Hall of Fame. "When you have a record that should mean something and it doesn't, you have to wonder what's going on."
Graham isn't even on the Hall of Fame ballot, having fallen off in 2000 after failing to garner five percent of the vote in consecutive years. His only avenue to Hall inclusion is the veteran's category -- the route through which Ken Venturi will be inducted in May with Couples, Montgomerie, former European Tour executive director Ken Schofield and Willie Park Jr., who won two Open Championships in the late 1880s.
According to Brody Waters, director of museum operations at the World Golf Hall of Fame, Graham also has fallen off the ballot on the veteran's category because of lack of voting support. He can be reconsidered either by a nomination from a current Hall of Fame member or a member of the hall advisory board.
Other multiple major winners yet to be voted in include Dave Stockton, Padraig Harrington, Retief Goosen, Mark O'Meara, Fuzzy Zoeller, John Daly and Andy North. The latter two men also have fallen off the main ballot, Daly in 2007 and North in '97.
This is a big summer for Graham, who will return to Merion in June to host the past champions dinner with Nicklaus, Lee Trevino and Arnold Palmer prior to the 113th U.S. Open on Merion's East Course. The Open was last played at Merion in '81, when Graham overcame a three-shot deficit to George Burns and won by three strokes with a 7-under 273 total.
"I'd had a conversation with (USGA executive director) Mike Davis about the possibility of being reconsidered this year with Merion hosting the U.S. Open," Graham said. "I don't know what happened to that. I don't really understand how it all works. In my mind, it's a bit of a fiasco. It's been disappointing to not even be considered, and I think Raymond made some very good points. But for me to say it doesn't carry the same weight as a player who already is in the Hall of Fame. All I have is my record, and it'd be nice if someone could explain to me how it's not good enough."