The Loop
David Feherty's one-man show: uncensored, unhinged, and worth the price of admission
When you watch David Feherty on Golf Channel, you do so knowing he is filtered and toned down. Gastroestestinal humor and feigned shots to the testicles notwithstanding, most of Feherty's antics are tamed, subject matter quashed and language adjusted to PG levels. But where would golf's most irreverent voice go if he were unplugged, uncensored and guided solely by his wayward instincts? It's a scary thought and a guilty pleasure.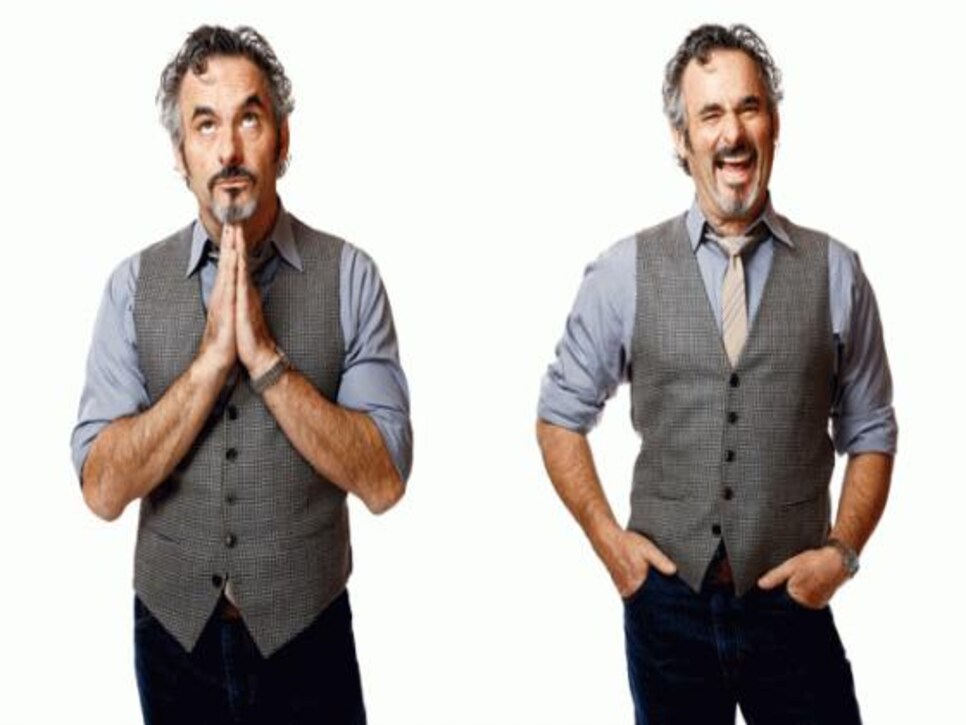 Recently, at the F.M. Kirby Center for the Performing Arts in Wilkes-Barre, Pa., we found out. Feherty staged the second-to-last of six one-man U.S. shows, entitled Live Off Tour. The act is outrageous, all right. It's also funny, sad, poignant, inspiring, smart and most of all, unpredictable. Think, Prairie Home Companion with a mighty edge. For two uninterrupted hours, Feherty, his only props a desk, his taxidermied chicken, Frank, and two bottles of Poland Spring water, monologued to an audience of perhaps 1,500, all of whom loved him the whole way. When the house lights rose at the end, a woman near me was dabbing tears. Two older men, who guffawed the whole show, were guffawing still.
Here's why they laughed and cried: Feherty opened by saying he didn't know who Wilkes-Barre was named after, but he was pretty sure it was the guy shot Lincoln. He quickly moved on to the breaking story of Caitlyn Jenner, formerly Bruce Jenner, whom he felt was not "beautiful" as media talking heads were saying gratuitously, but merely "a man with [breasts]." He told a suggestive Arnold Palmer story, too edgy to even hint at here, that made the easy crowd go, "ooh." F-bombs didn't fly but they fluttered around. If that sounds racy for a nice town like Wilkes-Barre, it should be noted that he tempered everything with his familiar attitude of equanimity for almost everything.
Well, not quite everything. He criticized religion, noting that it was responsible for much of the conflict in the world. He chided Americans who are overly critical of America, asking why they choose to stay. When he reiterated his support -- passion, really -- for those who serve in the military, the crowd roared. When he explained that he'd dumped his Irish citizenship to become an American citizen five years ago (February 3, 2010 to be exact), the crowd roared again. He thanked those whom he sees as golf and personal heroes -- Tom Watson, Tiger Woods and Palmer rate high with him -- and gave great anecdotes to that effect. The crowd cheered still more. Feherty's show was comedy and commentary, blarney and biography dished through cautionary tales of his own experiences.
And oh, the comedy. He did a complete section on joke-telling as high art, replete with examples. There was a rollicking tale of Payne Stewart planting a dead groundhog in Feherty's hotel room. He devoted 15 minutes to caddies he'd known, including one who stuttered, another who lost control of his bowels en route to a tournament, and a hilarious one involving Tommy Bolt and his bagman at a long-ago Masters. Feherty is master of the shaggy-dog story, one in which the storytelling often eclipses the punchline. There is no on-camera setting that could accommodate his stories about Ken Venturi, Barry Goldwater, Henry Cotton, Christy O'Connor Jr., Gary McCord, John Daly and Jimmy Demaret and even Feherty's own father. Feherty fed the tales to the Wilkes-Barre patrons effortlessly and without letup, often leaving one story in mid-sentence to tell another, then returning to the original. No notes, no prompting and when the show ended, you had the feeling he had several more hours of stories on call if he needed them.
But it couldn't have been easy. Feherty told of his ongoing struggles with his Bipolar One Disorder, explaining that earlier that very day he had inexplicably burst into tears, only to find himself laughing 15 minutes later. He says he sleeps at most three hours per night and sometimes not at all. He didn't look particularly healthy, his complexion a little waxy. Doing the show appeared to be a form of therapy for him. He went into detail of the depths of his addictions, drinking 2-1/2 bottles of Irish whiskey and popping 40 Vicodin daily until a doctor asked, "Do you need help?" and Feherty answering, "No, I can do it by myself." He told of being run over by a truck and the doctors later slamming at him with a wooden hammer and what appeared to be a screwdriver, thinking he was unconscious. Feherty was at times downright dark. There were mea culpas of a failed marriage, lousy parenting and character flaws so numerous, he couldn't fit them all in. Always, there was wry one-liners punched in.
Tickets ranged from $40 for basic seating to $160 for a VIP pass, which got you a pre-show meet-and-greet and photo with Feherty, a drink ticket, and a copy of his latest book, The Power of Positive Idiocy. The production values were simple but effective, the sound and lighting wonderful, the Kirby Center just right.
Whoever puts on Feherty's shows, knows what they're doing. More U.S. shows aren't planned at present, though it's hard to imagine they'd be hard to book. It really was stupendous.
As the show wound down, Feherty invited questions from the audience. A voice from the back asked how he was able to draw even with his battles with the bottle and his unfortunate brain chemistry. Feherty cracked wise for a moment, then summoned forth his lovely wife, Anita, who travels with him constantly and keeps him together. The fans boomed their loudest applause of the evening, and it's what made the woman near me weep at show's end. But like everybody there, she's glad she went.