The Loop
David Feherty to Jordan Spieth: 'This is like listening to Old Tom Morris'
David Feherty returned with his eponymous show on Golf Channel on Monday night, where at one point he called his guest, Jordan Spieth, "a freak of nature." For good reason, of course.
Spieth evoked the Feherty description by providing remarkable insight into his mental acuity and why he lost to Bubba Watson in the 2014 Masters and how he clinched the 2015 Masters with an assist from Tiger Woods.
"I had the lead and I had control," Spieth said of the '14 Masters. "I had Bubba on his heels. I had Bubba talking to Teddy [Scott, his caddie]. I had him talking to himself. And I knew I had him. I was being cool, collected and calm. I knew it was us two at that point.
"I had him on his heels, and when I failed to convert based off of putting, that was so frustrating because I hit the shots needed, I just couldn't get the ball in the hole. It was kind of the story of 2014 to a large extent. I was doing the right things, but I let one mistake bother me more than it should have because I just wanted it so bad. I didn't let it come to me. I didn't have the patience to say this round's going to feel like two or three rounds of golf in one. Just understand that each six holes is almost like a round of golf. You've got to approach each with the same patience you would have for an entire round and understand that this scoreboard is going to change. It changes every round.
"You play a round out here with Bubba Watson, for 18 holes our scores are going to change significantly throughout the round. Just be the one on top and be the one that takes advantage when he's on his heels."
At that point, Feherty interjected. "You know what a freak of nature you are?" he said. "This is like listening to Old Tom Morris. You're 22 years old. There's a remarkable maturity that you're showing here."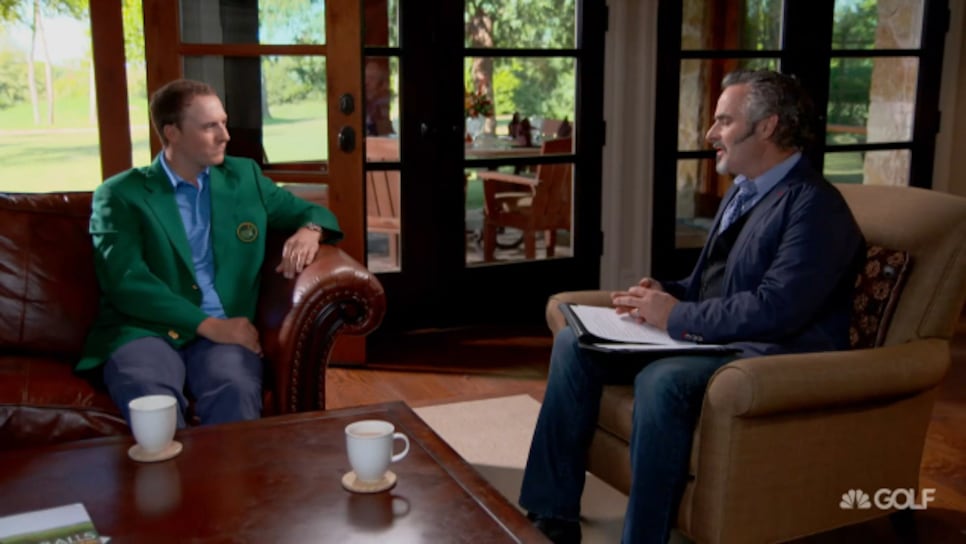 Then there was this, regarding the difficult par putt that Spieth holed at 16 in winning the Masters last year. It was success rooted in observing Woods in the practice round they played together.
"I watched Tiger hit that putt in the practice round with Ben Crenshaw on Wednesday. And I watched him as I walked off that green and I looked at why they were still on that green, because we had been there for awhile. And Tiger's hitting this putt from the back left part to that back left pin. I remember watching Tiger hit that putt and the ball just never stopped rolling and just kept rolling and just snapped off and never stopped rolling. That putt you know is downhill. I now know it's really fast because I've watched Tiger hit it. But it also looks like it's a left-edge putt because of the influence of this other hill. And after watching that putt break so significantly in the practice round that many times, going along where I thought it was straighter, and it snapped off, I knew exactly where to hit that putt.
"It was just at that point about trusting it in that moment, which is even harder to do than read into that putt is, trusting it to play where you don't think you should play it, knowing that if you miss it you'll have another three or four feet now. It could completely change the whole tournament.
"I hit the putt and it went in. You could tell by my reaction, not only as it went, but as I walked off that green just how cool of a moment that was to be able to look back on Tiger Woods and Ben Crenshaw hitting it and then to be able to have your own moment with it and know that it was pretty much going to seal the Masters for you."