The Loop
David Feherty takes on Floyds Fork, finds Jason Day's ball, gets flack
LOUISVILLE, Ky. - "Careful shaking my hand," David Feherty warns, "I've got a fungus all over my shins, and it's spreading north."
If Jason Day goes on to win the 96th PGA Championship today, he should pay for Feherty's Calamine Lotion.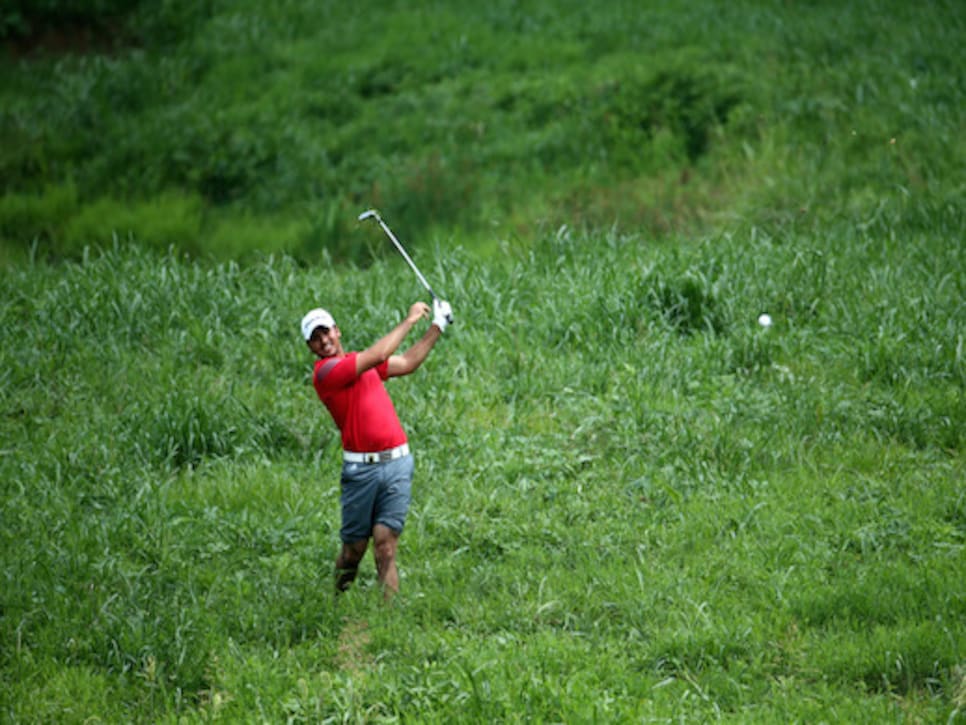 Jason Day hitting from the weeds on the second hole on Saturday (Getty Images photo)
On the second hole of Saturday's third round at Valhalla Golf Club, Day hooked a drive that ducked so far left that it crossed Floyds Fork, a stream that is the primary water feature on the property. Assigned to follow the final pairing of Day and leader Rory McIlroy for CBS Sports, Feherty got a bead on Day's drive and crossed the hazard to begin searching for it.
"I just walked across like this … it was only 18 inches deep," said Feherty, who in the 1996 PGA here got his break with CBS as an on-course reporter. "Having said that, I was wearing cargo pants, and I drowned my cell phone."
When Day arrived, he took off his shoes, rolled up his pants and waded across. Taking some direction from the blimp overhead, Feherty, Day and Day's caddie Colin Swatton eventually located the ball in the calf-high weeds before the expiration of the five-minute time limit specified in the Rules of Golf.
"It was actually Col Swatton that found it," Feherty said Sunday morning. "I was standing right over it, between my feet. I was like, Oops, there it is.' But then Col had to go get a club, and we lost it again for a minute. I had to ask, Does he get another five minutes?'"
After Day relocated the ball, Swatton tossed a wedge across the creek. Still in his bare feet, the young Aussie hacked the ball out and across the fairway. He wedged onto the green and sank a 17-footer to save par.
"His lie wasn't that bad. The stuff around was very thick, though, and it could have wrapped around the shaft of the club very easily, and he could have smothered it," Feherty said, describing Day's recovery shot. "But he is so strong that he could hold that clubface square to open going through. It was a great recovery and a great par."
"It was a lucky 4 there," Day said.
Though far from the first time Feherty has assisted a competitor in finding an errant shot during a tournament, the former tour player was surprised by the reaction his gesture provoked, particularly because McIlroy is a fellow countryman from Northern Ireland.
"I got some crap on social media about it, that I shouldn't have been helping him," Feherty said, shaking his head. "And then I caught some flak from the Northern Ireland people asking me why I should help Jason against Rory. The reason is because I would help anybody. That's how we do this in this game. That's the spirit of it."   Day ended up with a two-under-par 69 and 10-under 203. He begins today's final round T4 with Phil Mickelson and four strokes behind McIlroy, who seeks his second major title in a row and fourth overall after capturing the Open Championship last month at Royal Liverpool.