The Super Six In Women's Golf for 2014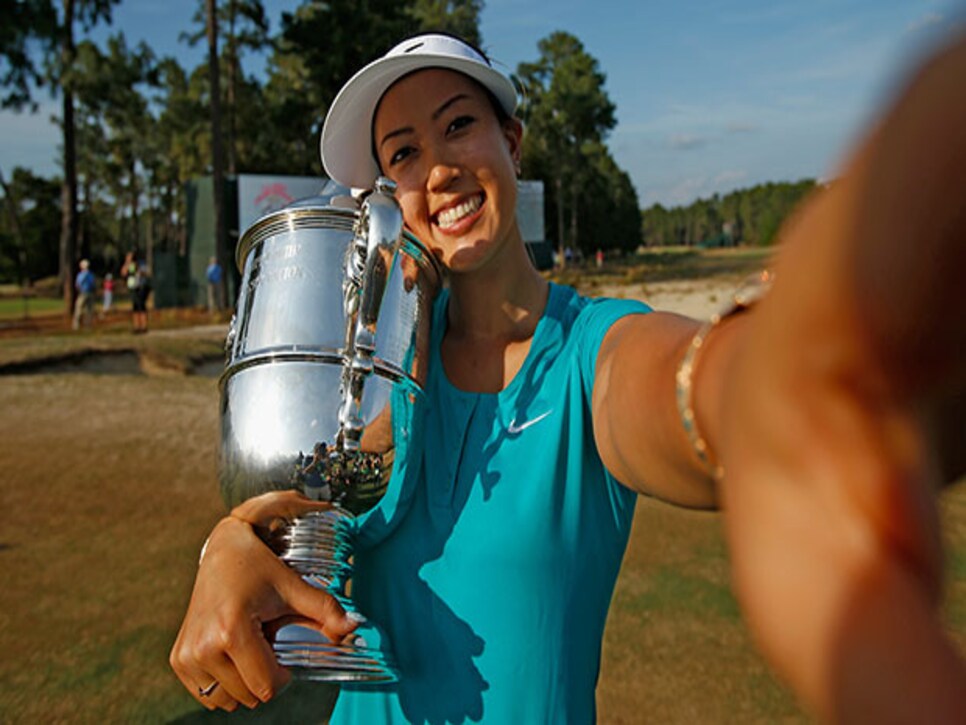 2014 was a terrific year for women's golf. Memorable story lines included exciting competitions, engaging (mostly) personalities and rivalries, innovative thinking, and a centuries-old glass ceiling smashed. Here are six individuals who not only helped make 2014 a great year for women's golf but whose positive impact will likely be felt for years.
MICHELLE WIE AND LEXI THOMPSON
Professional golf is no different from successful professional sports leagues like the NFL and NBA when it comes to the importance of developing and promoting stars whose celebrity status can drive the financial underpinnings of the athletic-entertainment product. It was a marketing dream for the LPGA, in 2014, to have Wie and Thompson deliver on their prodigy hype by winning the two most important and visible titles in women's golf: the U.S. Women's Open and the Kraft Nabisco Championship (née Dinah Shore). Wie and Thompson join a deep, international group of stars such as Inbee Park, Suzann Pettersen, Lydia Ko, Stacy Lewis and the ageless Juli Inkster. Of course, great players need stages on which to perform, which leads to ...
The LPGA commissioner has done a masterful job of building a calendar-year-long global schedule of televised tournaments. Importantly, the LPGA's top names support the full complement of events by showing up and competing in most of them. The same can't be said about the PGA Tour, where too many of the leading players skip the week-to-week events, leaving a number of the tour stops star-starved.
It would have been understandable if the owner of Pinehurst had smiled and said "no, thanks" to the proposal of back-to-back U.S. Opens. He also could have easily said "no" to Bill Coore and Ben Crenshaw fundamentally changing the look and feel of Pinehurst No. 2 by yanking out acres of rough and reducing the number of sprinkler heads and cutting back water usage. Instead, Dedman's boldness resulted in the most anticipated and talked about Women's Open in history and provided a two-week visual of how an iconic course can return to its roots by looking and playing brown, fast and scruffy. Take note, golfers: The vast majority of Americans (including local government decision-makers) don't play golf and will not allow the excessive use of water and other non-renewable fuel and energy resources so that about 25 million Americans can enjoy whacking a little ball around lush, green playgrounds.
This 11-year-old won her age group at the inaugural Drive, Chip and Putt event at Augusta National the day before Masters week began, then became an international news story at the U.S. Women's Open with her engaging manner and abundance of big-time golf shots. She was an inspiration to young girls everywhere. Who knows, perhaps Lucy's story might get that other 2014 middle-school athletic sensation, Mo'ne Davis (of Little League fame), to take a look at golf and give it a shot. If that were to happen, Mo'ne wouldn't have to look far: Her school is located next to the historic St. Martins course of the Philadelphia Cricket Club.
This esteemed member of the School of Physics and Astronomy at the University of St. Andrews was elected chairman of the General Committee of the Royal and Ancient Golf Club of St. Andrews in September 2012. The General Committee is the equivalent of an American golf club's Board of Governors. The R&A General Committee appoints various sub-committees and sets all club policies, which, in turn, are implemented by a relatively small number of paid staff members, led by Peter Dawson. Dawson is the chief executive of the R&A Limited (the business side), and he's the secretary of the club (a traditional role found at almost all United Kingdom golf clubs). The decision by the R&A to admit women members for the first time in its 260-year history was put forward and unambiguously supported by the General Committee and was voted upon by the full membership of the club. Is it merely a coincidence that the R&A's historic membership decision came at a time when a man known for his blue-sky thinking in optical science (lasers) was serving as chairman of the General Committee? I think not. So let's give thanks to Professor Sibbett for his considerable role in causing the R&A to... see the light.