Keeping Score At The Majors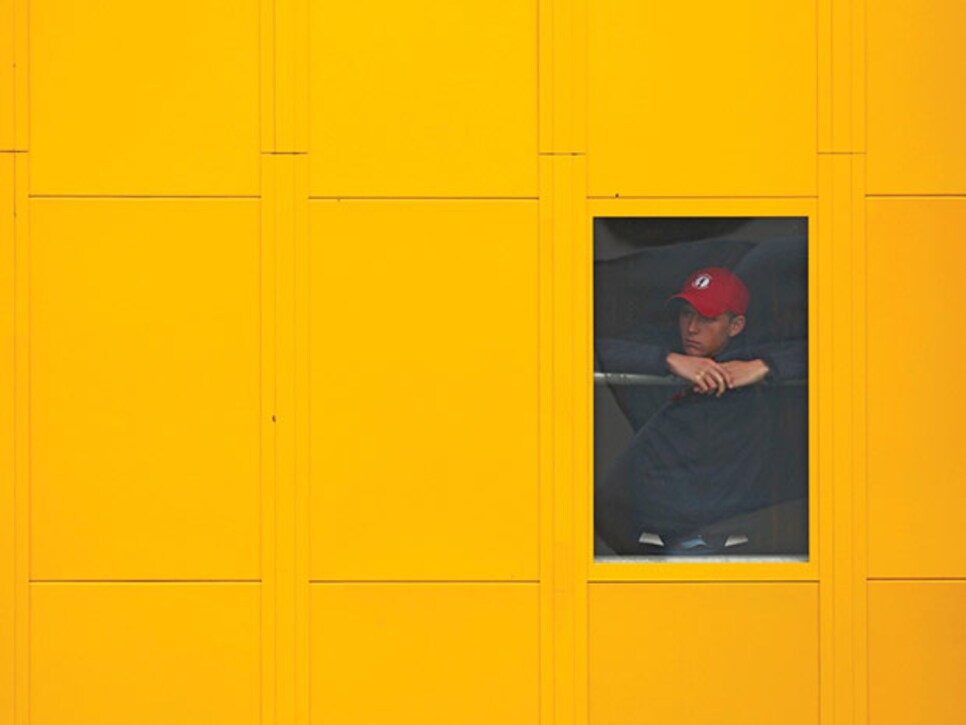 OLD SCHOOL: The main leader board at the British Open.
Call it golf's answer to the baseball scoreboards at Chicago's Wrigley Field and Boston's Fenway Park, because when it comes to keeping score, golf's four majors are old school with their hand-operated leader boards. Electronic leader boards used at PGA and LPGA Tour events provide terrific information and statistics on the players, but the Masters, the U.S. and British Opens and the PGA Championship are content with posting scores as they relate to par, and leave it at that.
A manual scoring system requires about 400 volunteers who give up a week to handle the assorted tasks. A good friend of mine, Joe Wortley, began as one of those volunteers 60 years ago. At the 1954 U.S. Open, at Baltusrol, Joe, then 12, was a scorecard runner, taking the official scorecards from players at the ninth green, getting them photocopied and returning the cards to the players at the 10th tee. In the 1980 Open—again at Baltusrol—Joe was assigned to the large leader board near the 18th green. After Jack Nicklaus holed the winning putt, Joe posted the score, then added the message "Jack is Back" on the leader board.
Since 1984, Wortley has volunteered as a scoring supervisor at 29 consecutive U.S. Opens, 24 U.S. Senior Opens, 25 U.S. Women's Opens and 14 British Opens. He must also be a great salesman. Through his assorted business connections, Joe has recruited a talented, dependable group of about 40 women and men who spend their time and money traveling to one or more of these four championships to work as leader-board operators, standard bearers and walking scorers as well as handle back-office jobs in the scoring trailer. Wortley's group has included doctors, lawyers, school teachers, bankers, CPAs, Ph.D.s, beer brewers, police officers, hedge-fund managers, two Navy SEALs, five members of the U.S. Secret Service, a sheep rancher from Scotland and two USGA national champions: George Zahringer (2002 Mid-Amateur) and Matt Kuchar (1997 U.S. Amateur).
After graduating from Georgia Tech in 2000, Kuchar went to work as an analyst in Wortley's investment-banking concern. Matt tried to qualify for that year's British Open at St. Andrews as an amateur but was unsuccessful. Rather than Matt heading straight back to work in Florida, Joe agreed to let him stay on for the championship, provided he join the scoring team. Kuchar worked as a walking scorer for all four rounds (no special treatment; he wasn't assigned to any "name" groups). Joe recently told me that as successful as Matt has been as a professional golfer, he could have had an even more lucrative career as an investment banker. He was that good.
One sports figure who has been part of the Wortley scoring group for more than 15 years is hockey Hall of Famer Scotty Bowman, who won more NHL games and more Stanley Cups (nine) than any other coach.
In December 1999, Scotty and Tiger Woods were seated next to one another at an awards dinner at Madison Square Garden. Muhammad Ali received the top honor as the sportsman of the century.
Fast-forward six months to the final round of the 2000 U.S. Open at Pebble Beach, where Tiger played with Ernie Els and won his first U.S. Open title, finishing with a total of 272, 15 strokes ahead of joint second-place finishers Els and Miguel Angel Jimenez. As Els slid Tiger's official (and historic) scorecard across the table for the all-important review and counter-signature, USGA scoring-trailer official Jeff Hall recalls Ernie saying, "Check it close, Tiger, because I don't want to play with Miguel tomorrow!"
Often the player will want to double-check the figures on the official scorecard with the card kept by the volunteer scorer. After Ernie's comment, Tiger was leaving nothing to chance. As he turned to check with the volunteer, he looked up and said, "Scotty! What are you doing here?"
Scotty smiled and said, "Tiger, I was your scorer." He'd walked 18 holes with the group, just paces behind Tiger, who was in another world in more ways than one.
Bowman has been quoted as saying the final round of the 2000 Open was the greatest non-hockey sports moment he'd ever experienced. Something about that day must have registered with Ernie, too, because he asked for a post-round autograph...Scotty's.