Help a Kid Get the Ball Airborne, and End the Pushcart Stigma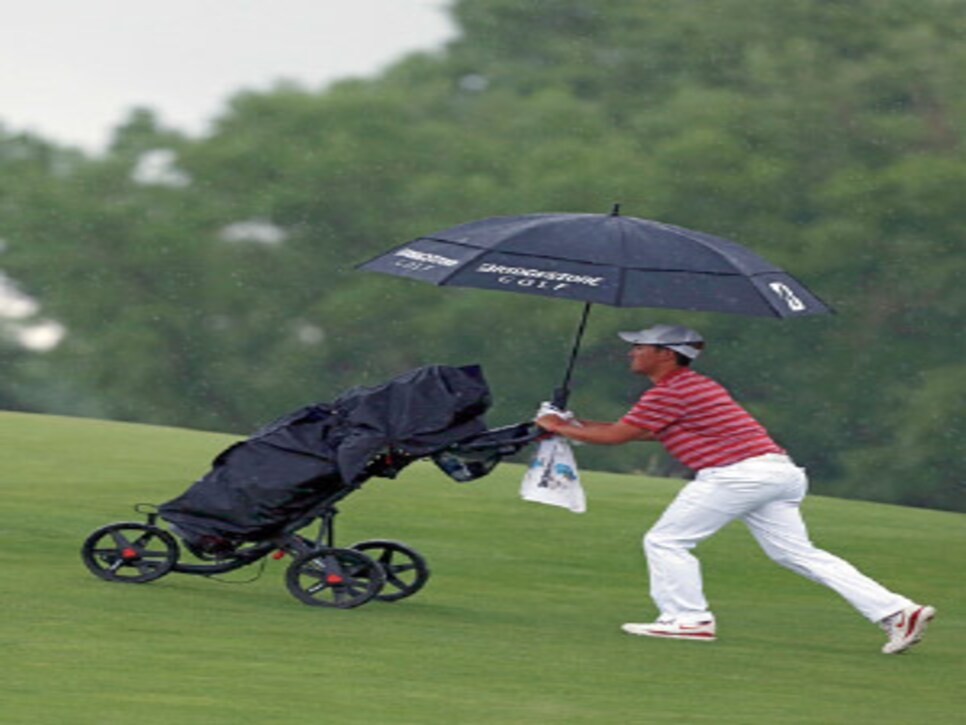 Iowa State's Ruben Sondjaja was among those using pushcarts at the NCAA Championship.
Mid-summer musings (aimless, unsystematic thoughts):
A dictionary definition for the word rough: "The part of the golf course left unmowed and uncultivated."
If only that were the case. Maintaining uniform height and consistency of rough requires the installation of irrigation lines and adds significantly to water, labor, fuel, energy and chemical costs. Cultivated rough is one of golf's most visible, unnecessary excesses. Bring back the scruffy feel of the rough, with a potpourri of grasses and weeds growing at randomly different heights and volume. And if there are some bare patches, all the better.
I was 12 years old when I first hit a golf ball. I used a baseball bat.
The memory (feel, sound and sight) of launching that golf ball deep into the outfield piqued my interest in golf. One way to get kids interested in golf is to head down to the ball fields with a box of old golf balls, some baseball and softball bats, and a wedge. Getting the golf ball airborne is the quickest way to hook a kid on golf. (Note to PGA of America: You have my permission to coin the slogan, "Get it airborne!)
Only in America is there a stigma against pushcarts (trolleys).
Some sniff that pushcarts look "muny." Here's a small sampling of U.S. golf clubs that embrace that look, some or all of the time: The Country Club and Kittansett (Massachusetts); Atlanta Athletic Club; Newport (Rhode Island); Fishers Island, Maidstone and Shinnecock Hills (New York); Somerset Hills (New Jersey); Ballyneal and Denver Country Club (Colorado); The Valley Club of Montecito (California); Yeamans Hall (South Carolina); Riomar (Florida) and many of the fine private clubs in the Pacific Northwest and Upper Midwest.
Every golfer should carry a cellphone (set to the silent mode) in the golf bag.
Medical situations requiring quick attention don't always occur near the clubhouse. Pack a bottle of baby aspirin, too.
The USGA Handicap Index is of little value if the handicap-conversion tables aren't available.
Simple fix: Laminate the handicap-conversion sheets (double-sided) and affix them (by chain) to the ball washer at the first and 10th tees.
Golf-distance wristwatches are one of the best inventions in the game.
Pyramid range-ball stacks are one of golf's dumb inventions.
When it comes to explaining the yips, the wisest counsel comes from those noted golf professionals, Richard Rodgers and Oscar Hammerstein II:
"Who can explain it? Who can tell you why? Fools give you reasons; wise men never try."