A Lesson From Silent Dave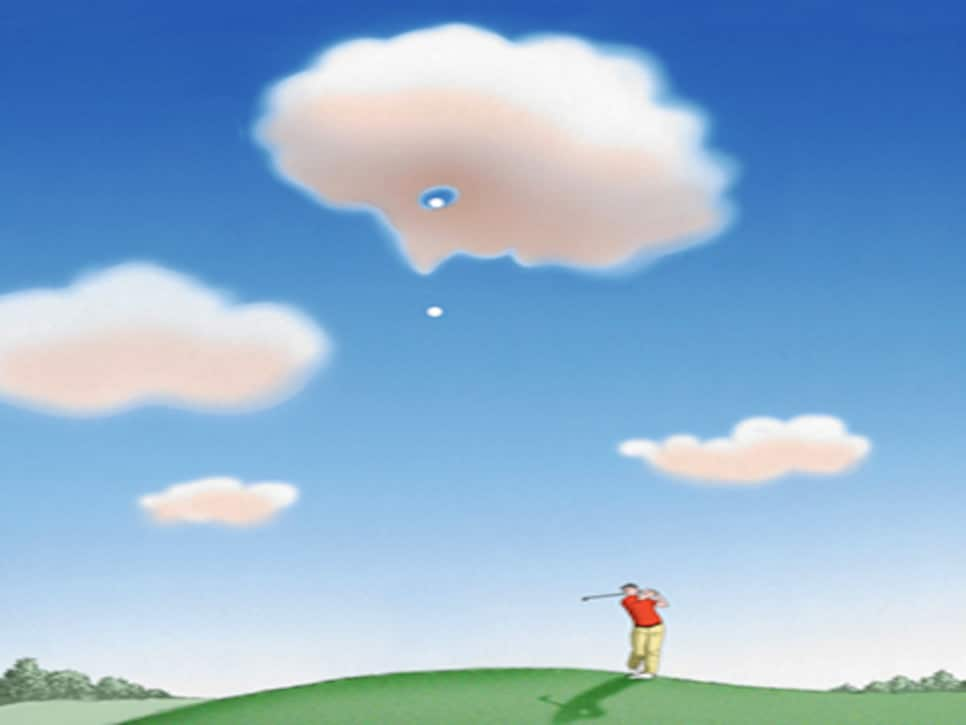 Last year, I played in a charity event where one of the players in my group happened to be my golf instructor, Dave Marcotte, the head PGA professional at Rhode Island's Point Judith Country Club. The tournament format was individual stroke play, which meant that absolutely no advice from Dave was allowed.
The variety of shots I executed in front of "silent Dave" had to make him wonder who the hell he was looking at. Surely, it couldn't be the attentive student who could hit plenty of decent shots on the lesson tee. My on-course strategy must have been a revelation to Dave, too.
He'd once taken me out for a nine-hole playing lesson. At no time during that lesson had Dave suggested that attempting to hit a 4-wood out of two-inch rough over a pond was a wise play. But there's only so much an instructor can do when dealing with a pupil whose idea of practice consists of rushing to hit four to five balls on the range before heading to the first tee. I'm proof that osmosis is a myth when it comes to building a repeating golf swing.
A few weeks after the tournament, I called Dave in a panic, asking for a lesson. His reply: "You don't need a lesson. Your swing in the tournament bore little resemblance to the solid swings you make on the range. Just think about keeping your spine angle as level as possible through the full swing. You do it fine on the practice range; you can do it on the course, too. Oh, yeah, and try to resist the Phil Mickelson wannabe shots out of the rough. Be realistic."
Tendencies are a performance key in all sports at all levels. Ask any NFL, MLB, NBA or NHL player what they're looking for when watching game film, either of their performance or that of an opponent. Answer: tendencies. The same holds true for LPGA and PGA Tour players. Our game's greats, through skill and repetition, excel in being able to take their practice performance to the course. But even they fight the occasional negative tendency. Even Jack Nicklaus, as Lee Trevino said, "has a habit of peeking" on short putts and "slides 'em off to the right." Tiger Woods hitting a wayward tee shot on the opening hole of a round? And speaking of Tiger, is it any wonder that just about all golfers can relate to his "Ranger Rick" comment—the frustration of not being able to hit every shot as well during a round as he can on the range?
My round with Dave Marcotte was an eye-opener. Though there's no substitute for taking lessons from a PGA professional, there's a huge difference between playing a round versus hitting ball after ball from a nice lie on the practice tee where, to paraphrase Sam Snead, "You don't have to go hit your foul balls."
Thinking back to my round with Dave, the key was that no instruction of any kind was offered. Just go play. And it doesn't have to be 18 holes. Nine's not only fine, it's preferable for the sanity of the pro. Have a match of some kind. Better yet, enlist two pals who also take lessons from your pro to fill out the foursome. It's another form of a buddies trip.
Your pro will get to see how you handle "game-day" pressure, and that will assist him/her in pinpointing recurring swing and judgment flaws to work on. And the fun of playing under pressure works both ways: You get to see how the pro performs in front of his students.
The cost for a nine-hole round? As a rule, a PGA professional will charge each player the equivalent of two one-hour range lessons for the no-lesson golf game. That's a bargain. And it's a great way to get to know your professional better.
What if you don't take lessons? That's easy: Find yourself a PGA golf professional, and do so ASAP. And don't worry if you're not a member of the course where the pro works. It's very rare for a PGA instructor (even those listed in the various "best of" lists) to have a members-only restriction.