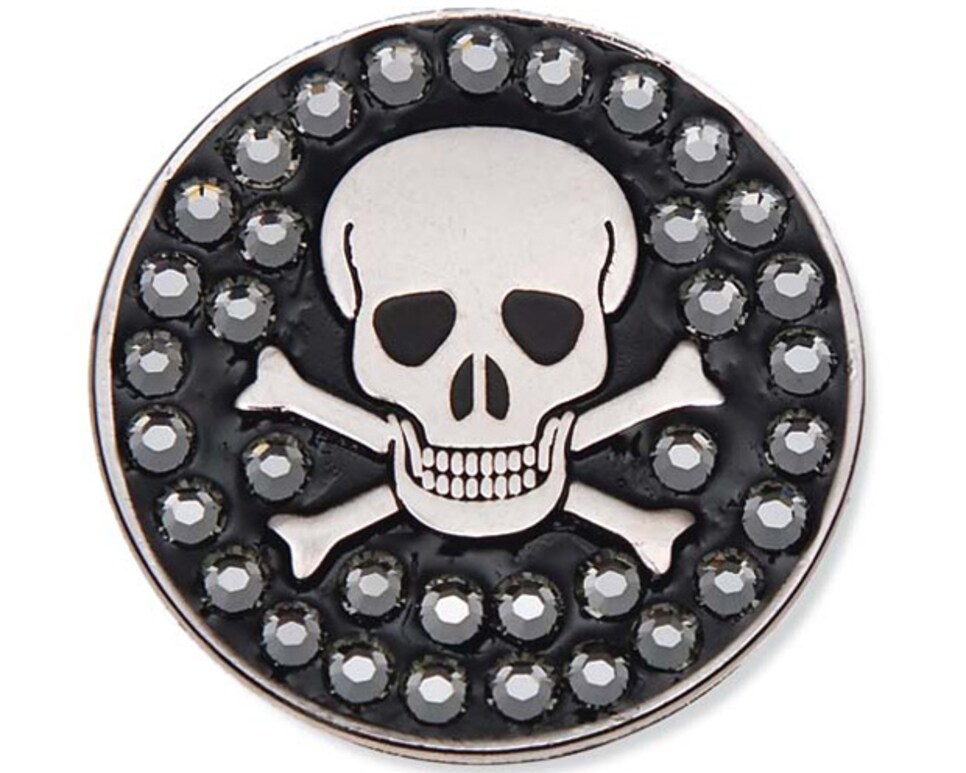 The seemingly innocent mechanical act of marking, lifting and replacing a golf ball on a putting green has caused its share of controversy over the decades, the latest being the unfortunate case of Padraig Harrington getting disqualified for unwittingly moving his ball a short nose hair in the act of removing his ball marker. Harrington thought the ball had oscillated and therefore was OK to play.
Ball markers come in all sizes and shapes. A dull penny is a safe choice. Use of a tee, though allowable, will likely raise eyebrows, as will the use of a large casino chip. Shiny coins are regarded as taboo by some anal souls, and for other folks, size matters: In the 1996 U.S. Senior Open, Tom Weiskopf blew a mental fuse in the first round because his fellow-competitor used a gleaming quarter as a ball marker. Shocking!
There are different styles of marking. Slender, steady hands favor the place-and-slide method, getting oh-so-close to where the ball touches the ground. Thicker, shakier hands can't be as exact. Someone else may mark your ball with your permission, and you or that someone may replace it. Twitchy marking can preview a twitchy stroke. And then there's the matter of avoiding a player's line of putt by moving the marker a putterhead or two to the side, lined up with a reference point like a bunker rake. Good luck returning the ball to its original position.
Repeating the marking, lifting and replacing process with perfection isn't easy, given the variables involved, including view angle above and behind (Harrington) or to the side (camera). The rules don't specify an acceptable tolerance distance (thank God), but the Decisions book uses the term "sufficient accuracy." Perhaps it's because I have shaky fingers, but I would not have penalized Padraig, even after viewing the video evidence. He acted with sufficient accurary. Plus, I'm troubled that marking and replacing a ball might now take too long because of the Harrington ruling.
Creative ball-marking and replacement, real or alleged, is extremely rare at the highest levels, but there've been a couple of high-profile players over the years who've been branded -- fairly or not -- as cheaters. Normally it takes a pattern of sloppy marking to be challenged, not an isolated incident. Dave Marr told me a story of playing with Jack Nicklaus and another player for the first two rounds of a tour event. Jack didn't appreciate the manner in which Player No. 3 was marking/replacing his ball on the greens. So after the first round, Jack told the player, "Tomorrow, each time you bend down to mark and replace your ball, you'll see a pair of white golf shoes: mine."
Even legal ball-marking can drive a player nutty. Gardner Dickinson didn't mind a player "finishing out," provided he didn't first mark, lift and replace the ball. Gardner's view: If you need to do all that for a short putt or tap-in, wait your turn. Which makes me think Gardner might have been a fan of continuous putting. From 1966-'69, the USGA adopted a "continuous putting" condition for its stroke-play championships, in hopes of speeding up play. The short version: You could mark your ball only once on each green. When it was your turn to putt, you were required to finish -- without further marking -- unless you interfered with another player's line. Which brings us to Arnold Palmer and the 1966 U.S. Open. Arnold, having fallen into a tie with Billy Casper after losing a seven-shot lead going into the final nine, ran his 30-foot birdie putt on the 18th about six feet beyond and above the hole. But before Billy attempted his 25-footer for a birdie, Arnold had to finish, without marking. Palmer made and Casper missed. Casper won the 18-hole playoff the next day.
That downhill six-footer was one of Arnold's bravest strokes in a career full of gutsy, clutch shots, and a number of years ago I told him so. Ever gracious and tolerant, Arnold smiled and agreed. I'm not sure if he really agreed or said so just to shut me up.
After 32 years with the USGA, including the last 21 as executive director, David Fay is writing a monthly column for Golf Digest.