The Month To Honor Sam Snead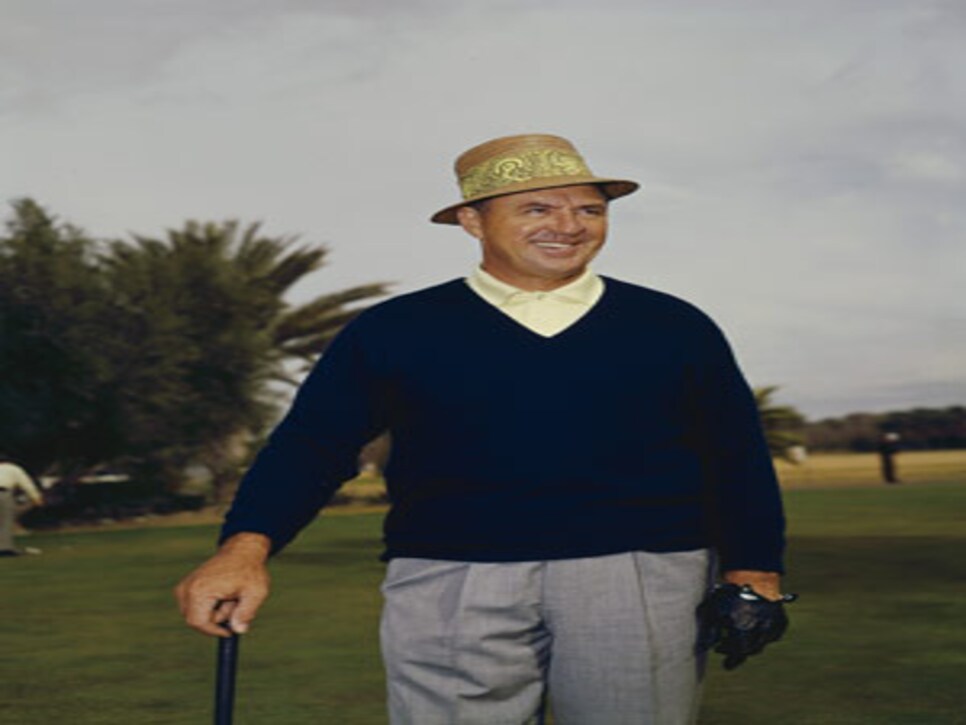 As strange as it might sound in speaking of one of golf's all-time greats, Sam Snead never seemed to get his full due. Somehow, he always seemed to get shortchanged. Even in death. He died on May 23, 2002, four days before his 90th birthday.
Despite holding the record for the most official PGA Tour victories (82) and almost as many other titles, he couldn't even lay undisputed claim to being the best golfer born in 1912. Ben Hogan and Byron Nelson were born in that year, too.
Sam won seven majors (three Masters, three PGAs and one British Open), but he's better known for never winning the U.S. Open. He had four runner-up finishes, but 1939's event was especially painful. All he needed to win was a par on the final hole, but Snead mistakenly believed he needed a birdie, played aggressively and made a triple-bogey 8 to finish fifth.
Sam sailed to Britain in 1946 and won the first post-World War II British Open, and at the home of golf no less, the Old Course at St. Andrews. So what's he remembered for? His throwaway comment upon first seeing the layout: "Say, that looks like an old, abandoned golf course." He gained no fans at the R&A.
Sam spent his entire professional life representing two iconic, pricey golf resorts in the Allegheny Mountains, The Homestead and The Greenbrier. He'd regularly introduce himself to the hotel guests at the first tee and ask if he could join their group. He'd also suggest a money game, just to make things interesting. Over the years, the knock on Sam was that he'd play at scratch and fleece the under-handicapped pigeons. Seriously? Can anyone name another Hall of Fame golfer who'd play pickup money games with 15-handicappers?
Though Sam was always a favorite of the fans at the Masters, he wasn't very popular with Masters co-founders Bob Jones and Cliff Roberts. No matter. Sam loved the Masters. He served as one of the honorary starters for 19 years, from 1984 through 2002.
In the 1950s, Jones had dedicated handsome footbridges on the back nine in honor of Gene Sarazen (1935 champion) and two-time champions Hogan and Nelson. In the years after Jones' death in 1971, the club leadership dramatically downsized the landmark-recognition program. Only Arnold Palmer and Jack Nicklaus have been honored. Each got a plaque on a drinking fountain. Sam Snead? Nothing. (And for that matter, nothing for the two other champions who won three Masters before 1979, Jimmy Demaret and Gary Player.)
Sam was a long driver of the ball and a strong iron player. His Achilles' heel, from the time he came on the tour in 1937, was his putting, especially the short ones. Sam got so twitchy that in 1966 he turned to croquet-style putting. He was the first big name to use the style.
It was well known that Joe Dey, the longtime USGA executive director (1934-'69) disliked Sam. Encouraged by Bob Jones (who didn't enjoy watching Sam's squat-down style at the 1967 Masters), Dey drafted language that banned croquet strokes on the putting green. The change became effective in the USGA and R&A rulebooks in 1968.
The golf officials never saw it coming. They thought they had stumped Sam Snead, but the self-proclaimed Virginia hillbilly outfoxed them. He simply stepped to the side and popularized a new method of putting: sidesaddle.
The moral: Never underestimate the creativity of a desperate putter. Something to remember when the ban on anchored strokes takes effect in 2016.
The month of May is a logical time, each year, to remember the great triumvirate of Hogan, Nelson and Snead. The Byron Nelson tour event is played in May, as is the Colonial. And though Ben Hogan's name is not part of Colonial's official title, it might as well be. But how to honor Sam, a true man of May? Here's a suggestion.
I propose that in May, every golfer (including touring pros) play at least one stroke from off the putting green, using a croquet-style stroke. Don't worry—you'll not be breaking any Rule of Golf. A croquet-style stroke is only illegal when the ball is played from the putting green, not anywhere else. See Rule 16-1e.