When A Major Is No Longer A Major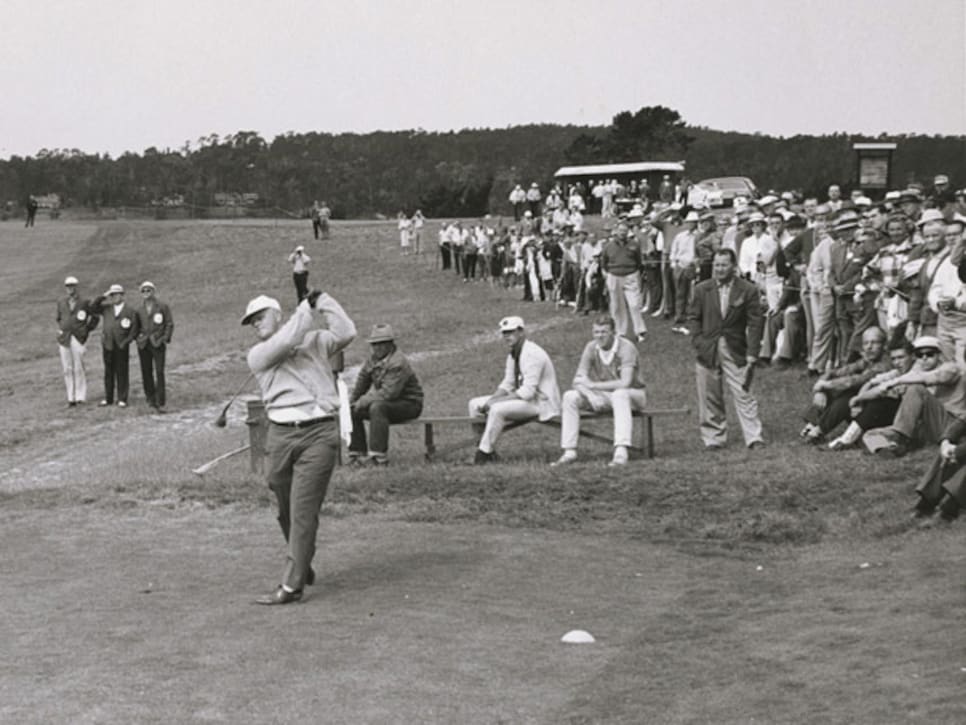 Jack Nicklaus won at Pebble Beach in 1961 for his second U.S. Amateur.
Golf, for all of its time-honored traditions, and its rigidity when it comes to rules and regulations, has a history of identifying its important championships—the majors—in an informal, fluid manner.
In 1973, when Jack Nicklaus won his third PGA Championship, there was general acknowledgement and acclaim by the golf community that this marked his 14th major championship—one more than amateur Bobby Jones' total. Not that Jack was finished. He added six more majors, with the last being his win in the 1986 Masters at age 46 for a total of 20.
Yet sometime after 1986—on no specific date and without any formal announcement by any recognized golf organization—two of Jack's 20 lost their major status. When asked about this bloodless purge, golf's Zeus shrugged. "They sort of took mine away," said Nicklaus, speaking of the 1959 and 1961 U.S. Amateurs.
Walter Hagen could have related to Jack's comment when "they," in the late 1930s, ordained the Masters (aka the Augusta National Invitation) as the new top-shelf golf title, with the British and U.S. Opens and the American PGA Championship. At the same time, the Western Open, the third-oldest open championship, first played in 1899, was dropped a notch. And though the term "major" didn't really take hold until Arnold Palmer, thanks largely to the promotional efforts of his agent, Mark McCormack, traveled to St. Andrews in 1960 for the British Open, the various record books continued counting U.S. and British Amateur titles as majors. But "they" concluded that Hagen's five Western Opens didn't quite match his two U.S. Opens, four British Opens and five American PGAs in terms of prestige and importance.
Because it's anyone's guess as to the identity of "they," I'll give you mine. Credit sportswriter Grantland Rice, a founding member of Augusta National Golf Club and a close friend of Jones, for influencing his fellow golf writers to elevate the Masters over the Western Open. And credit Gary Player, a close friend of Nicklaus, for minimizing the achievement of winning a U.S. or British Amateur to something less than winning a senior "major." I have no beef with the working press making such calls. It happens in other sports, and because these folks are the chroniclers of the game, it makes sense. But a campaign by a fellow-competitor using old-timers' tournaments to alter the definition of a major? "Give me a break!" as tennis' John McEnroe might say.
Speaking of tennis, the identification of its majors was formalized in 1924-'25 by the International Tennis Federation (née the International Lawn Tennis Federation) when it pronounced the national championships of four leading tennis-playing nations—Great Britain (Wimbledon), France, the United States and Australia—as the majors of the sport, for men and women. Today, those four titles remain tennis' majors. But let's not go gaga over the sagacity of tennis' administrators—it wasn't until 1968-'69 that a professional could win a major in tennis. That's a huge asterisk in the record books.
For men's golf, it has worked out OK, even though golf's global claim is weakened by having three of its four majors based in the United States. There was a time when there was a push to remove the PGA as a major or add another U.S. event like Nicklaus' Memorial or the Players as a fifth title, but, thankfully, it appears that won't happen. Nicklaus has five PGA titles (matching Hagen) and Tiger Woods has four. Case closed.
As for the majors in the women's game, the identity of "they" is known: the LPGA Tour. This year, the LPGA added a fifth major, the Evian Championship in France. Some don't like this development, believing the number "four" is sacrosanct, thanks to Jones' Grand Slam in 1930. Me? Not only am I a fan of the fifth women's major, I'd like a sixth to be added, and it should be based in a Pacific Rim country like South Korea, Japan or China. Go global, girls!
In its relatively brief history, the LPGA has removed three events—the Titleholders, the Women's Western Open and the du Maurier Classic—as majors, but unlike the men, it continues to list champions of these tournaments as major winners.
Walter Hagen would approve.