News
Fun At The Summit... Still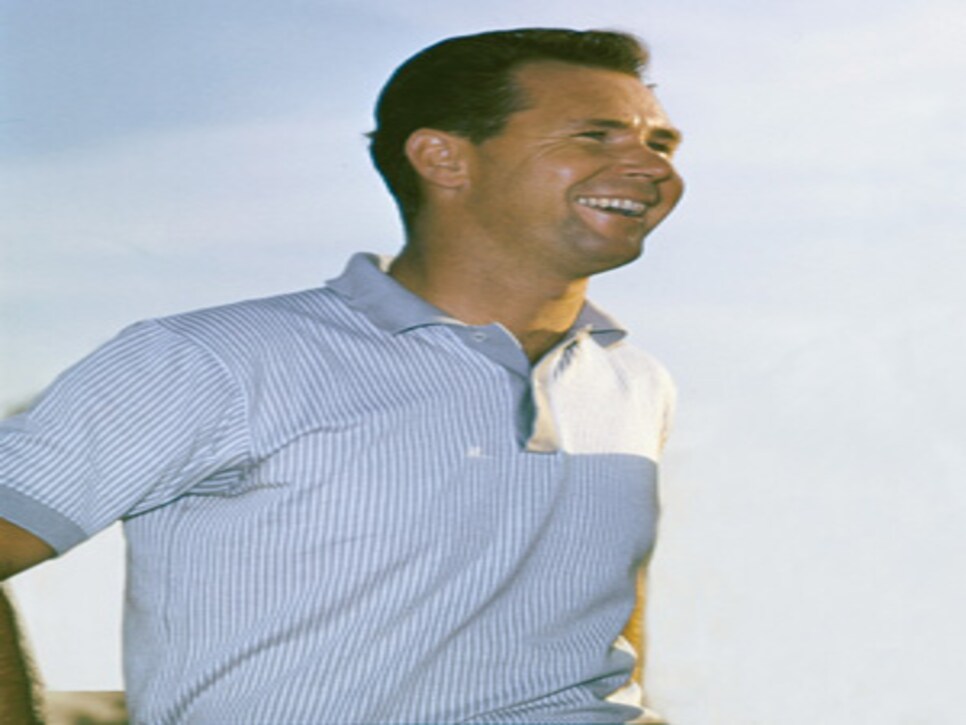 Tony Lema's book from the 1960s still hits the right notes today.
I was 14 years old in 1964 when I got my first golf-related Christmas gifts from my parents: a sleeve of Acushnet Club Specials in the stocking, and a book under the tree. At 50 cents each (retail), the Club Special was the "economy" ball of the time, and for good reason: It cut easily and went nowhere. My parents weren't golfers, so they got a pass on the balls. But, brother, did they deliver on the book.
It was Golfers' Gold, published earlier that year, by Tony Lema with Gwilym S. Brown. It's a first-hand account of my original golf hero, Champagne Tony, and his life as a professional golfer from the mid-1950s through 1963—the year he became well-known based on his strong performances in the Masters and U.S. Open before his victory in the 1964 British Open. Golfers' Gold remains my favorite golf book. I still have my original copy. Other than the prize-money amounts, the G-rated language and my adolescent signature inside the front cover, the book reads as fresh today as when it was written.
My two favorite chapters are the ones on the Masters ("Fun at the Summit") and the U.S. Open ("Fear at the Summit") because the words— half a century later—continue to define the distinctively different flavor and feel of America's two most important golf tournaments.
"At Augusta," wrote Lema, "you are playing aggressively to try to wrench a few birdies out of the course," whereas at the U.S. Open, "Everyone seems to expect a terrible round or two and tries to prepare himself for it. It's almost like a wake." Strategically, Tony observed that though Augusta's fairways are "exceptionally wide, this is a subtle deception. ... To have anything but an extremely difficult approach shot into each green, the tee shot must be very carefully placed as well as hit pretty far. You have to be a very gutsy player to score well and win at Augusta." At the Open, "you must play defensively for pars just to protect yourself from disaster on each hole." Tony made no secret of his feelings about Augusta, describing it as "the finest course I have ever seen or played." The Open, with its movable feast of golf courses, is more about hard love when he said, "Let's face it. Most of us go into the Open just plain scared."
The Masters is golf's only major played at a permanent site, which means that any distance increases will be first felt (and chronicled) at Augusta National. Unless it can bust out of its borders, it's understandable that the Masters will continue to be dragged into the distance kerfuffle.
Today's Augusta National is about 500 yards longer than it was in Lema's time. New tees, new trees and different grass heights (aka, rough) give the course a slightly different feel, but not nearly as extreme as some voices in the ball-goes-too-far Greek chorus would lead us to believe. The Masters remains the tournament where skill, creativity and guts are rewarded.
Winning scores have held to a relatively close range throughout Masters history. Tiger Woods' 18-under-par 270 in 1997 cut the Jack Nicklaus (1965) and Raymond Floyd (1976) standard by a shot, and the all-time high 72-hole score for winners is one-over 289 (Sam Snead, who needed a playoff against Ben Hogan in 1954; Jackie Burke in 1956; and Zach Johnson in 2007).
Memorable shots like Phil Mickelson's 6-iron from the pine straw on No. 13 and Bubba Watson's sick snap-hook gap wedge to win last year's playoff continue to be executed, as do strong finishes (Charl Schwartzel's four birdies in a row) and shocking collapses (Rory McIlroy's cottage tour on No. 10 en route to a final-round 80).
Any talk about the need for a special Masters reduced-distance ball should be moot... for now.
But just in case the USGA/R&A rules-makers are wrong in believing that distance has pretty much maxed out, perhaps I should go ahead and mail the Masters authorities a few of my vintage Club Specials. They might come in handy sometime down the road.
After 32 years with the USGA, DAVID FAY is writing a monthly column for Golf Digest.