News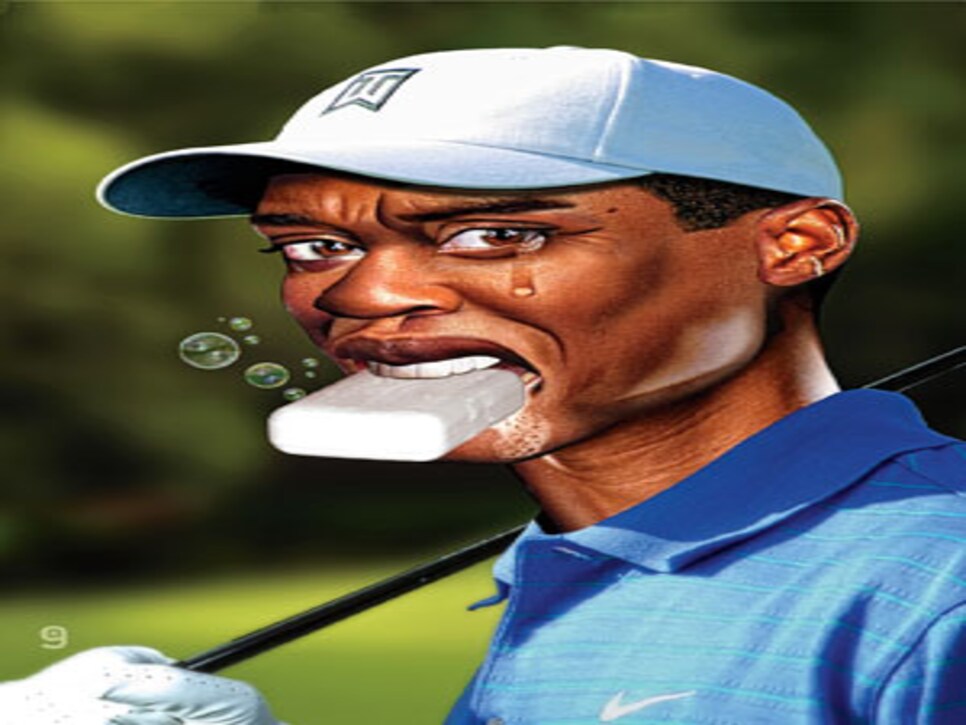 'The Amen Corner"—one of the most evocative phrases in all of sport—was introduced to golf in 1958 by the esteemed writer Herbert Warren Wind to describe the second half of hole No. 11, all of No. 12 and the first half of No. 13, the most serene patch of real estate on the Augusta National Golf Club course. And though it's not publicized or promoted as such, it's a players-only sanctuary. Think about all the images we see of the greens for holes 11 and 12 and the tee box at 13—in print, on television or in person. What's missing? Gallery.
From the moment Masters contestants (and caddies) step onto the Ben Hogan Bridge leading to the 12th green until they've crossed the Byron Nelson Bridge leading away from the 13th tee, the patrons (aka spectators) are nowhere to be found, well out of earshot. Spectators get no closer to the action on the 12th green than the stands behind the tee of the 155-yard hole. Tee shots on No. 13 are viewed from about 180 yards away. After having been surrounded by gallery for the first 10 holes, the very heart of Amen Corner affords the players some time alone with their thoughts, good and bad. It's a swell place to vent, if need be. Amen Corner frequently becomes The Cussin' Corner.
To those of you who are offended that I'd pick cursing as a subject to discuss, too bad! I'm an unapologetic cussin' connoisseur. Creativity, structure, timing and full-blown rage are keys. Baseball players are the best. Perhaps it has something to do with all that time spent in the dugout. And loud, provocative fans. I've found listening to tapes of tirades from former Major League Baseball managers Lee Elia, Tommy Lasorda and Earl Weaver (Elia's the best) to be a great way to deal with stress. There, I've said it.
Today's touring pros—compared with athletes in team sports and pro golfers from the past—are amateurs when it comes to the art of creative cursing. But to be fair, they perform in cocoon-like settings, especially around the tees and greens, where the gallery and microphones are close and silence is the norm. And because the PGA Tour tends to wash out its members' foul mouths with thousand-dollar bills, uttering an expletive or two can be costly.
Over the years at the Masters, I was frequently assigned as a rules official on the 12th green and 13th tee. It was something to look forward to. The azaleas behind the 12th green could be counted on to provide some entertainment as I assisted players in searching for golf balls blown wayward by the swirling wind. Player reaction to misfired tee shots left on the 13th was pretty good, too. Disappointingly, most of the profanity wasn't high on style points—mainly the standard barked-out, stand-alone oaths.
Tiger Woods, in one of his early Masters, got my gold star. From the moment he hit the apex of the Hogan Bridge until he was just short of the 12th green, he cobbled together an impressive array of obscenities as adjectives, adverbs, nouns and verbs into six or seven nicely structured sentences where the only G-rated word was "wind." Tiger's high-quality cursing talents didn't surprise me. I'd played a few rounds with his dad, Earl, who was great fun to play with. He was a virtuoso when it came to cursing. But I expected nothing less. After all, Earl had been an accomplished baseball player in college.
ANOTHER TAKE ON HOW AMEN CORNER GOT ITS NAME
Because I might have offended some folks with this subject, I'll dig the hole deeper by providing my revisionist history on how Amen Corner got its name. Herb Wind credited a little-known jazz tune from the 1930s titled "Shoutin' in That Amen Corner." Could that have been a diplomatic ruse on Herb's part? I believe the real source of Herb's inspiration came from well-known author and social critic James Baldwin (Go Tell It on the Mountain), whose three-act play, "The Amen Corner," was first performed at Howard University in 1955, just three years before Herb used the phrase. As Baldwin was known for exploring the "palpable yet unspoken intricacies of racial, sexual and class distinctions," I suspect he would not want to be linked—in any way—with Augusta National Golf Club, circa 1958. But there was some common ground. Like Augusta National's co-founder, Bobby Jones, Mr. Baldwin was honored (fittingly) with a U.S. commemorative postal stamp.