The Loop
David Duval's comment on Tiger Woods taken out of context
Athletes who encounter backlash to something they've said often invoke the tiresome defense that it was taken out of context, or "taken out of content," as John Daly once said. This time, David Duval was right to complain.
A headline to a brief story recounting a television interview Duval gave to Vic Lombardi for CBS' Denver affiliate last week said, "Woods' One-Time Rival Duval Doesn't Expect Tiger Will Win Another Masters."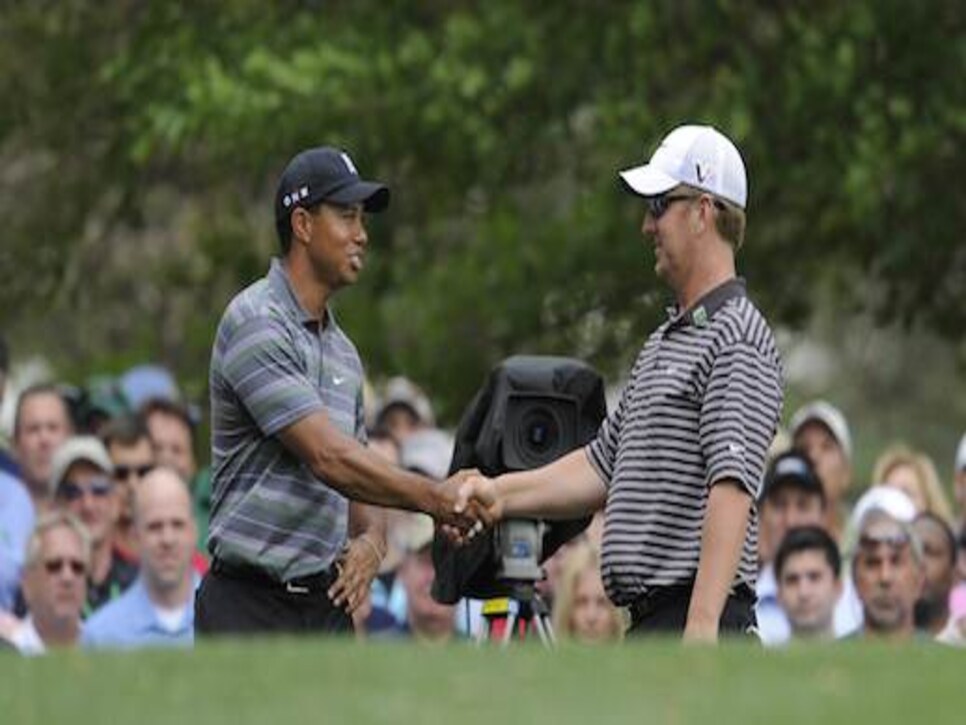 The story itself noted that Duval "shared a prediction about Woods' chances of winning another Masters. Not so much Augusta any longer,' said Duval."
Philadelphia's CBS affiliate, meanwhile, quoted the headline on its Twitter feed and linked to the story. This set Duval off on a Twitter rant. Here are his Tweets in the order in which they were posted:
@CBSPhilly At what point did I day that? You are being stupid. I said I think his best chances are at Opens. Stop sensationalizing.
Sick of the reaction to my appearance with Vic.
Bunch of damn idiots portraying my interview as saying Tiger won't win at Augusta.
Never said such a thing. I said that in my opinion his best chances are at the Opens. Get a clue.
Exactly why everyone should pay attention to who his feeding them info. Really good at twisting things for a story.
Clowns to the left of me and jokers to the right. See ya.
One comment at television site wrote, "Duval is such an expert, I seem to remember Tiger whooping on him like an unwanted stepchild."
In the interview, which can be seen here, Lombardi asked Duval whether Woods can win another major.
"Well, with what's happening to him, I would think the majors you would want to see him, or expect him to, are going to turn into the Opens [U.S. Open and British Open]. Not so much Augusta any longer."
One needn't consult an interpreter to ascertain that he meant Woods' best chances at winning majors will come in the U.S. Open and British Open more than they will in the Masters.
The rest of his comments regarding Woods:
"Can he get five more? If you forced me to bet a dollar either way I'd say no. and I'm shocked to say that at this point. I thought it was clearly going to get to 22, 22. I think it's off-course stuff more than anything. I think it's the rebuild on multiple occasions of a golf swing that was perfectly great as it was. It's almost like a scientist trying to make things better. When you're killing everybody as it is, what's the difference? Just leave it alone."