The Loop
David Duval: Spieth forcing major champions 'to change game plans in second round...That's unheard of'
Jordan Spieth, if not the entire story of this Masters to this point, has been 90 percent of it, and yet his final stroke on Friday came six minutes before the Masters telecast began on television.
At least the powers that be at the Augusta National Golf Club allowed those with Internet access to view Spieth's back nine. That, and some real-time analysis from Golf Channel's David Duval and Brandel Chamblee on its "Live from the Masters" show, made for an enjoyable two hours.
"What he's doing in ways is annihilating the field and possibly forcing major champions to change their game plans as early as the second round of the Masters Tournament, and that's unheard of," Duval said, as Spieth was widening his lead on most of the field.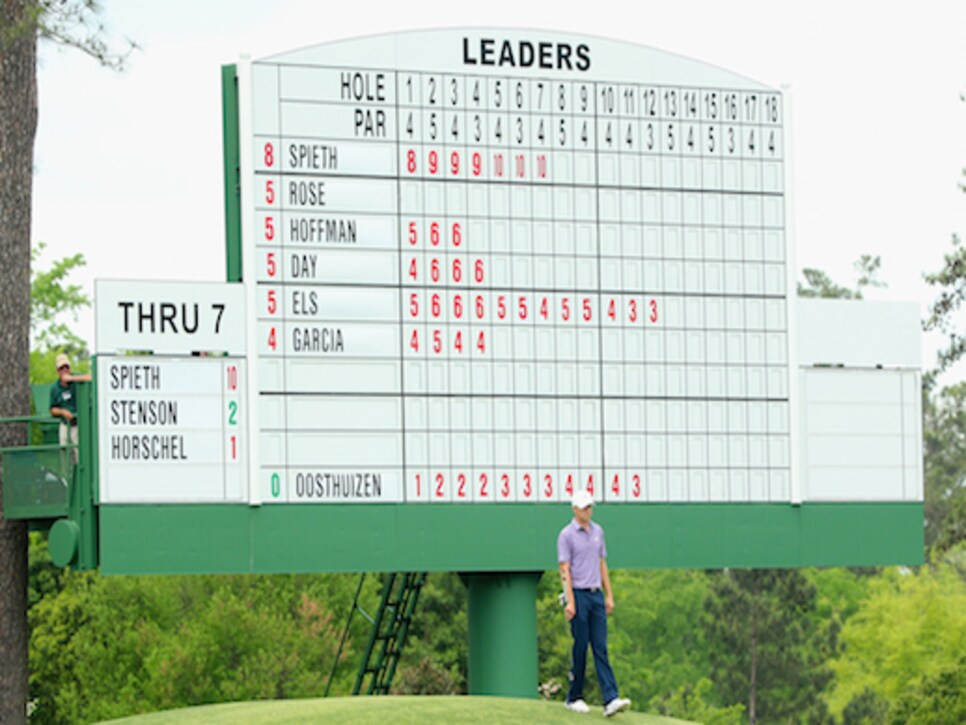 Duval, once the top-ranked player in the world and a major champion, also shed light on what it's like to be in the kind of zone that Spieth has been in.
"I've always likened it to a very big sense of quiet in your mind," he said. "It's very calm, very slow…You're seeing a little more clearly. There's no rushed thoughts through your brain, no rushed feelings through your golf swing. You're very intent, your've very precise and you're very dedicated to what you're trying to do, and with that comes a belief that regardless of what it is you're trying to do you're going to pull it off."
Chamblee, meanwhile, addressed how Spieth, 21, benefits from a grown-up perspective, the result of having a special needs sister, Ellie.
"I think that circumstance has caused Jordan to look at life a little less frivolously," Chamblee said. "When all the attention is focused on you as a youngster, and we see a lot of that, and you specialize in one particular sport, that may benefit you technically. We see perfect golf swings. But from a demeanor standpoint it might impoverish you. I think he has the right balance of ability and trust in his ability and intuition in his golf swing, but perspective about how to play the game."
"Equanimity," Golf Channel's Rich Lerner said.
"Yes," Chamblee replied. "I would sort of call it a psychological equilibrium that he has at a very young age. Jack Nicklaus had it. Besides his raw power, the most palpable thing about Jack Nicklaus was his maturity. At 20 years of age, in the 1960 U.S. Open, he played with Ben Hogan. There is no more intimidating player in the history of the game and Jack Nicklaus went shot for shot with [him] and finished second.
"And Jack said of Jordan Spieth's second-place finish here last year that it was probably the best thing that ever happened to him, as it was to Jack, realizing he couldn't get done with brashness and power what he needed to do with guile."