PGA Tour Champions
David Duval is latest of major winners to take his shot at Champions Tour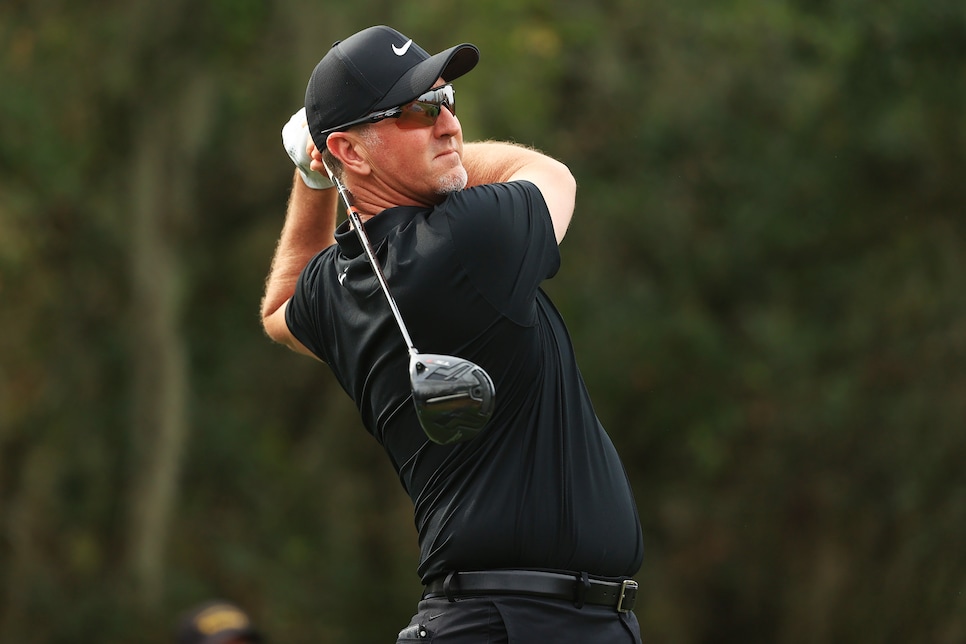 David Duval plays his shot from the seventh tee during the final round of the 2020 PNC Championship.
Mike Ehrmann
It sounds as if we will be seeing a lot more of David Duval on Golf Channel this year. Not sitting behind a microphone, mind you, but standing next to a golf ball.
The former World No. 1 makes his debut on the PGA Tour Champions Thursday at the Mitsubishi Electric Championship at Hualalai in Ka'upulehu-Kona, Hawaii, the first of up to perhaps 20 events he'll play now that he is 50 years old.
"Just the opportunity to build a full schedule, to know when I'm going to play, get into that routine of packing and traveling and all those things is going to be good," said Duval, who tees off at 5 p.m. ET with Vijay Singh and Mike Weir at Hualalai Golf Club. "I haven't entirely looked at the schedule and gone through it all, but I'm thinking roughly in the neighborhood of 20 [starts]. A full schedule, I guess, is the way to put it. Figuring out with family, with the kids, all those things, where to build breaks, where they can come, things like that."
As for his television work with Golf Channel, and how that will fit into his schedule, Duval was more circumspect. "That's a decision that hasn't been made yet," he said. "Right now, it's about hitting the little white ball into the fairway and knocking it onto the green."
Duval is the latest major champion to turn 50 in recent years, joining the likes of Weir, Phil Mickelson, Ernie Els, Jim Furyk and fellow broadcaster Rich Beem. Duval won 13 times on the PGA Tour, including the 1999 Players and the 2001 Open Championship. Another of his victories came in Hawaii at the 1999 Sentry Tournament of Champions, which he won by nine strokes. He spent 15 weeks as the top-ranked player in the world, but his career got derailed by a series of injuries.
"We've got a lot of juice out here right now," said Weir, the former Masters champion, who won once and finished second four times in his rookie season. "Having David out here just adds to that. You know, we all want to compete out here and win tournaments, but we also support one another and want to see guys do well, and I think a lot of us want to see David come back and play well.
Duval last played in a sanctioned event in July at the TPC Colorado Championship at Heron Lakes on the Korn Ferry Tour near his home in Denver. His only other official start came at the AT&T Pebble Beach Pro-Am on the PGA Tour. He missed the cut in both tournaments, and he hurt his hip at Pebble Beach, forcing him to shut it down for five months. In December, he and his son, Brady, finished T-13 in the PNC Championship in Orlando.
The Florida native hasn't played in more than a handful of events since the 2013-14 PGA Tour season. The last time he made a cut was at the 2013 OHL Classic at Mayakoba, where he finished T-75.
There is no cut at Hualalai, nor at most other senior events.
Since 1997, six players have won the Mitsubishi Electric Championship in their debut, most recently Darren Clarke last year. The others were Jerry Kelly (2018), Duffy Waldorf (2016), Miguel Ángel Jiménez (2015), Loren Roberts (2006) and John Jacobs (1999).
In addition to Duval, six other players will play in the event for the first time, though Duval is the only rookie. He doesn't know quite what to expect.
"My golf has been good," he said prior to playing in the pro-am at Hualalai. "I've been working hard, I'm swinging the golf club well, you know, but as I've talked about in the past on TV and stuff, it's different when you're at home doing things as opposed to when you get into a competitive environment. I just have to get used to kind of that competitive environment.
"Surreal, I guess, is the best way to put it," he added when asked to describe his feelings about the next phase of his career. "Tremendous excitement, tremendous satisfaction, tremendous pleasure. Really looking forward to what the PGA Tour Champions presents, the opportunity it gives us as players. There's some nervousness and some excitement and anxious, because I haven't competed consistently for a very long time, but the opportunity to do that is just putting a smile on my face."