The Loop
Monday Swing Analysis: Sergio's putting fix
So much has been made of Sergio Garcia's battles with the putter over the last several years. His frustrations nearly drove him from the game. But he has had quite a resurgence of late, winning the last two events on the European Tour, including a one-stroke victory over fellow countryman Miguel Angel Jimenez in the Andalucia Masters at Valderrama over the weekend.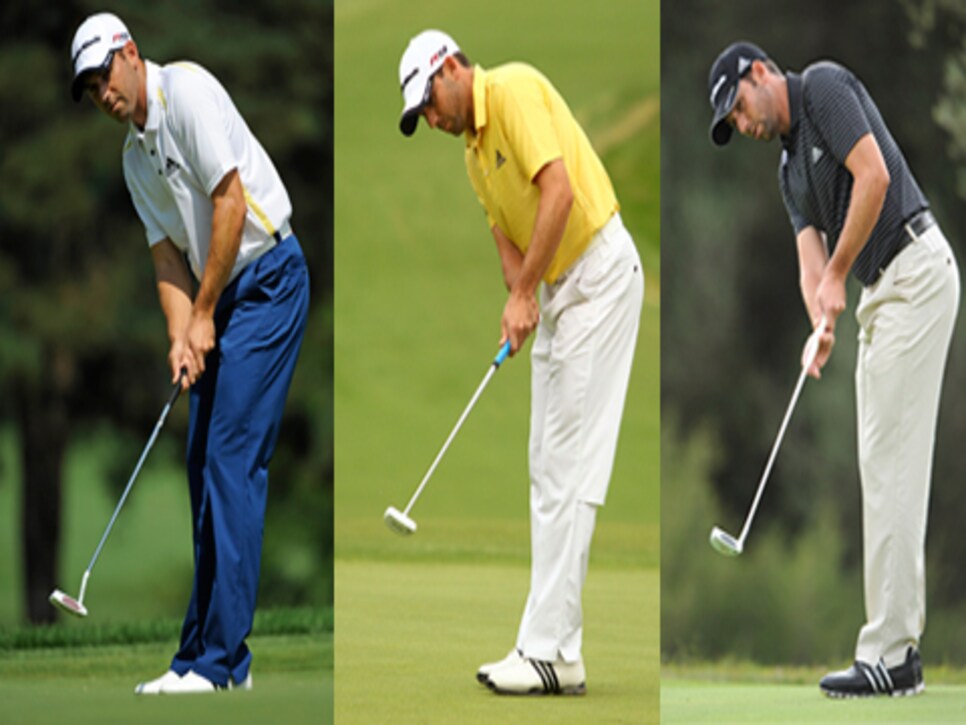 Note Sergio's putting-grip progression, from conventional to left-hand low to the claw. (Photos by Getty Images)
Sergio's comeback seems to have started with a tip he got from putting guru Dave Stockton, who recounted the story while visiting with a group of Golf Digest editors in our Wilton, Conn., office on Friday. Here's a short report from Assistant Managing Editor Jeff Patterson:
Stockton said that when he's asked to take a look at someone's putting stroke, he also likes to see their chipping motion. Naturally, Sergio Garcia was brought up. Senior Instruction Editor Peter Morrice asked Stockton why Sergio seems to have so much creativity around the greens, but little success on them. After saying Sergio looked all right in his 11-shot victory the weekend before at the Castello Masters, Stockton related an interesting anecdote:
Stockton was on the putting green at Firestone Country Club during a practice round for the 2010 WGC-Bridgestone Invitational. While Dave worked with one of his tour pros, Sergio was within earshot. The message Stockton was trying to
get across was that putting is all about using the left hand. As with hitting a low chip, the left hand is the key ingredient, as it never breaks down.
Later, while walking the course, Stockton heard Sergio repeating the lesson that Stockton had intended for a fellow competitor. Stockton approached Sergio and said, "Really, if it's the left hand, why do you still use so much of your right?" At that time, Sergio was using a traditional reverse-overlap grip, but still relied heavily on his bottom hand. Garcia soon had a brief trial of left-hand low at the end of the 2010 season, before he moved to the claw grip for the 2011 season.
The progression seems obvious: Sergio worked to take his right hand out of the stroke--first with the left-hand-low grip, and then with the claw grip. In the claw, the right hand is only a guide (like the non-shooting hand in basketball) and doesn't have much grip on the club.
*-- Roger Schiffman, Managing Editor