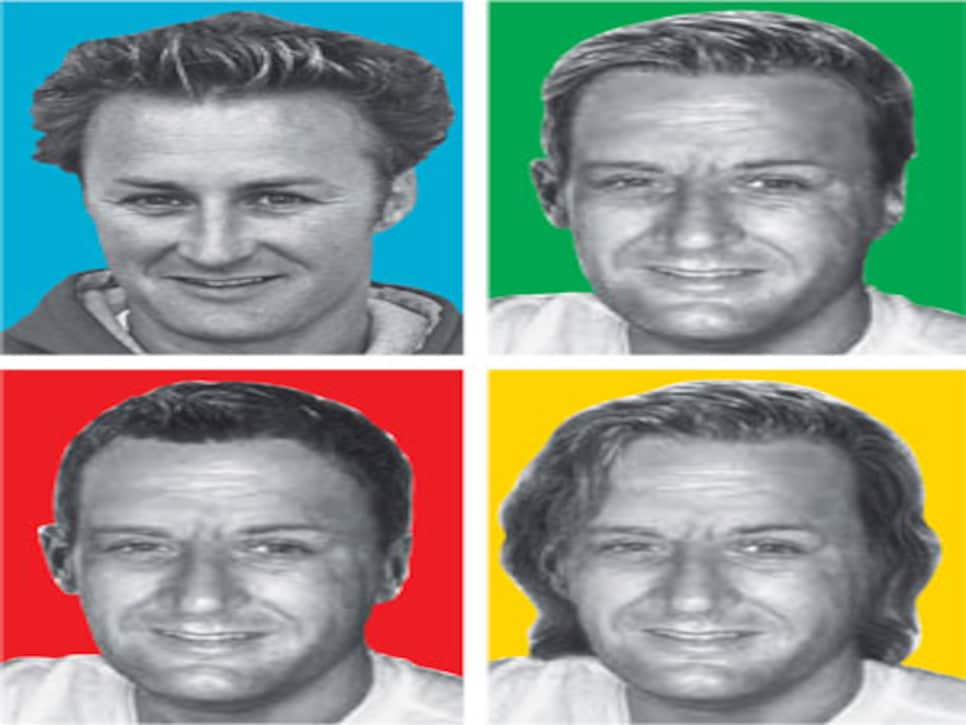 Jason Derek Brown in 2004 (upper left) and in three age-enhanced photos.
As robberies go, it was minor-league stuff.
The blond dude simply walked out of a golf shop with three titanium drivers. He could not have been much more obvious. When you run a golf store in the north of North Carolina and it's January, you notice a guy who comes in wearing loafers and no socks, especially if his ankles are tanned. Here's what you think: Dude's not from around here.
So Pete Hare, who owned the Under Par store on Freeway Road in Reidsville, noticed No Socks. The man wandered around the store while his buddy talked to Hare about putting.
Theft is an occupational hazard in golf stores. It's easy to slip out with a dozen golf balls. It's more difficult to shoplift three drivers, though it happens often enough that store owners will tell you, "He put 'em down his pants."
On that day in January 2000, soon after the strangers left, Hare took a look around. Yep, down the dude's pants: three drivers, maybe $299 each.
Hare alerted a friend, Jerry Woodall, who ran a golf store a few miles north. "Be on the lookout for a couple thieves," Hare said.
"They've already been here and left," Woodall said. "Headed back your way."
A phone call did it. No bloodhounds were necessary. The thieves were stopped along Highway 14, north of Reidsville. One imagines Barney Fife at work. The small-time collar became a big-time deal. Today, 14 years later, the arrest in rural Carolina is a pivotal plot point in a bizarre story that began in sunny Southern California, became bloody in Arizona, and has made No Socks one of the FBI's Ten Most Wanted Fugitives.
His name is Jason Derek Brown. He is 44 years old. He stands accused of first-degree murder, armed robbery and unlawful flight to avoid prosecution. A Mormon, Eagle Scout, college graduate, charismatic and charming, cocky and arrogant, he is also a con man, scam artist and gambler with rich tastes in big-boy toys that include sports cars, motorcyles and strippers.
The FBI further distinguishes Brown by a descriptive phrase never used on Most Wanted posters advertising Osama bin Laden, Willie Sutton, James Earl Ray, Ted Bundy and James (Whitey) Bulger Jr.
The Bureau calls Brown "an avid golfer."
More on that in a minute.
Brown gained the FBI's attention on Nov. 29, 2004. In this alleged crime, he seems to have been as careful as he had been obvious in Pete Hare's place. Three weeks earlier, he bought a .45-caliber semiautomatic Glock handgun and took lessons in how to use it. The FBI believes that Brown was desperate for cash to pay debts. Agents and Phoenix police further believe he studied a Dunbar armored truck's route and procedures and just after 10 a.m. ambushed courier Keith Palomares, whose bullet-proof vest was rendered useless by a shooter striking him in the head with five of six powerful hollow-point bullets.
The shooter seized the Dunbar cash bag containing $56,000, a movie complex's weekend receipts. Though 911 callers reported gunfire, and a woman saw a hooded man pedaling away on a bicycle, no eyewitness could identify the shooter.
When police found a mountain bike abandoned in a nearby wash, they also found a fingerprint on the bike. The print matched that of a man arrested on a felony charge of stealing three golf clubs in North Carolina almost five years earlier: Jason Derek Brown.
In the nine years since that identification, Brown has eluded capture. After the FBI elevated him to its Most Wanted list, it cooperated with the "America's Most Wanted" and "Dateline" television programs in hopes a viewer would recognize Brown.
The FBI has good reason for such hope. Five hundred people have been on the Most Wanted list since its creation in 1950. Of those, 470 have been found—with 156 reported by citizens. The FBI's pursuit of Brown for what lead agent Lance Leising calls "a heinous crime" has gone on so long now that the government has doubled its normal reward to $200,000 for information leading to an arrest. Brown's ex-wife, Lisa Von Ritter, has told friends she thinks Brown is dead but that the body has never been properly identified. Leising is familiar with that theory. He says DNA tests on several unidentified bodies have not turned up a match for Brown's DNA.
Leising has another idea. He thinks Brown might be found playing golf.
"We've talked to everybody," the agent says, "and with almost all of them—family, friends, associates—golf is the first or second thing that comes up." In an email, Leising adds that family members "claim that golf is the one thing that Brown will continue to do no matter how much he tries to hide."
Leising calls Brown a "scratch golfer," and a book on the case, The Ghost, by Paige Williams, says Brown was "a varsity golfer" in high school at Laguna Beach, Calif. Maybe all that's so, but probably not. The school's golf coach at the time, Bill Darnall, says Brown never played for him and recalls, "He was in and out of the principal's office a lot." The team's best player, John Gilles, has no memory of a scratch player at Laguna Beach High who chose not to try out.
A man who knew him 20 years later says Brown played golf to build what he claimed—falsely, the FBI says—was a golf equipment import-export business. When Brown lived in Phoenix before the murder/robbery, Mike Campbell was a neighbor. Campbell says Brown told him, "Every year, when golf dealers get better clubs, I go in and purchase their surplus and sell it to Japan."
And there is this: If the FBI were to find Jason Derek Brown on the first tee in, say, Chiang Mai, Thailand, he would not be the first of the Most Wanteds revealed by golf.
On Jan. 29, 1963, Thomas Edward Galloway murdered a mobster in St. Louis. The FBI described Galloway as "a luxury-loving pimp with an IQ of about 124" and a string of nine wives. He became a fugitive by first skipping out on bail and later failing to appear for trial. The morning of July 17, 1964, after his latest nine months on the run, Galloway went to the putting green at the Cain Creek golf course in Danville, Va.
It was only 16 days after he had been put on the FBI's Most Wanted list. The FBI had already been tipped off by a citizen who had seen Galloway's picture in the local newspaper.
"We walked up as he was practicing," an agent told a reporter from the Danville Register, "and he had no opportunity to resist."
Odd, the way things happen. That Danville golf course? It's about 25 miles from Pete Hare's old golf shop.