Darren Clarke is breathing a lot easier after Europe's afternoon rally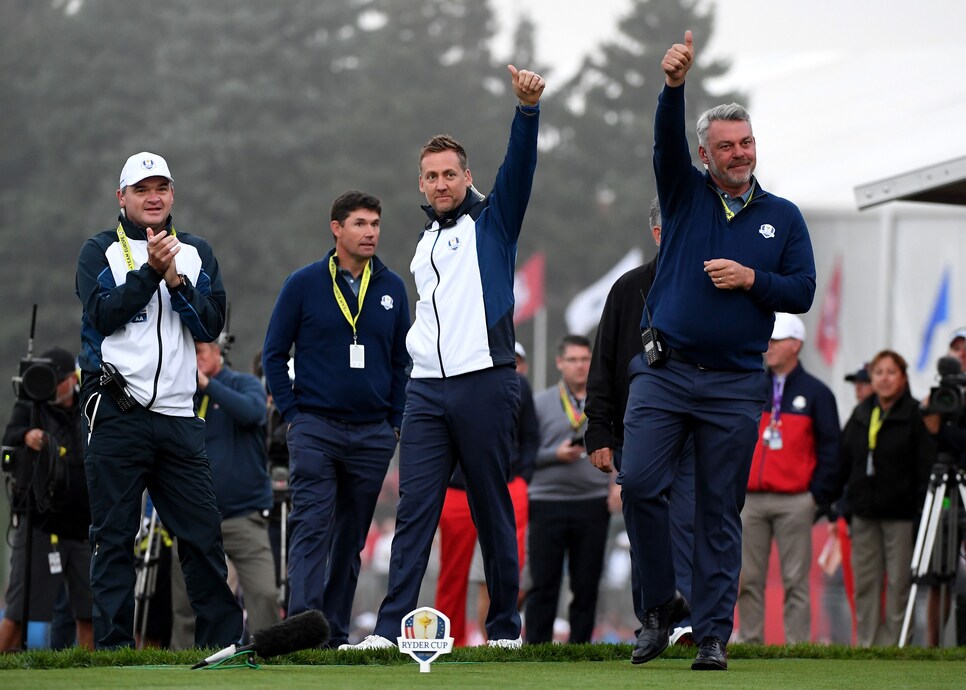 CHASKA, Minn. — Such is the natural expressiveness of his (increasingly grey) bearded visage, it is never too difficult to discern the exact emotional state of European Ryder Cup skipper, Darren Clarke. But this was too easy. At the end of Day 1 in this 41st playing of the biennial classic, the overwhelming feeling coursing through the Ulsterman's burly frame was clearly one of relief. After suffering a 4-0 whitewash in the opening morning foursomes—the first time that has happened since 1975—Clarke's men fought back in noble fashion after lunch and halved the deficit. They trail the United States 5-3 with 20 points still to play for.   "Unfortunately the European team weren't quite firing on all cylinders this morning and the American team rightly took advantage of that and played some wonderful golf," said a clearly relieved Clarke. "And obviously they won the session in a commanding fashion.   "Historically, Europe probably has been stronger in foursomes and America has always been stronger in the four-balls. But today that was completely turned on its head. I'm massively proud of my guys. They were bitterly disappointed at lunch. They didn't play the way we know they can this morning. Then they came out this afternoon way behind and put in a great performance. They showed a massive amount, in my opinion, of desire and the fight in them to get themselves right back into it again. I couldn't be more proud of them.   "What has been impressive too, is how the rookies who haven't played yet [Chris Wood and Matt Fitzpatrick] have accepted what has gone on. That shows how strong we are."   Although the 3-1 four-ball scoreline in favor of Europe represented quite a turnaround, it is hardly unknown in the Ryder Cup. Momentum shifts are regular occurrences in 18-hole matches, even more so in team play.   "What went on today is why so many millions of people watch this event all over the world," Clarke continued. "It's match-play golf with 24 of the best players, and anything can happen. It's interesting to watch as a captain, how it ebbs and flows. But that's the beauty of the Ryder Cup."   Sadly, that attractiveness was not duplicated by sections of the large and raucous audience. Not unexpectedly in the wake of his brother Pete's misguided attempt at satire earlier in the week, much of the vitriol and mindless abuse was aimed at the Masters champion, Danny Willett. But he wasn't alone in feeling the force of the crowd's bias. As was obvious from the animated and clearly sarcastic reaction of Rory McIlroy to the putt he holed for a match-winning eagle on the 16th green, the Irishman was making a point to a gallery that had hardly been sporting in its outlook and behavior.    "It's pretty hostile out there," said McIlroy. "But you don't want to let the crowds get to you. I bowed to them at the end to say, 'You're welcome for the show.' I wanted to put an exclamation point on the end of that session. I just wanted to let them know, when I hole a putt, what it means to me."   And his captain, of course.
You are using an unsupported version of Internet Explorer. Please upgrade to Internet Explorer 11 or use a different web browser.