Darren Clarke goes with familiar faces for his Ryder Cup staff
VIRGINIA WATER, England -- To the surprise of, well, no one really, European Ryder Cup captain Darren Clarke has named Thomas Bjorn, Padraig Harrington and Paul Lawrie to be three of his five assistants during the biennial contest at Hazeltine later this year. The trio are each close friends of Clarke's and all have past Ryder Cup experience in either a playing or assisting capacity. In Harrington's and Bjorn's cases, the pair have previously served in both roles.
"These are guys I've known for almost my entire career on tour," said Clarke, an assistant captain himself at Medinah in 2012. "They are guys who won't be afraid to tell me, sometimes, what I don't want to hear. But the big thing is they are also guys I trust implicitly. I will value their opinions tremendously. Hopefully, they are going to form part of a team that will enable the playing side of the squad to perform as well as we know they can and bring the trophy back with us come September."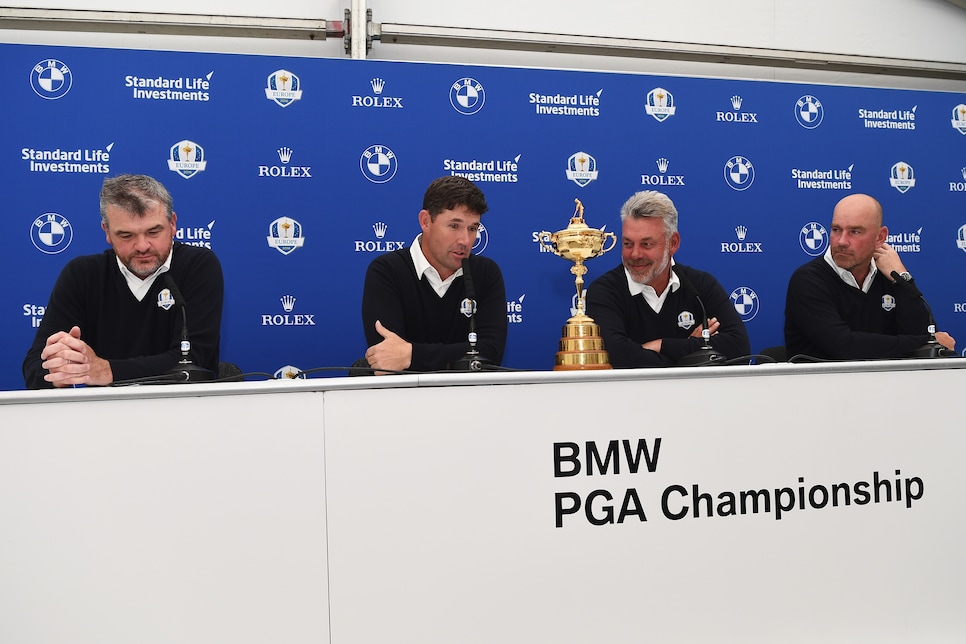 As well as being part of Clarke's inner-circle on the European Tour, Bjorn, Harrington and Lawrie share a common quality: the ability to speak their minds when it is most required. Many times, all three have spoken out on even controversial issues during their professional lives.
"It's going to be interesting," said Bjorn with a smile. "I've done this three times before [at Medinah in 2012, Celtic Manor in 2010 and Oakland Hills in 2004], but I think this is the first time the captain is one of my best friends, and I can tell the truth, which I'm quite looking forward to. We've all got a lot of experience doing playing in this event ourselves. So our job is to pass that on."
The two remaining members of Clarke's backroom team will be announced "around the time of the Open Championship," said the Northern Irishman. Expect Jose Maria Olazabal to be one of those, with the last spot going to either Lee Westwood or Ian Poulter, depending on how the two Englishmen get on in their attempts to qualify as playing members of the team. But if neither make it, Westwood will surely get the nod.