The Loop
Danny Willett's upbringing will keep him grounded, even wearing a green jacket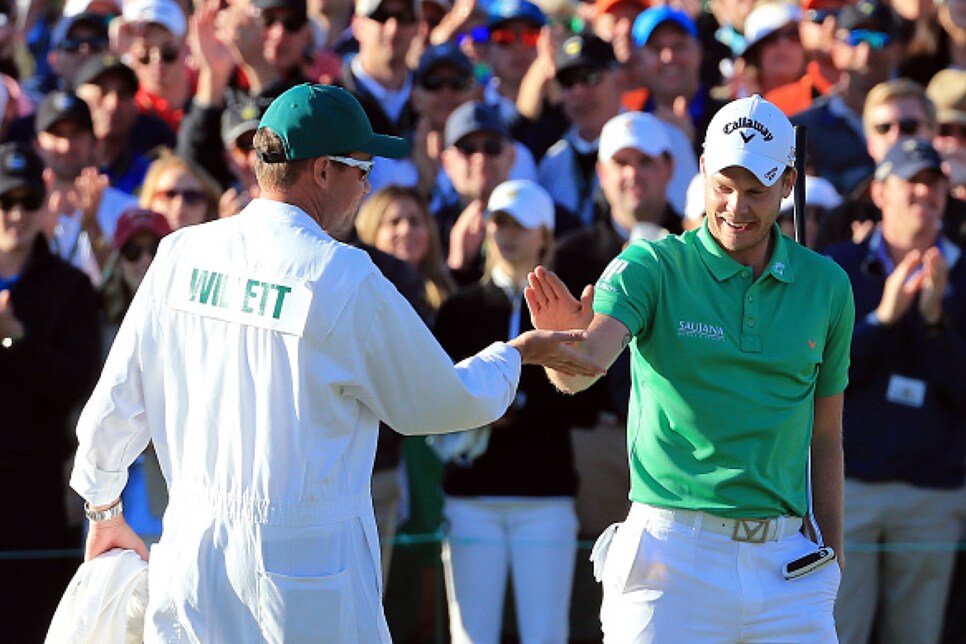 AUGUSTA, Ga. -- He was the last player to arrive -- 89th of 89 -- and the last man to leave Augusta National. Completing a last 12 days of his life he described as "crazy," new father Danny Willett -- he and wife Nicole welcomed son Zachary into the world March 30 -- shot a closing 67 to win one of the most unpredictable Masters Tournaments in history.
Five shots behind defending champion Jordan Spieth with nine holes to play, Willett was standing on the 15th green at four under par for the week when the news came through that the long-time leader had accumulated a quadruple-bogey seven at the short 12th. Suddenly, the tournament was Willett's to lose.
"You never feel comfortable on this golf course," he said. "Not until you finish, sign your card and post a number. I knew I still had a job to do. He was only three back so there were plenty of holes for him to catch up. That made my birdie on the 16th really timely. And I hit a great chip on the 17th (to save par). But that's why you put in the endless hours chipping, putting, hitting shots, imagining hitting shots at certain courses at certain times. And fortunately I was able to relive some of them dreams and some of them practice sessions."
Willett was quick to pay tribute to his playing partner for the final round, Lee Westwood. Good friends and stable-mates at Chubby Chandler's International Sports Management, the pair has played a lot of golf together both competitively and socially. All of which helped the new champion's ability to handle the unique pressures of a major championship.
"I couldn't have asked for a better pairing," he said. "Playing so much with Lee and Darren (Clarke) has helped me be comfortable around great players. My coach, Pete Cowen, told me earlier this year that I have to be comfortable in uncomfortable situations. That helped too."
Spieth also came in for praise from the former English Amateur champion. The pair had the potentially uneasy experience of sitting next to one another at the presentation ceremony, where the defending champion helps his successor into the traditional green jacket. But all had gone well.
"He just said, 'really well played,'" said Willett. "He shook my hand like the true gent he is. He's a class act to be able to hold face as he did at a time when he was obviously hurting. It just shows the character of the guy. He's going to be up and around the world number-one spot for many years."
Such generosity of spirit is typical of Willett. There has always been a lot to like about the first European golfer to win the Masters in this century. Approachable and personable, 28-year old Yorkshire-native has retained, even as he has earned what he calls "ridiculous amounts of money for someone my age," an ordinariness and down-to-earth quality. This is a man whose two best friends on the European Tour are caddies.
I've had times when I've wanted an arm round my shoulder and I've been given a kick up the backside instead. Which is how it should be.
"When we are all home we might go for a game and a bit of a giggle," he says of his pals. "That's life for me. I see the physio in the morning then go for a lesson. And play in the afternoon. After that it might be a few drinks and a game of snooker.
"We just mess around really. That's normality for me. What I don't do is live the same life I have on tour. After a few weeks off I'm always excited to be back on tour. I hate pitching up tired after too long on the road. My maximum -- and they would have to be good events -- is four."
Golfing fatigue wasn't a problem this week. Willett arrived on the back of a brief break from the tour. Which is not to say he was well rested. The recent addition to the Willett clan -- originally due to arrive April 11, his mum's 28th birthday -- did mean golf's newest father was inevitably a little short of sleep. But, as things turned out, not short of birdies. Winning a maiden major championship title with a five-birdie, bogey-free closing round of 67 is the stuff of dreams for any golfer.
Willett's background has played a large role in his ability to stay grounded, something that his newfound status surely won't change. The son of a Church of England vicar and a Swedish-born mathematics teacher and the second youngest of four brothers, Willett has never been allowed to be the big shot in his obviously close-knit family (his parents twice re-mortgaged their home to finance his golf when he was an amateur).
"My Dad, as you'd expect, is pretty philosophical," he says. "And my Mum, being Swedish, is more straightforward and blunt. I've had times when I've wanted an arm round my shoulder and I've been given a kick up the backside instead. Which is how it should be.
"I'm almost jealous of family's ability to do "ordinary" things. When I was playing in the Irish Open last year my parents were at their house in Wales, which is where they will retire. They had our dog with them. They were on the beach every day and waking up whenever they wanted. And I was over there slaving away getting frustrated because I wasn't hitting it on a string."
That hasn't happened too often in his career, though. After taking up the game at the age of 11, Willett made rapid progress through the amateur ranks, peaking at -- where else -- number-one in the world ranking. He also spent two years at Jacksonville State University.
"It was there I learned how to practice properly," he says. "I had to manage my own time. I was in the gym six days a week. I had to qualify for the team on a weekly basis. And I had my schoolwork too. I had to keep up a grade average that was decent enough to maintain my eligibility for the team. Throw all that in the pot and you have to be organized."
Left to his own devices, Willett developed a highly repeatable action, one distinctive for the early "set" of the club in the backswing. But it makes sense, at least to its owner.
"If you set the club correctly early in the swing, all you really have to do is turn," says the former Walker Cup player of the swing that stood up best to the pressure of an endlessly exciting Masters Sunday. "It's that simple. If I get the club in position with my shoulders 'loaded,' I can just elevate to the turn them come back down. At my best, that's all I think about.
"I don't think my swing is ever going to change in how it looks. But the feeling of it has changed. It feels wider. But when I see it on camera it still looks narrow to me. But I don't have to think about it really. At first it was a conscious move, but not now."
One thing that has held Willett back is his back. Over the course of his professional career he has been forced to withdraw from "maybe five events."
"It's an on-going thing and is sometimes not great," he says. "When it's cold, I struggle. It was an edema on L-5 S-1 on my spine. It needed to settle down basically. And golf is not the best sport you can play with a bad back.
"I have to watch myself. I can practice as much as I want most of the time. But I have to make sure I move correctly and do all the stretches both before and after. I have to stay loose. So it's something I have to work around."
And that he has done rather successfully over the last couple of years. T-6 in the Open Championship at St. Andrews last year, Willett was also third in the WGC World Match Play and the WGC HSBC Championship. This year he joined the PGA Tour, ironically after seeking advice from the man he played alongside in the final round of the 80th Masters.
"I talked to Lee about whether I need to move to the States," says Willett, who hails from the industrial city of Sheffield. "He told me he managed fine when he was living in Worksop, so I don't see any need to move over permanently. Lee said I should pick the events I want to play in, know my schedule and stick to it."
Following that plan has worked out rather nicely. Even before victory in the year's first major, Willett was well on the way to the best season of his career. In February, he won the Dubai Desert Classic and last month he was T-3 in the WGC Cadillac Championship at Doral. So a surprise victory this was not, no matter how much the ups and downs of Spieth may have contributed to the most important win of Willett's life.