The Loop
Danny Willett's road to stardom ran through college golf in Alabama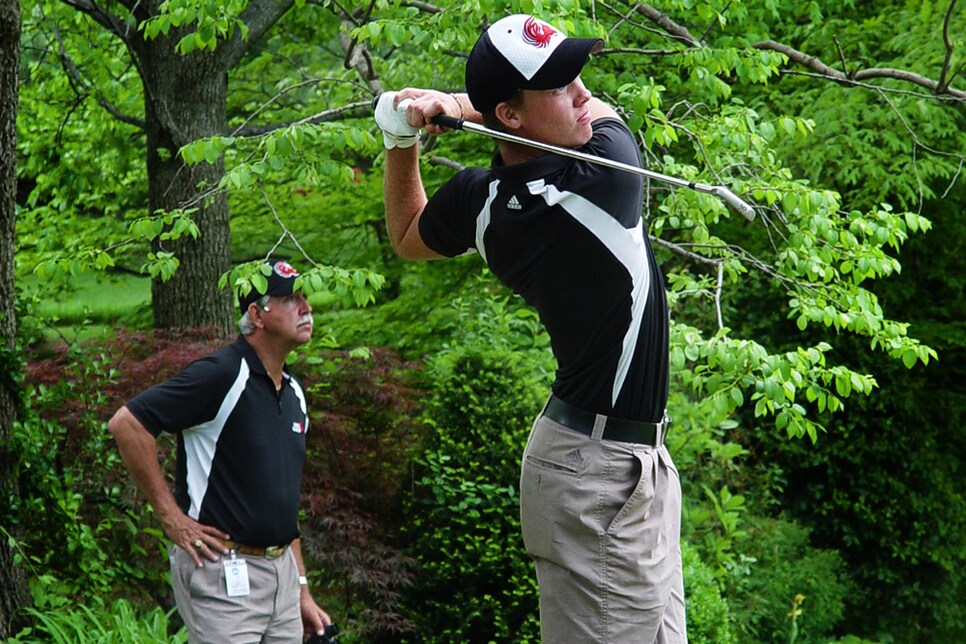 James Hobbs remembers the day England's Danny Willett arrived on the Jacksonville (Ala.) State University campus in 2005. The Yorkshireman was fresh off the plane and getting his first glimpse of his new American home. After quickly getting settled in his dorm room, Willett asked to see Silver Lakes, the Gamecocks' home course that is also part of the Robert Trent Jones Golf Trail.
"Danny basically came blind to JSU," Hobbs remembered.
Hobbs heard of Willett through a friend who ran a recruiting service in Europe. The golf coach had one scholarship remaining and was the first to show interest in the 17-year-old. Hobbs had seen a video of Willett's swing, but he would come to be even more impressed with the single-mindedness of the young man's mission.
"There were no distractions out there. Which was good for me in terms of keeping my head down and playing golf."
"I have an academic advisor for golf who told me, 'You're gonna have trouble with this guy,' '' Hobbs said. "He had told the advisor he didn't come to Jacksonville State to go to school. He came to play golf."
Willett recalls the "massive cultural shock" he experienced at JSU, where the nearest big town was Oxford, Ala. (pop. 21,000). In a way that was perfect for Willett, who wanted a small-school environment, not a high-profile university with a party atmosphere.
"There were no distractions out there," Willett told me. "Which was good for me in terms of keeping my head down and playing golf."
A decade before winning the 80th Masters, Willett was the Ohio Valley Conference's Freshman of the Year. "He was very, very confident, but he wasn't arrogant," Hobbs said. "He felt like he could hit any shot and play any golf course."
Willett also built a reputation for his work ethic and quick sense of humor. In the team van, he would argue with teammates that the Open Championship was bigger than the Masters. Around campus, his thick Midlands accent stood out. "Everybody knew Danny," Hobbs said.
After two years, Willett had a 3.41 GPA but decided to leave JSU, returning to England with a better game. Still largely unknown on the amateur circuit in Europe, the first sign that he had gained seasoning was an upset victory over Rory McIlroy on his way to winning the 2007 English Amateur. That led to Willett's late selection to the Great Britain & Ireland Walker Cup team and ultimately his rise to the No. 1 on the World Amateur Ranking after winning the 2008 Australian Stroke Play Amateur and Spanish Amateur. With that, Willett turned pro.
Hobbs, who has been JSU's golf coach since 1977, has stayed in touch. Two weeks ago he drove the 3 1/2 hours from Jacksonville to Augusta to watch Willett play a practice round. One thing from the visit was clear to the coach—Willett hadn't forgotten Jacksonville State.
"He's something that happens one time in your life," Hobbs said after Willett's Masters win. "He left such an impact on me, and hopefully, he'll say the school left a big impact on him as well. The school basically gave him an arena where he could mature physically and mentally and at the same time, mature at a place where he could feel at home and comfortable in this environment."
Willett's Masters victory gave JSU unparalleled exposure all over social media. The school's website has a photo of Willett in the green jacket. The BBC and Sports Illustrated have interviewed Hobbs. The Gamecocks' golf program has a major champion and more team swagger.
"It's big here," Hobbs said. "Trust me, it's big."