Undercover Lessons
Watch Danielle Kang rip driver in this mic'd-up session with Butch Harmon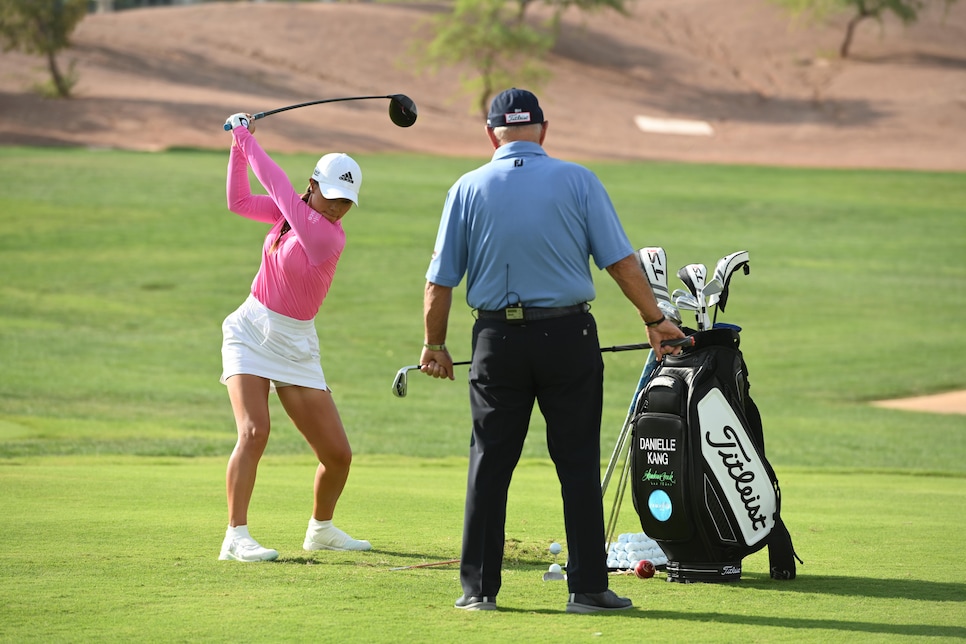 For the second consecutive season, Danielle Kang finished in the top 10 in scoring average on the LPGA Tour, in large part because of her driving. Kang hit 77 percent of her fairways, the most since her breakout season on tour in 2017.
One of the reasons Kang is such a good driver is that she's pretty conservative with her speed, says her swing coach, Butch Harmon. Kang doesn't really crank it up unless she has to, like when she needs a longer carry to cover a hazard. She's able to change speeds, Harmon says, depending on whether she wants to fit the ball into a tight fairway or nuke it over a fairway bunker.
In this video, Harmon—voted No. 1 by his peers on Golf Digest's ranking of the 50 Best Teachers in America—discusses with Kang the nuked version, step by step. It's a blueprint on how to not only squeeze 10 more yards out of the driver but hit it straighter as well.
Kang starts by taking a wider stance and tilting her spine slightly to her right. She's then very deliberate all the way to the top of the backswing, which ensures that she completes her body turn. Then, Kang makes sure to keep up her arm speed to the finish. Kang used to hang back and flip her hands through, a common mistake among amateurs, instead of moving everything through together. It's critical, Harmon says, to keep moving forward so that your chest is in line with the ball at impact.
Harmon says there's also a benefit to going full throttle on the range with the driver.
"A good way to check your mechanics, if your backswing is right and your through-swing is sequenced up into impact, is to try to hit a hard one," Harmon tells Kang.
Watch Danielle Kang ripping driver in this mic'd-up session with Butch Harmon:
"Undercover Lessons: Danielle Kang" is one of more than 130 video programs in Golf Digest Schools. Take your game to the next level with instruction from the top teachers and players. And with the new Golf Digest Schools app, you can bring it all with you anywhere you go. Check out Golf Digest Schools, a revolutionary experience in golf instruction.