Solheim Cup
Danielle Kang is in Spain for the 2023 Solheim Cup. Her clubs, however, missed their connecting flight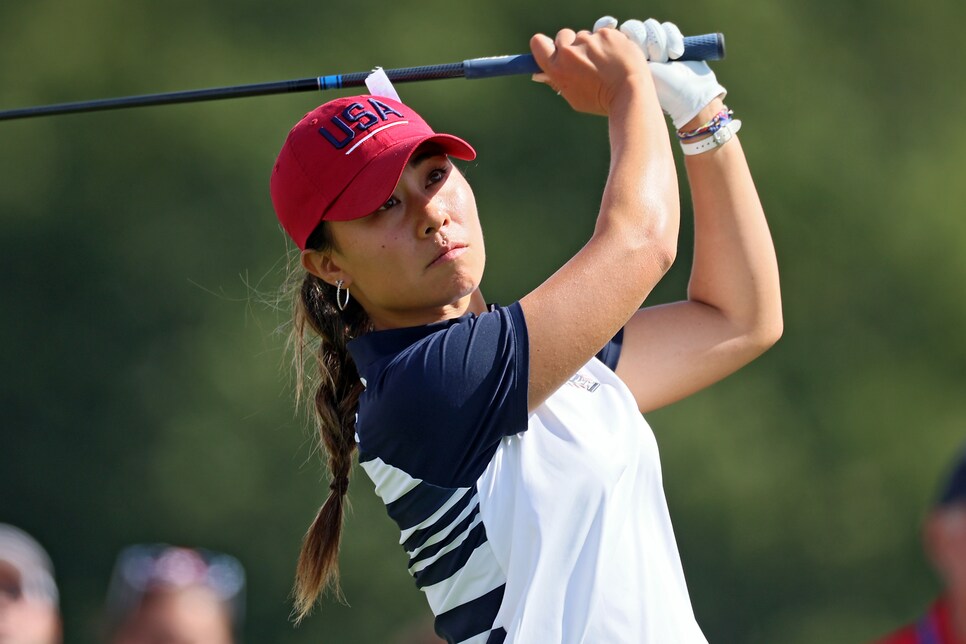 CASERAS, Spain — It's only Tuesday. And there are at least three days to go before Danielle Kang could be asked to hit a shot in the 2023 Solheim Cup, what will be her fourth appearance in the biennial contest between the best women golfers from the United States and Europe. That's all fine, of course. Or it would be, if Kang had all her clubs with her. But actually being in possession of only one of the 14 is hardly the ideal preparation for the 30-year old Californian.
As ever when these things happen, it's been quite the travel saga. Over the weekend, Kang flew first from Las Vegas to Amsterdam on Delta Airlines. Then she connected to Malaga on a KLM-owned regional airline. So far so good. She arrived safely and on time, but her bag and clubs did not. And still they have not arrived.
"First they told they were in Amsterdam," said King during her Tuesday press conference at the Finca Cortesin course on the Costa Del Sol. "Then they said Vegas. Now it's Amsterdam again. It's been an adventure. If it wasn't a dramatic entrance, it wouldn't be my life, so it's OK. It's all good. My captain, Stacy [Lewis], has been absolutely incredible. The entire U.S. team has been helping me. Everyone's on top of it."
Making the best of things in the meantime, Kang played Tuesday morning with a set of clubs made up by Ping. And a replacement set matching her own specifications has been sent by Titleist. It is due to arrive late Tuesday. Worst-case scenario, Kang should be moving at somewhere close to full speed by Wednesday morning.
"It's harder to duplicate the wedges than the woods, but hopefully we can make the best of it," she said. "It's traveling. We've all been there when it comes to clubs going missing. I'm just happy everyone else's arrived. I can handle the drama. At least I got to play today. I got to test out the golf course. It is what it is. You just kind of roll with the punches. It's life, it's golf, you know, it's OK. I'm here and we're good (laughing)."
Unfortunately, this isn't the first time this season Kang has struggled with airlines getting her bags to her. Last month, Kang dealt with missing bags while traveling between the Amundi Evian Championship in France and the AIG Women's Open in England.
The only piece of good news in this unfortunate scenario is that Kang has what is perhaps the most important club in her bag, her putter.
"I do travel with my putter separately, yes, in a rifle case, because my putter is a different model, so we don't have the bending machine for it, and it bends a lot during travel, so I put it in a separate case to travel with because I don't have the means to get my putter checked every week. And, yes, the clubs do get bent on the plane. And, yes, they matter, to all the people wondering. So thankfully the putter didn't get lost. But it's OK. The other 13 are coming. It's coming. We have faith. Stacy is on it. She's putting out fires, and I'm pretty sure I'm the only one causing fire right now."
One that hopefully be doused soon.