The Loop
Danielle Downey remembered gratefully by her Auburn coach
There wasn't a need for a phone call or a knock at the door. Danielle Downey was allowed in Kim Evans' house at any time. She had the garage code. And utilized it nearly every day.
When Evans -- the Hall of Fame women's golf coach at Auburn -- was diagnosed with ovarian cancer last May, she relied on Downey, a former player back working for her alma mater, to attend to more than simply her golf team. Try walking Evans' dog. And bringing over groceries or a meal. Or simply stopping by to make her smile.
Downey was always there for Evans, which made the news of Downey's death in a single-car accident the evening of Jan. 30 that much more difficult to accept. Downey was 33.
"She was a special kid," Evans said Monday before flying out to attend services in Downey's hometown of Rochester, N.Y. "I'm going to miss her dearly. And the Auburn community will miss her."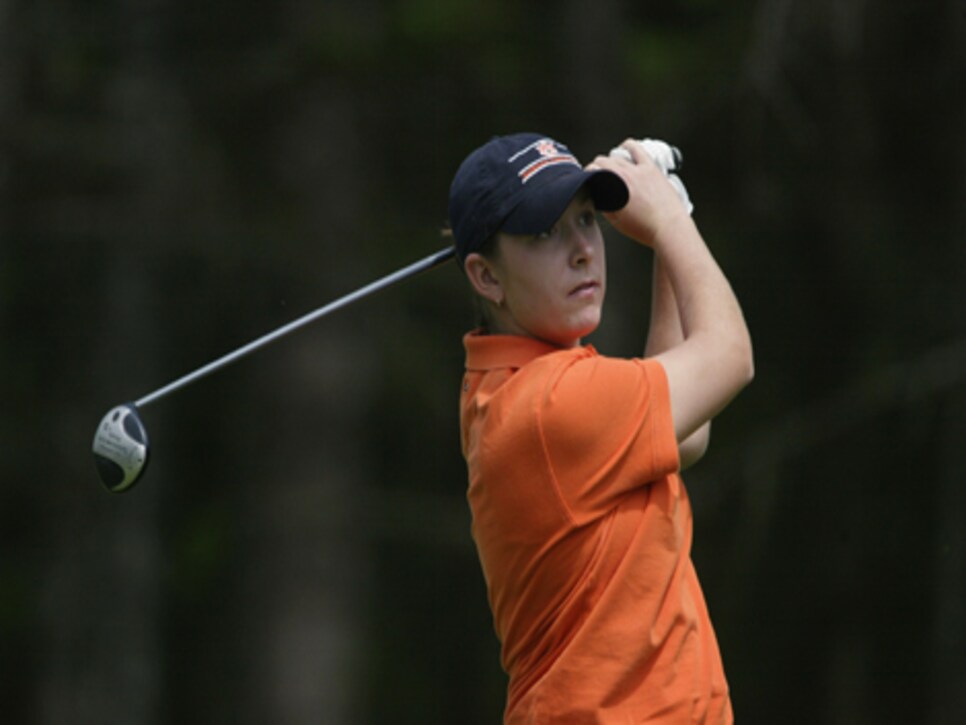 Downey at the 2002 NCAA Championships, where she finished tied for runner-up. Courtesy: Jonathan Ferrey/Getty Images
Evans said the accident occurred less than half a mile from Downey's home in Auburn, Ala. Initial reports stated that Downey lost control of her car, which then flipped multiple times. Downey was pronounced dead on arrival at the hospital.
A report from the Auburn Department of Public Safety, released Monday evening and reported by the Associated Press, showed that Downey had alcohol in her system at the time of the crash.
In the early morning hours of Jan. 31, Evans happened to be awake when she received a call from associate head coach Andrew Pratt. Evans phoned Downey's father, Michael, who immediately drove from Tampa, Fla., to Auburn. Michael Downey stayed with Evans as they made arrangements.
"For me, I'm celebrating her life," Evans said. "I'm glad I was able to get to know her and her family for the time that we had her."
Evans recruited Downey as high schooler in upstate New York to come to Auburn in the late 1990s. Downey made her mark as a player by winning the SEC title in 2000 and finishing tied for second at the 2002 NCAA Championship, still the best individual showing by a Lady Tiger at nationals in school history.
A year later Downey turned professional and made it onto the LPGA Tour from 2006-'10. When her playing career wound down, she stayed on the pro circuit caddieing for Sarah Kemp (full time) and Laura Davies until calling Evans a little more than a year ago to tell her, "It's time I hang it up, coach."
Evans offered Downey the chance to help administratively with the Auburn golf teams, but her role on campus took a different dynamic when Evans' illness was diagnosed on the eve of the 2013 postseason. Downey stepped in as the interim coach while Evans met with doctors to determine her treatment, overseeing the squad as it claimed a sixth-place finish at NCAAs, its best result in the last eight years.
Every morning and every night during the championship, Evans said she and Downey spoke. And there were multiple text messages throughout the day to keep the 20-year head coach up to date on her team's status.
And then through the summer, Downey continued to assist Evans. She even drove Evans to multiple chemotherapy treatments and to her first blood transfusion.
"She was a blessing," Evans said. "Occasionally, she'd call and say she was coming over. But most times she didn't have to knock. She was family for me."
Last fall, Downey took the role of Director of Golf Operations for both the men's and women's golf teams, and along with Pratt, helped guide the team with Evans finishing her cancer treatments.
As Evans spoke on Monday, she had just gone through the 190 text messages she received about Danielle last weekend. Which she didn't mind at all. To her, it was a fitting tribute to a player and friend she'll always remember.
"Someone asked if I needed help answering them, and I said, 'Heck, no.' I want to answer every one of them," Evans said. "I can't wait to talk about Danielle, and say thank you to them for reaching out.
"I still need to look at my emails and thank them for reaching out. And I'm still writing thank-you notes for what people did for me all last year. I have lots of thank yous, which I certainly don't mind doing because I am very thankful. And especially thankful for Danielle."
Evans says her own health has progressed as her doctors predicted. And she should be on schedule to coach the team in Puerto Rico later this month as the spring season begins.
A memorial service for Downey is scheduled for Feb. 13 at Auburn Arena.