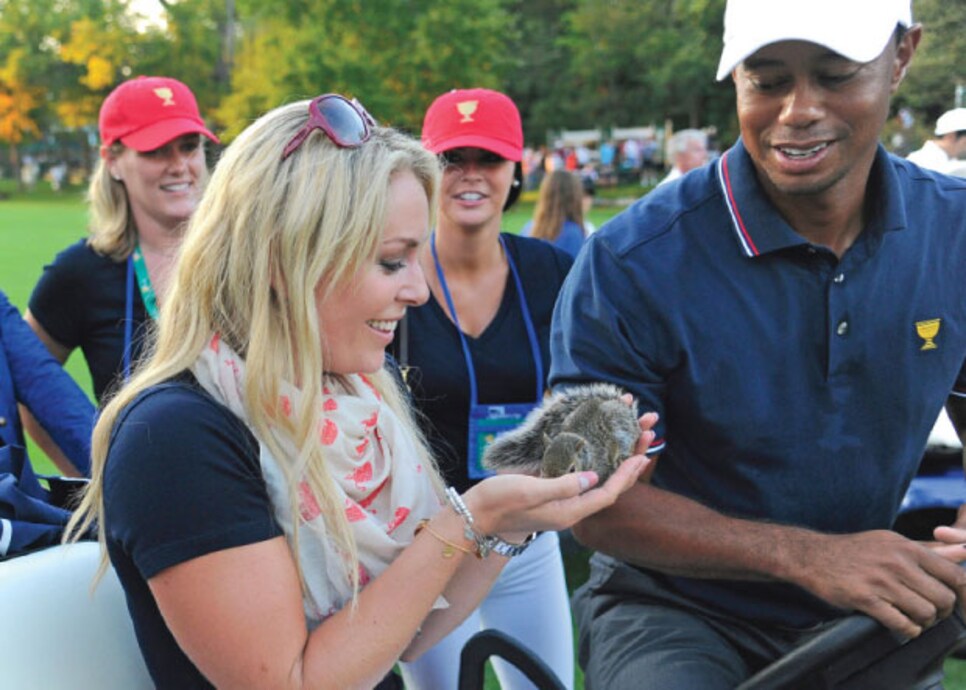 Lindsey Vonn surprised Tiger Woods with a visit from Sammy the Squirrel.
1. What was the highlight of Tiger Woods' year in the majors?
(a) Not winning the Masters.
(b) Not winning the U.S. Open.
(c) Not winning the British Open.
(d) Not winning the PGA Championship.
(e) Not getting DQ'd from any of them.
2. The most unusual golf story of the year:
(a) A golfer got swallowed by a sinkhole on a course in Illinois.
(b) Investigators found a meth lab inside a port-o-potty on a course in Oklahoma.
(c) Officials were so disturbed by Tiger's illegal drop at the Masters that they penalized a 14-year-old for slow play.
3. Why did Phil Mickelson take a red-eye flight from California before the first round of the U.S. Open at Merion?
(a) He didn't want to miss his daughter's eighth-grade graduation.
(b) He figured taking a cross-country flight in a private plane was the perfect forum to complain about California's taxes.
4. Which got the most blame for Rory McIlroy's lackluster play?
(c) Rory's switch of agents.
(d) Rory's switch of equipment.
5. What did Brooks Koepka dine on while playing a Challenge Tour event in romantic Kazakhstan?
(a) The Secretariat Special.
(b) The Seabiscuit Platter.
(c) The Black Beauty Buffet.
(d) Just your basic horse meat.
6. What was your favorite Sergio Garcia quote about Tiger in 2013?
(a) "He's not the nicest guy on tour."
(b) "We don't enjoy each other's company."
(c) "I'm not the bad guy here. I'm the victim."
(d) "He called me a whiner. He's probably right."
7. Why did Sergio climb a tree during the final round at Bay Hill?
(a) To identify his ball.
(b) To see if he could play a one-handed shot backward.
(c) He heard Tiger rattling a club two holes away.
8. What's the name locals gave to a three-legged gator at TPC Louisiana?
9. What got the most attention at the Presidents Cup?
(b) Kimberly the Streaker.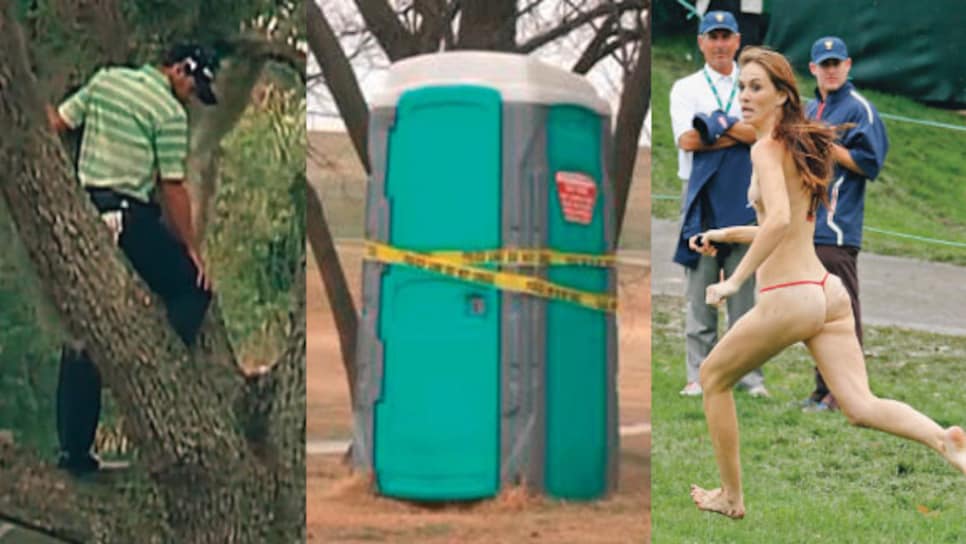 Photos: PGA Tour; KFOR-TV; Gregory Shamus/Getty Images__
10. Which did Tiger Woods blame for back problems at the end of the season?
11. My reaction when I heard that the PGA of America is considering playing the PGA Championship outside the United States:
(a) When did Pebble Beach wash out to sea?
(b) Did fungus get to Oakmont?
(c) Anything is better than Valhalla.
12. What exactly did Brandel Chamblee say about Tiger Woods?
(a) Tiger is "a little cavalier" with the rules of golf.
(b) Tiger needs a math teacher to keep his score.
13. What happened after Brandel Chamblee apologized to Tiger?
(a) Tiger said Brandel didn't really apologize.
(b) Tiger's Twitter account took an illegal drop.
14. FOX's best bet for a marquee announcer at the 2015 U.S. Open after winning the rights from NBC:
(c) Brandel Chamblee, just back from Albania.
15. What did Inbee Park chase in winning the year's first three majors?
16. What did Lindsey Vonn do after confirming her relationship with Tiger, saying, "I would like to keep that part of my life between us, my family and close friends"?
(a) She kept a low profile by sitting on a green during one of Tiger's practice rounds at Muirfield.
(b) She kept her life with Tiger between the two of them, her family and close friends. And millions of strangers on Facebook and Twitter.
17. What was the biggest hazard LPGA players faced playing around the world in 2013?
(a) Kangaroos in Australia.
(b) Flooding in the Bahamas.
(d) Black-widow spiders in Australia.
(e) Malaria in Singapore.
(f) The plague and pestilence of their TV schedule.
18. What is "bifurcation"?
(a) A new word for pronate.
(b) I don't know, but too much of it can't be good for you.
19. What did Wayne Gretzky say to Dustin Johnson (later engaged to Gretzky's daughter Paulina) when they were paired in a pro-am?
(a) "Isn't that a bunker you're standing in?"
(b) "Great shot. And your name is...?"
20. Which couple got the most attention in 2013?
21. What came to mind after Lydia Ko, 16, said she was turning pro:
(a) She's going to make a lot of money.
(b) She's going to miss a putt someday.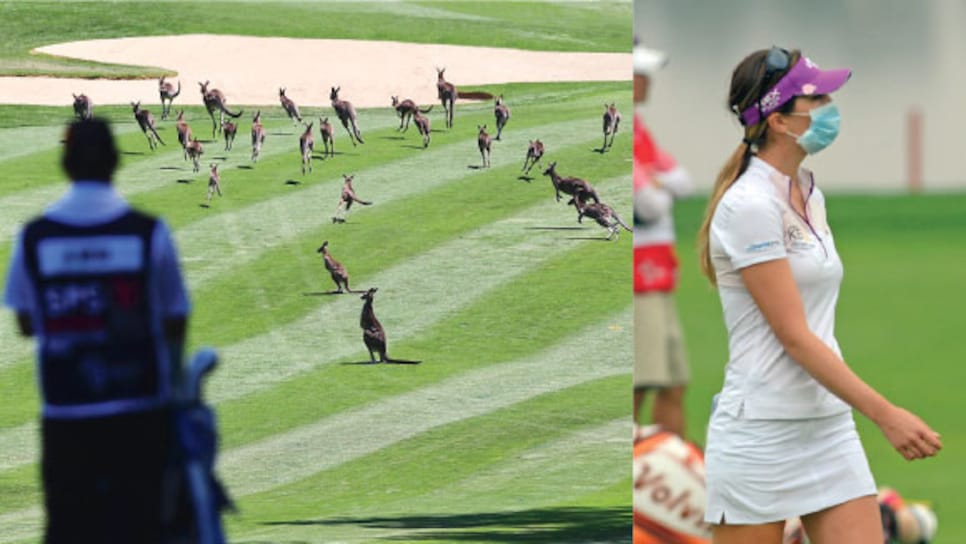 Photos: Stefan Postles/Getty Images; Goh Chai Hin/AFP/Getty Images__
22. Name the LPGA's fifth major:
(d) That thing in France.
23. What is Gil Hanse dealing with as he builds a course in Rio de Janeiro for the 2016 Olympics?
(a) Caimans, members of the alligator family.
(b) Capybara, the largest member of the rodent family.
(c) The International Olympic Committee bureaucrats, also members of the rodent family.
24. What happened when Condi Rice and Darla Moore attended the Masters as members of the Augusta National?
(a) Hell didn't freeze over.
(c) I got a hug from Darla. (Her husband and brother-in-law are old friends from Fort Worth.)
25. What did Tony Jacklin wear while competing in "Strictly Come Dancing," the British version of "Dancing With The Stars"?
(c) A look of embarrassment.
My vote for the heartwarming story of the year:__
(a) Leading the Canadian Open, Hunter Mahan WD'd to be with his wife for the birth of their first child.
(b) Stacy Lewis winning after her caddie got her penalized two shots by stepping into a fairway bunker.
(c) Me getting the Red Smith Award.