News
Dan Jenkins: A Man and His Majors
Dan Jenkins picks the best of the 229 (and counting) Grand Slam events in his career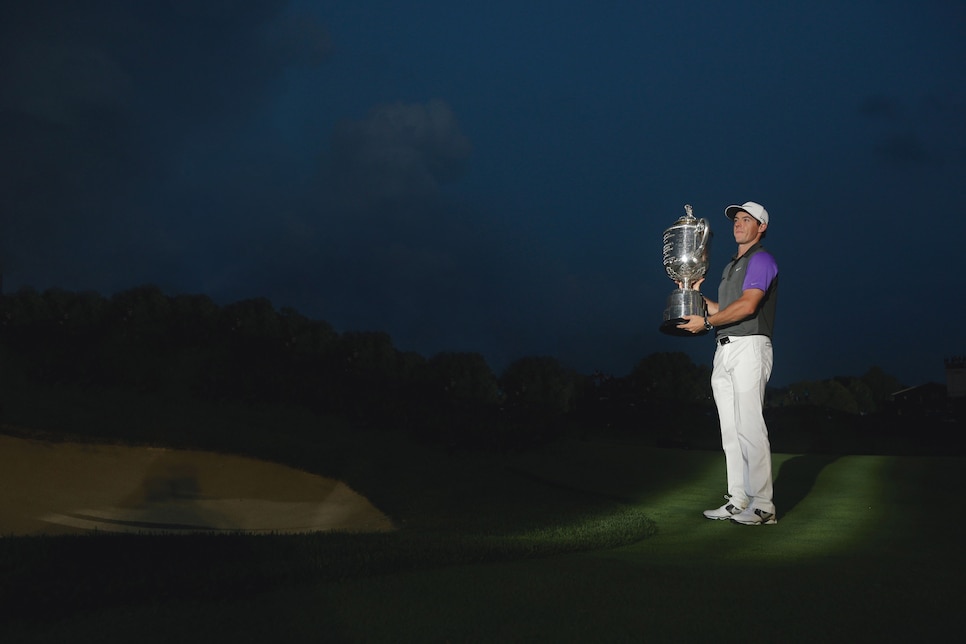 When all of this started seven decades ago, I could never have imagined that I would someday become the Ancient Twitterer of Golf. But the fact remains that the 2017 PGA Championship will be my 230th major.
You might expect that I've been to so many of them, they've all become a blur of green jackets, USGA rulings and pork pies. However, the fact is, I have fond memories of a bunch of them, particularly those that were won by immortals instead of lurkers, meaning those competitors who are less a part of golf's charm than they are its mysteries.
So, without further throat-clearing—and decade by decade—here are the most memorable majors I've been privileged to observe with my own eyes, type about with my own fingers, and tweet with my own mind.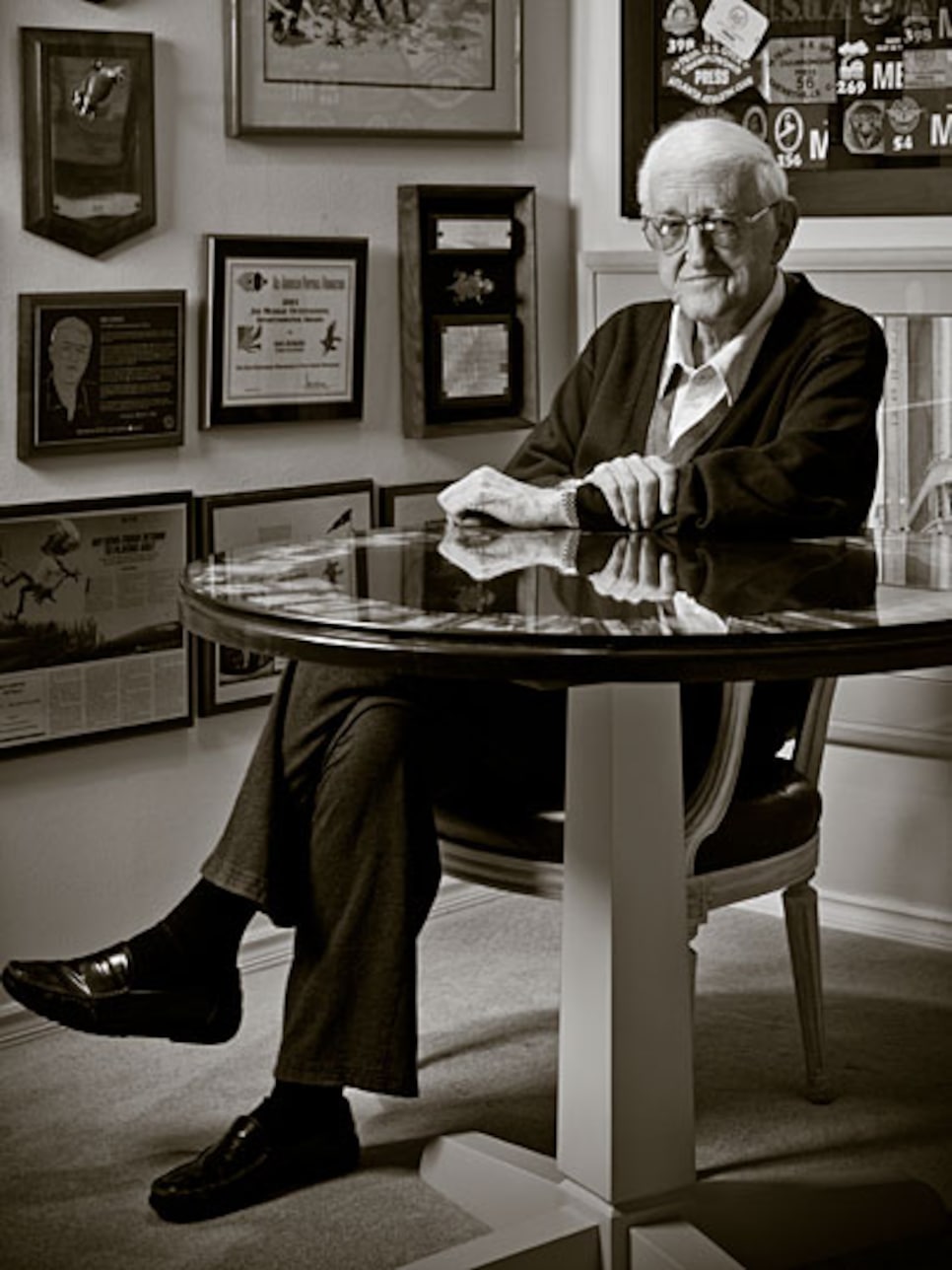 1950-'59: Starting with Hogan
The Masters of '51 was my first to attend and Ben Hogan's first to win. I had never seen a golf course so green with blue ponds and pine trees that tall. In those days the Augusta National paired by whim rather than by scores. Thus Hogan, who had narrowly lost the Masters twice, went out two hours behind the co-leaders, Skee Riegel and Sam Snead. Sam stumbled, but Riegel got to the house with a 70 for 282. Ben eventually arrived with a four-under-par 68—the only sub-70 round of the day—to win by two.
Oakland Hills at the '51 U.S. Open is still the hardest golf course I've ever seen. That's where Hogan shot his amazing 67 in the last round to win. Luck of the pairings for the last 36 holes on "Open Saturday" saw Ben go out one hour ahead of Clayton Heafner, with whom he was tied, and an hour and a half ahead of the co-leaders, Bobby Locke and Jimmy Demaret. It was the only U.S. Open Hogan won sitting in the clubhouse. It was at the ceremony that Ben famously said, "I'm glad I could bring this monster to its knees." In the locker room he called it something else.
In his Triple Crown year, Hogan led all the way at the '53 U.S. Open on ornery old Oakmont. But Snead stayed close. Ben went out an hour ahead of Sam in the final round. Things were tight as Ben stood on the 16th tee and learned that Sam was still only one back with nine to play. So Ben solved the problem by finishing 3-3-3, a par and two birdies. Those numbers wilted Snead, and Hogan won by six shots.
For my taste, the Masters of '54 remains the craziest of them all. On a windy course that week, it marked the last time that those two titans, Hogan and Snead, would duke it out in a major. Sam won their 18-hole playoff with a 70—thanks to a chip-in birdie at the 10th hole—to Hogan's 71. But for all 72 holes, an unknown amateur, Billy Joe Patton, dominated the roars. Billy Joe led the first two rounds, dropped back, but recaptured the lead on Sunday with a shocking hole-in-one at No. 6. Then, just as shockingly, he frittered away the green jacket with an impetuous second shot into the creek at No. 13 that resulted in a double-bogey 7. Then another hasty decision led to a bogey 6 at the 15th hole. And he missed the playoff by only one shot! Hogan gave it away himself on Sunday with a pulled approach that found the water on No. 11 and cost him a double bogey. Overlooked in the reporting was the fact that a win in that Masters after his Triple Crown of the previous year would have given Ben a fourth straight major.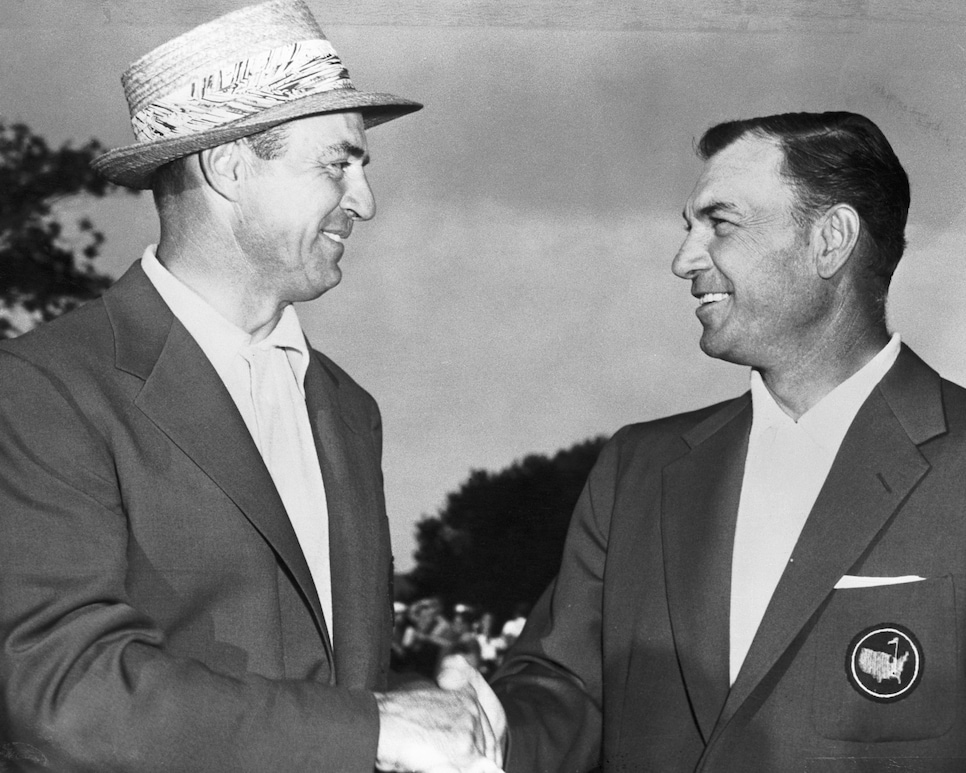 1960-'69: The Greatest U.S. Open
Maybe a new generation has to be reminded that the last day of the '60 U.S. Open at Cherry Hills was the greatest of any U.S. Open, ever. It was the day that the current king, Arnold Palmer, outlasted the former king, Ben Hogan, and the future king, amateur Jack Nicklaus. Arnold did it with a six-under 65 in the last round, but he still needed a little help from Hogan, who hit a short wedge shot into the water on the 71st hole, and Nicklaus, who three-putted two of the last five greens. All in all, Arnold came from seven strokes and 14 players back to win.
By the time the '62 U.S. Open at Oakmont rolled around, Arnold had won five majors, including his third Masters that April. He clearly towered over the sport. In addition, he would be competing on a course that he knew better than anyone. So how did he lose? He started by three-putting 11 times over the 72 holes, which left him in a playoff with a young Nicklaus, who had turned pro that year. But Jack was insanely long off the tee, longer than Palmer by anywhere from 50 to 80 yards on every hole. Jack won handily, 71-74. But Nicklaus would prove to be more than a surprise winner that week.
Three weeks later, Arnold played the best golf of his career when he trampled Troon—and Kel Nagle—in the '62 Open. Palmer won by six and captured the hearts of all of Scotland. It was my first British Open to cover and test the heather with my loafers. In fact, it was my first year to cover all four majors, which permitted my pal Bob Drum to call me "the O.B. Keeler of Texas newspapers."
Now came Lee Trevino—Super Mex, he called himself—to liven up the sports pages of America. This product of public-course gambling games in Dallas won the '68 U.S. Open at Oak Hill, crushing the three-day leader Bert Yancey and becoming the first winner to shoot all four rounds in the 60s in our Open. Lee celebrated by saying, "I'm gonna buy the Alamo and redecorate it."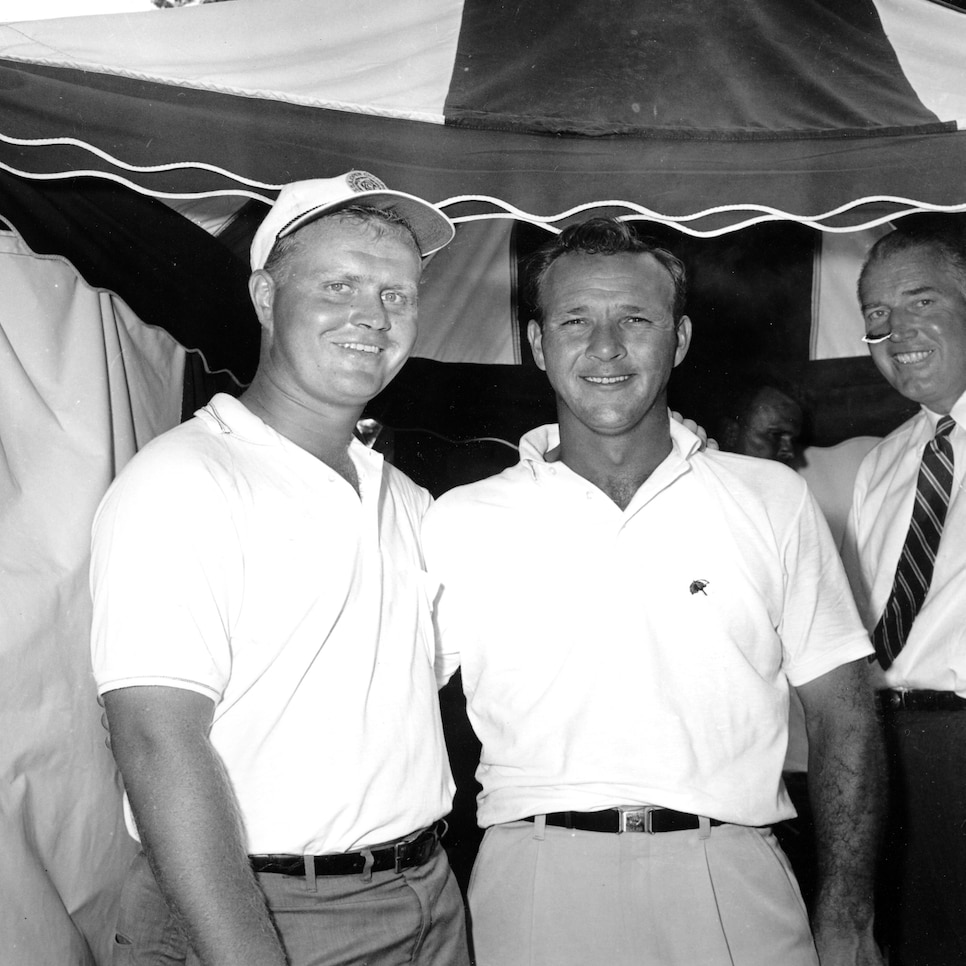 1970-'79: Eight of Jack's major wins
Here was a decade ruled by household names and immortals. Nicklaus won eight majors in the '70s, starting with the '70 Open at St. Andrews, a thrilling event from start to finish, topped off by Jack's win over Doug Sanders, 72-73, in their playoff on a windswept Old Course.
Nicklaus started off '72 by winning the Masters and then the U.S. Open at Pebble Beach, which was Pebble's first time to host the Open. Jack was on track to capture the third leg of a modern Grand Slam, but Trevino had another idea. Muirfield in Scotland was where Trevino and Nicklaus and Tony Jacklin battled over the last 18 in one of the most exciting days of golf, ever. Lee's chip-in birdie at the 71st hole was the blow that enabled him to survive Nicklaus' closing 66. Trevino's 71 nudged Jack by one and Jacklin by two, and in typical character, Trevino said, "I didn't come over here to help Jack Nicklaus win the Grand Slam."
The '75 Masters produced one of the tournament's most suspenseful finishes. This was the time Nicklaus went up against Tom Weiskopf and Johnny Miller. Jack won it by hitting one of the greatest shots of his life—a 2-iron second to No. 15 to secure a two-putt birdie, and then by sinking one of the timeliest putts of his life, a 40-foot birdie putt on No. 16 that seemed to take forever to reach the cup. But he still needed Weiskopf and Miller to miss makable birdie putts on the 18th green, which they narrowly did.
A quaint stat in Nicklaus' career is that he finished second in seven British Opens. Perhaps as jolting to him as Muirfield was his loss to Tom Watson at Turnberry in '77. That's where Jack shot 65-66 over the last 36 only to lose to Tom's 65-65. Jack was up by two with six to play, but Tom birdied 13 and then made Jack the victim of another hole-out. From off the green on No. 15, Watson putted in a speeding 30-foot birdie to pull even, primarily because the ball struck the flagstick, which kept it from continuing on to France. It was the stroke that made the difference.
Bonus choice: Seve Ballesteros won his first of five majors in the '79 Open at Royal Lytham & St. Annes, my least-favorite venue. Bobby Jones won there in '26, which is the only thing that makes it royal to me. It's certainly not its proximity to Blackpool, the funniest seaside resort you will ever stumble across. Lytham was where Seve, forever wild off the tee, got a free drop out of a parking lot in the last round and turned it into a birdie that helped him hold off Nicklaus and Ben Crenshaw, thereby earning Seve his nickname of the Car Park Champion.
1980-'89: More Watson and Nicklaus
The '82 U.S. Open at Pebble Beach featured Watson making great escapes and performing miracles again in the final round, which included sinking a 25-foot putt to save a par and a 40-footer for a birdie, and chipping in on the 71st hole, Pebble's intimidating par 3, for the birdie that beat Nicklaus. Jack said he played "some of the best golf of my life" that week, but his putter turned obstinate on him. In the end, it was just another of his remarkable 19 runner-up finishes in majors.
In the '84 Masters, it seemed like the whole world rejoiced when Ben Crenshaw finally got it done. Winning a major, I mean. It had taken him 11 years on tour and five second-place finishes in majors to do it. But it wasn't easy. After leading with a first-round 67, he fell four behind Mark Lye after 36 and two behind Tom Kite after 54, but a closing 68 staved off Watson.
On Sunday, April 13, 1986—a date that will live in legend—Nicklaus won his record sixth Masters and his 18th professional major. And he did it with a closing 65 in a firefight with Kite, Watson, Greg Norman, Seve Ballesteros and Nick Price, a virtual Hall of Fame. It was epic. I have to confess I was among those reaching for a Kleenex at the finish.
Something else historic occurred in the last U.S. Open of the decade at Oak Hill, or Soak Hill as it became known after heavy rains drenched the course from the start through the third round. Curtis Strange became the first player since Hogan in 1950-'51 to win back-to-back Opens—and no one has done it since. Curtis had also won at The Country Club in '88. He trailed Kite by three after 54 holes at Oak Hill, but a par 70 won by one stroke over Ian Woosnam, Chip Beck and Mark McCumber. Kite's collapse was unforeseen, mostly to him, I'm sure, and his four-round line score still looks like a typo: 67-69-69-78.
Lee Trevino after shooting four rounds in the 60s to win the '68 U.S. Open at Oak Hill: 'I'm gonna buy the Alamo and redecorate it.'
1990-'99: Faldo, Norman, Ernie & Tiger
This decade got off to an interesting start in '90 when Hale Irwin won his third U.S. Open, at Medinah. Only four people have won more—Hogan, Nicklaus, Jones and Willie Anderson. It took Hale 91 holes to do it. First he sank a 45-foot birdie on the 72nd hole, and, after his victory lap around the green, he wound up in a tie with Mike Donald. They were still tied after shooting 74s in the playoff, but Irwin sank a 10-foot birdie on the first sudden-death hole, and the lurker was ultimately subdued. Irwin, at 45 and change, became the fourth-oldest major winner in the modern era behind Julius Boros, Nicklaus and Jerry Barber.
Faldo and Norman were the dominant players of the '90s with Nick's wins and Greg's continuing near-wins. But Greg had his finest hour in the '93 Open at Sandwich, where his final-round 64 and record 267 beat Faldo for his second and only other major.
A year later, Ernie Els won the '94 U.S. Open at Oakmont. It would be the first of his four majors. To do it, he needed relief from an immovable object that wasn't, and then a sudden-death win over Loren Roberts, which was after Colin Montgomerie, who had also tied, was eliminated in the 18-hole playoff. Oh, and it was also the week of the O.J. Simpson Bronco chase.
Now here came Tiger Woods in '97. Tiger did the impossible by playing 72 holes on the huge, unforgiving Augusta National greens without a three-putt for a total of 270 to break the Masters record, win by 12 strokes and begin his string of 14 pro majors. As the first African-American to win a major, Tiger put golf on the front pages for one of the few times in history—after the feats of Francis Ouimet, Jones, Hogan and Nicklaus.
Bonus pick: Norman's otherworldly plunge in the last round of the '96 Masters. He had a six-shot lead going into Sunday but slow-bled it away with a painful 78, allowing Faldo to win his sixth, and last, major with a closing 67. It was Greg's eighth, and last, runner-up spot in a major.
2000-'09: Tiger's Time
The millennium arrived with Tiger at the top of his game. He won 12 majors in the decade, but none more spectacularly than when he conquered Pebble Beach in the 2000 U.S. Open. He opened with a 65, and despite a triple bogey in a third-round 71, he won the first of his three Opens, by 15 shots over Els and Miguel Angel Jimenez. It was stunning. You can't do that to Pebble Beach.
After collecting the Open at St. Andrews by eight strokes, Tiger completed the second Triple Crown in golf history (after Hogan in '53) at Valhalla in the PGA. But that victory wasn't easy. Bob May, the greatest lurker since Jack Fleck, took him to a three-hole playoff that Woods won by one stroke with a birdie and two pars.
The millennium also featured Phil Mickelson doing something that his hordes of followers had been waiting years for him to do: win a major. He did it in the 2004 Masters, and in the toughest way possible. By birdieing five of the last seven holes to edge Els by one shot, and this included the 18-foot birdie putt he sank on the 72nd hole. It remains the longest final-hole birdie putt that ever won the Masters.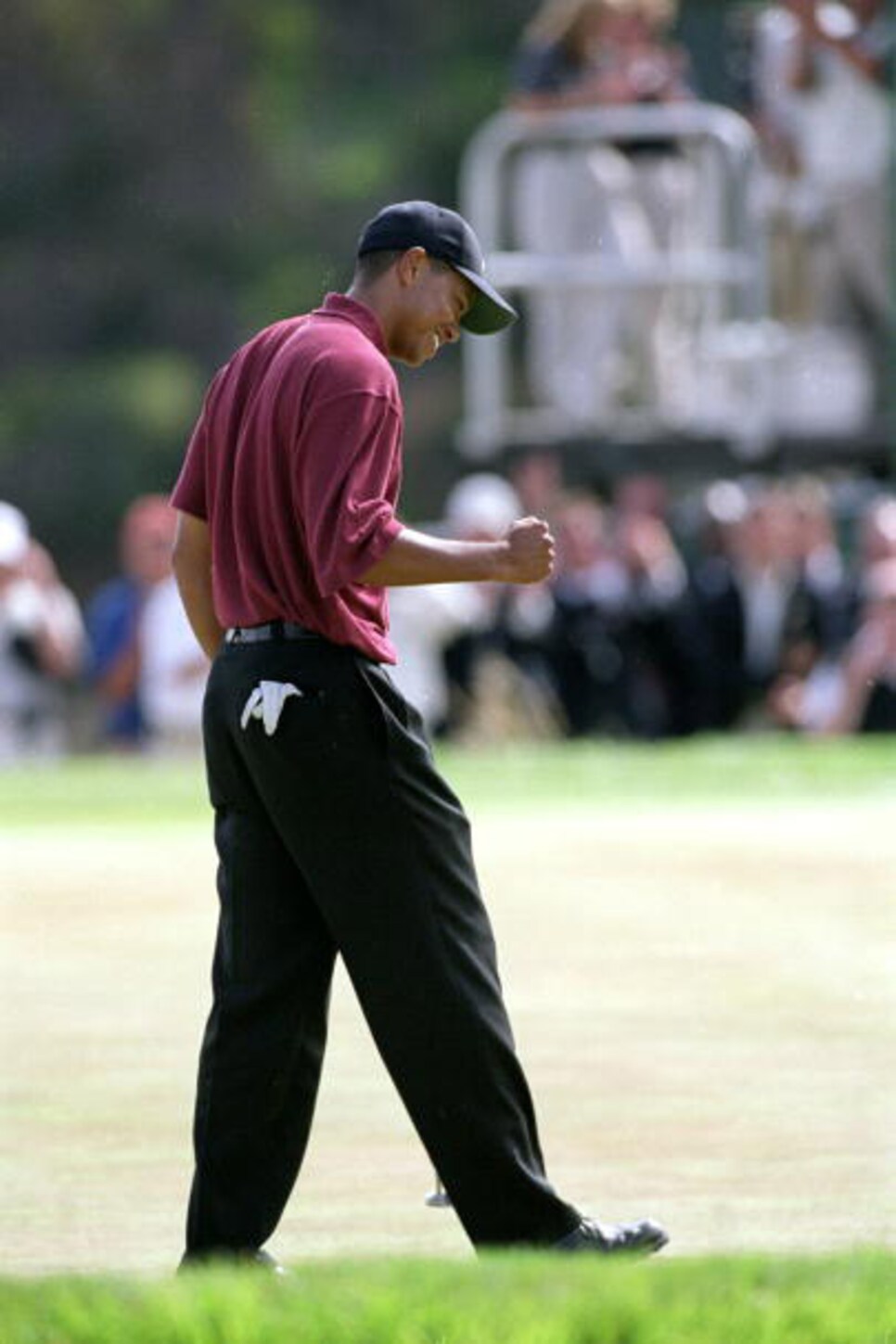 Phil won his second major at the weird 2005 PGA at Baltusrol, and it was just as difficult for him. It required another final-hole birdie—a 50-foot lob chip out of high grass to within two feet of the cup—to beat Steve Elkington and Thomas Bjorn by one stroke and Davis Love III and Tiger by two. But this was on Monday morning after Sunday's play was suspended by rain—and Tiger, having completed the 72 holes before the rain, had flown home from New Jersey. Yeah. Went home. Even though he stood a chance to win, depending on what Mickelson, Elk, Bjorn, and three others did on their remaining holes. A curious thing for anyone to do, was it not?
2010-'17: Roars for Rory
After frittering away three chances to win majors, Rory McIlroy crowned himself the Boy King by running away with the U.S. Open at Congressional in 2011, gliding home eight shots ahead of Jason Day. The year before, Rory had tied for third in the British Open and PGA, and two months before Congressional he'd blown the Masters with a surreal 80 after leading for three rounds. He achieved the 80 by sending a tee shot on No. 10 onto the doorstep of one of the cottages for a triple bogey, then four-putting No. 12 for a double. Kids today.
Mickelson shot the greatest round of his life in the final round of the 2013 Open at Muirfield to win his fifth major. It was a five-under 66 that brought him from five strokes and eight players behind. Among those he passed were Tiger, Adam Scott, Henrik Stenson and Lee Westwood. Phil finished in style with four birdies over the last six holes.
I do believe the 2014 PGA at Valhalla was the first major I ever covered that finished in the dark. It was also the most exciting PGA in my memory. And it produced a golf course with the best drainage system ever. There came a sudden log-floater on Sunday, and how the layout drained off those rivers and became playable again that day was a miracle. As we know, Rory topped Mickelson, the old silver collector, at the finish as he added this title to the Open he'd won a month earlier at Hoylake.
But exactly one year later, Rory, despite his four majors, surrendered his Boy King title to the 21-year-old Jordan Spieth, who startled the world not only by winning the Masters but by tying Tiger's 72-hole record while doing it. The young Texan's popularity continued to grow throughout the year as he won the U.S. Open at Chambers Bay and darn near won the Open at St. Andrews and the PGA at Whistling Straits. Spieth's finishes in the big four that year—1-1-4-2—were about as good as you could do without Bobby Jones's name coming up.
Bonus pick: Spieth's incomparable win at Royal Birkdale this year. How does any golfer overcome a terrible collapse and redirect his poor frame of mind in the last round of a major with just six holes to play while facing a certain tragedy? Jordan made "the bogey that won the Open," then followed it up with a streak of birdie-eagle-birdie-birdie. I throw this in although I wasn't there: doctors' orders to avoid overseas travel in the future. It's OK. I've covered 45 British Opens. That's enough bubble and squeak for one man.
I guess I don't need to say what a pleasure it was to have witnessed all those championships for all those years. Of course, it would have been even more fun if it hadn't been for all the deadlines that went along with them.