Be Right
Dan Hicks on using Twitter during broadcasts, the 'Brooksy Rule' and why Michael Phelps might be the best golf 'insider'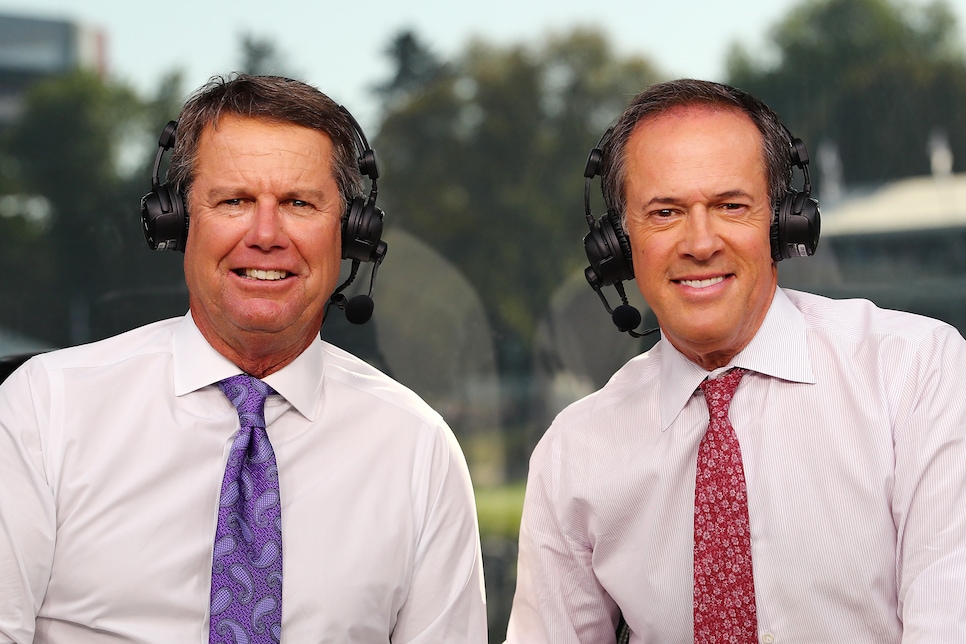 This summer, each Sunday (or Monday) on the PGA Tour has been better than the last. That said, NBC's Dan Hicks is certainly partial to last Sunday at the BMW Championship, which featured an incredible duel between Patrick Cantlay and Bryson DeChambeau. It was NBC's first golf broadcast since the Open Championship, and all Hicks and co. had to do was stay out of the way and let those two studs put on a show.
"Any time you can creep into primetime on Sunday night, and to have the compelling story we had, it was phenomenal," Hicks said. "I don't think that I've ever seen a guy [Patrick Cantlay] have that many must-make putts down the stretch to keep the thing going. It just got ridiculous after awhile."
This week, Hicks, Paul Azinger and the rest of the NBC crew will be on the call for the Tour Championship at East Lake, where they hope to get an equally exciting finish as they had at Caves Valley. Considering the star power the 30-man field possesses, there's a good chance they do, so long as Cantlay doesn't run away with it thanks to his "starting strokes."
On this week's "Be Right" podcast, Hicks joined us to break down all the upcoming action at East Lake, in addition to a fun recap of the BMW. We also looked ahead to the Ryder Cup, where Hicks will be on the call at Whistling Straits, and we looked back at the Olympics, where Hicks was in his usual role doing play-by-play for swimming. This year, Michael Phelps was a part of that broadcast team, and while he did an excellent job analyzing that sport, Hicks says he may be even better at talking golf.
"It's all he wants to talk about," Hicks says of Phelps, who has gotten his handicap down to 8.7. "He lives out in Scottsdale, and he and Jon Rahm are golfing buddies now. So Phelps is giving me inside information, like 'dude, Rahm shot 59 at Silverleaf. I'm guaranteeing he's going to have a huge year.' And look what happened.
"He's all in. He plays in a lot of pro-ams that he doesn't have to, but he just loves rubbing shoulders with the guys, he knows all the players. He's got more information than we do. I'm sending him a text before every big event going 'hey, what do you know about Jordan Spieth this week?' He's fantastic."