The Loop
Daly: An 'epic collapse' or business as usual?
Las Vegas has never been the best town for John Daly, whose prodigious appetite for gambling has been well chronicled, even by himself. In his autobiography, he claimed to have lost $600,000 in 90 minutes on a $5,000 slot machine at the Wynn Las Vegas one year.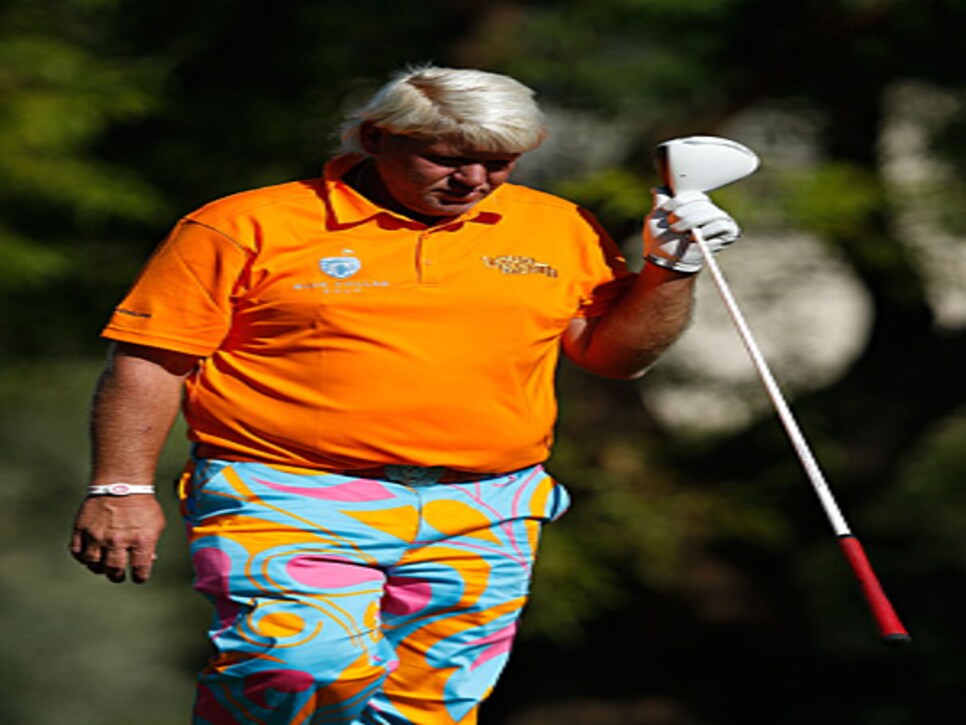 His latest Vegas escapade has nothing to do with gambling other than to note that a man with his erratic history is generally a better bet these days to draw attention to himself for something other than the quality of his golf.
"Daly follows 8-under 63 with epic collapse, falls to last place," the headline in the Las Vegas Review-Journal said on Sunday morning.
In the third round of the Justin Timberlake Shriners Hospitals for Children Open in Las Vegas on Saturday, Daly ran up a score of 86, according to the accounting firm of PriceWaterhouseCoopers that was brought in to audit a scorecard that beggared belief. It came in the wake of the aforementioned 63 on a TPC Summerlin course that was substantially more generous than the Wynn slot machine was stubborn. Ryan Moore won with a record 72-hole score of 24-under par.
"His harshest critics will say that John quit," Golf Channel's Charlie Rymer said about Daly's round on Saturday. "Only John knows if he quit. I think for John this was a day that got way out of hand."
Doesn't it require that Daly's career be labeled lamentable, notwithstanding two major championships, when the first thought anyone has is whether he quit on his round? Any claim he had on the benefit of the doubt took its leave years ago.
Did he quit? Here's what we do know, in addition to his history of having done so: He made no post-round claim of injury, though the Review-Journal writer Steve Carp suggested that he might have aggravated on old elbow injury playing from the rocks at the third hole; that his 86 was nine strokes higher than the second worst round of the day; that it was six strokes higher than the second worst score of the week; that he was six-over par through three holes, leaving him 15 holes redeem himself; that he played those in nine-over par.
Daly was nine shots better on Sunday, though a 77 is more fodder for the argument that he doesn't warrant the sponsor exemptions that continue unabated. The attraction is what, bad golf or bad behavior? He has finished in the top 10 only twice in the last seven years and has withdrawn from tournaments 12 times in the same period, while playing almost exclusively on the benevolence of sponsors.
Daly, 46, at least is closer to earning his starts than he has been at any time previously in those seven years. He began the Timberlake tournament 132nd on the money list, then positioned himself to break into the magical top 125, before spending the weekend slapping the ball around and jokingly asking on Saturday whether he can get his amateur status back.
Rymer noted that after Saturday's round, "he stayed, he signed autographs, he did the interview." Kudos, in other words, for meeting the minimum obligation of a professional.