The Loop
Curtis Strange on Merion: "You need an accepting mentality"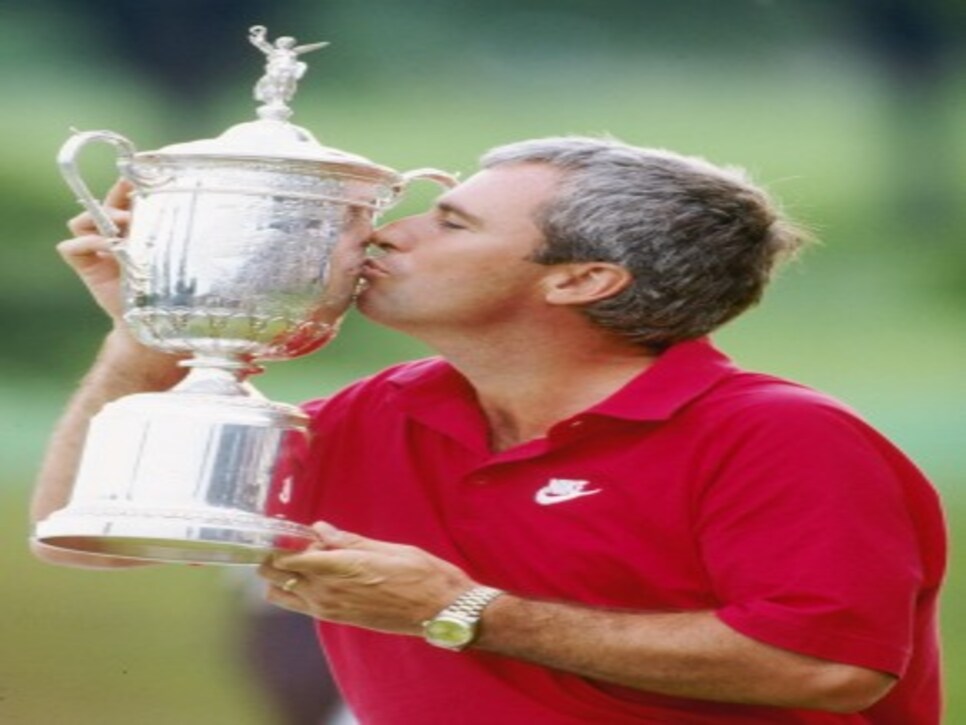 ARDMORE. Pa. -- Almost all of the seemingly endless pre-championship chatter in the lead-up to the 113th U.S. Open has been centered on the condition and length of Merion's famed East course: Too difficult or too easy; too hard or too soft; too short or really too short? But not much has been uttered about what it takes to win one of these things, the self-styled "toughest test in golf." Or, this year at least, the muddiest test in golf.
One who knows a thing or two -- make that the latter -- about finishing first in US Opens is Curtis Strange, champion back in 1988 and 1989.
"It's easy to say after you did well that you knew what you were doing and that you prepared the perfect way for a U.S. Open," says the now ESPN analyst.
"But that's all hogwash. I prepared the same way I did for every event - hard. The real key to my two wins was that I drove the ball straight both times. That's a must. And I just played well. My confidence was sky-high back then. But I never, ever stood on the first tee and thought, 'this is my week.'
"Besides, the big difference between the U.S. Open and any other event is the mental aspect of the test. You need a 'grinding' mentality. You're not going to make 15 or 20 birdies. You might make ten and win. It's all about saving pars. I did that well. How? I chipped and putted nicely. No one is going to hit every green at a U.S. Open. Because no one is going to hit every fairway. So it's all about staying in the game and winning all the little battles."
At Merion, the patience and fortitude of the players is going to be tested by a combination of the inherent quirkiness of the lay-out, the pin positions and, according to Strange, some quiet deviousness on the part of USGA executive director, Mike Davis, the man charged with setting up the course.
"Mike has really fiddled with this golf course," says Strange. "Fairways have been moved to make things more difficult. The left edge of the 11th fairway, for example, is blocked out by a tree. Then there's the 4th hole. There used to be a 12-yard wide plateau on the right side of the fairway. If you could hit it up there you could see the whole hole. This week, that plateau is gone. It's covered in rough. So the whole fairway is sloping right-to-left. It will be very difficult to hit.
"All of which is why you need an accepting mentality in the U.S. Open. You know what the USGA are up to, but you have to get on with it. We'll also see some questionable hole locations this week, I'm sure. They'll be playable but questionable."
Still, at Merion conventional wisdom has been that we are likely to see a few more birdies than usual, especially in the middle of the course, where the holes are short, at least by modern standards.
"There are very few 'tweener' holes of 450-yards or so," points out Strange. "The guys will either be hitting wedges or long irons to most greens. Nothing in-between. It's like an NBA game where there are no 15-foot jump shots. It's all slam-dunks or three-pointers.
"Plus, I don't see the short holes as being 'easy' necessarily. Making birdies is going to be hard given some of the pin positions we're going to see this week. These greens are tough. Take the 10th hole. If the pin is back-left you have to drive it perfectly to be in position to attack. Otherwise, you're playing for the fat of the green. And when you do that you're not making many birdies."
Which is where we came in. No matter what, at the U.S. Open some things never change.