The Loop
Curtis glad to be back at site of his major triumph
SANDWICH, England -- An escalator. In Ohio. That's where, eight years ago, Ben Curtis realized exactly what he had done as a longshot champion of the British Open, the first man since Francis Ouimet to win the first major he ever played in.
"It really didn't sink in until I got off the plane in Cleveland," Curtis said Monday at Royal St. George's, site of his 2003 upset special. "We came down the escalator in the baggage claim and there were thousands of people down there. That's when it really hit that this was a lot bigger deal than I thought it was."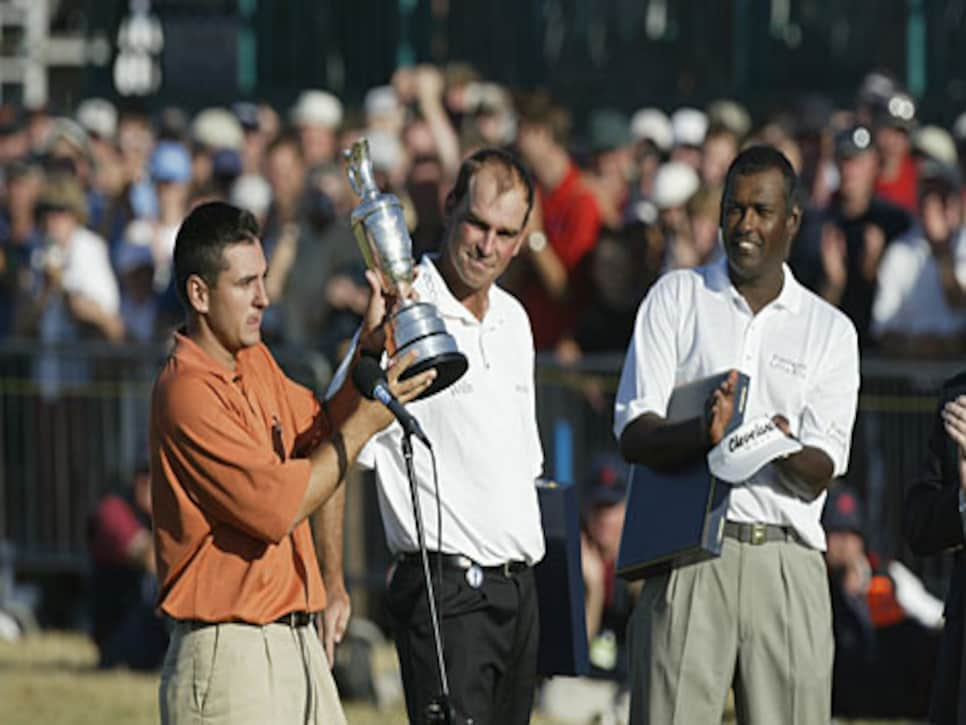 Curtis, a low-key Ohio native, was only 26 when he figured out the Kent course's bounces and stayed out of its brutal rough better than a glossy bunch of contenders. A player ranked 396th in the world isn't supposed to have a prayer, but Curtis got the job done. In fact, on the eve of the final round, in the tiny cottage where they were staying for the week, he surprised his wife, Candace, with his confidence.
"She goes, 'How do you feel about tomorrow?' " Curtis remembered. "And I just kind of looked at her and said, 'I'm going to win.' She never talked to me until after the round on Sunday. I mean, [I wasn't being] cocky or anything, I just felt comfortable. I wasn't nervous or anything like that. I was just having fun with what I was doing and just really took to playing the links golf that I'd never played before. Every time I come over I get excited and enjoy playing them."
Curtis could use all the good vibes he can get -- from the memory of his victory to his love of links golf. The last couple of seasons haven't been great. He only had one top-10 finish in each of the 2009 and 2010 seasons, and he doesn't have one yet this year. None of his 2011 stats jumps out at your in a good way, except driving accuracy. He's ranked fourth on the PGA Tour, a skill that should help this week except Royal St. George's is without the unforgiving, knee-high rough that caused such trouble in 2003.
"A course that you like playing and enjoy, it definitely can turn it around," Curtis said. "Out here, it's one swing thought here or there or just one little thing that can give you a bit of confidence, and you see a couple of putts go in on Tuesday or Wednesday and then they continue over to Thursday. Little things like that [can mean] going from missing the cut by one to winning the tournament."
On Monday, Curtis, 34, was just happy to be back at Royal St. George's. It is only the third time he has returned to the course that was so good to him. He came back in October of 2003 and again two months ago. This week, his rental digs are considerable larger than where he and Candace lodged eight years ago. "We went from the outhouse to the mansion," Curtis said.
While his attitude might not be as perky as it was eight years ago on a Saturday night in those cramped quarters, Curtis knows no one else in the field has the memories of Royal St. George's that he owns.
"You know you've done it before, and there's no reason why you can't do it again," he said. "I just hope this is my week."
He may be ranked 194th in the world at the moment, but he does have his name on the claret jug. And whatever happens this week or down the road, being in the same sentence with Ouimet is pretty cool. Curtis might not have inspired a nation, but he did his part for underdogs, wherever they live.
(Photo: Harry How/Getty Images)