Courses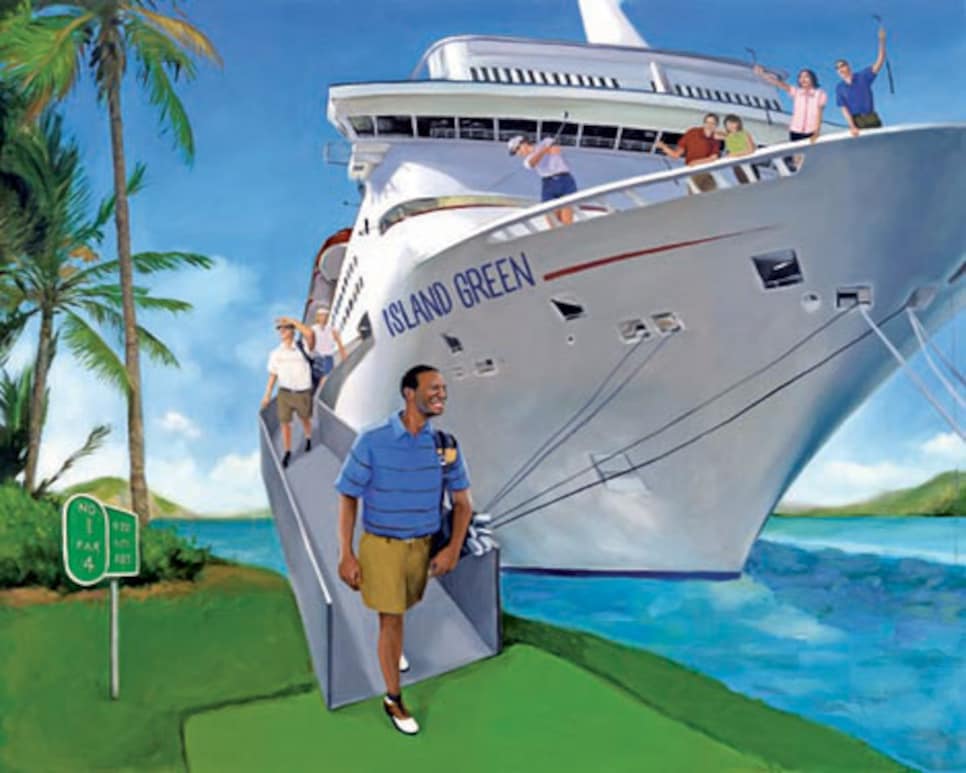 Being stuck on a boat for a week runs counter to a golfer's instincts. First, there's that whole surrounded-by-water thing. Then there's the challenge of navigating the narrow halls of a cruise ship with a golf bag and trying to find a cranny in your cramped cabin to stow your clubs. But if you can withstand that—and your buddies' shuffleboard and midnight-buffet jokes—you might be pleasantly surprised by the experience.
It's not only possible to turn a seagoing voyage into a golf trip, it might be the best way to sample places such as the Caribbean, the Hawaiian Islands or even Scotland. Want to play golf on Aruba, Barbados, Puerto Rico and St. Thomas in a single week? Unless you like going through airport security a half dozen times and hassling with passports and customs agents, then a cruise is the way to go.
"I would certainly talk to my golf buds about doing a cruise as a golf trip,'' says Matt Denley, a 14-handicapper from Hudson, N.H., who recently honeymooned on the Carnival Destiny and played rounds of golf in St. Thomas and Aruba. "I never thought about it until I took this cruise, but it's great being on the ship, because everything is arranged for you. And you don't have to run all around like you do when you go to someplace like Myrtle Beach. It's a great idea."
In addition to the golf options, there are the intangible benefits of a golf cruise, such as having a mandatory day or two of rest while the ship is moving from one island to the next. How many times have you struggled to roll out of bed on the third day of that 36-hole-a-day golf trip? On a cruise you can stay in bed, order room service (it's included) and maybe rally around lunchtime for a massage in the spa. If one destination doesn't meet your expectations, just wait a day and you'll be in a new locale. And if your golf buddies start to get on your nerves, you can always mingle with the 2,500 other passengers on board. People tend to keep to their own groups at resorts, but cruise ships seem to turn even the shyest people into extroverts.
Carnival Cruise Lines, the largest cruise operator in the world, has been aggressively marketing to golfers in the past few years, hoping to convince skeptics that it's a viable option for a golf trip. All 20 ships in the fleet have a golf professional on board, and many have golf simulators so you can play computerized replicas of famous courses by hitting into a video screen. You can find information on golf destinations and prices at carnivalgolf.com (800-324-1106). Royal Caribbean International, the No. 2 carrier (royalcaribbean.com, 866-562-7625) has golf simulators on nine of its ships but does not have golf pros on board. Still, in the 1980s it was the first large cruise line to launch a program for golfers, and it plans to expand its offerings.
For now, only a fraction of passengers play golf during a cruise, says Richard Leake, who recently married and left cruise life after 2® years as a Carnival golf pro. During his time on the Destiny, only once did he have as many as 30 golfers on a trip (about 1 to 2 percent of the passenger list). On a recent trip through the Caribbean, there were only three foursomes—and most of the golfers on board played only one or two rounds. "That's good news if you want to make it a golf trip," Leake says. "The rainforest tour on the cruise ship might be overbooked, but you can generally count on personalized service on one of the golf excursions."
Cruise prices vary seasonally. The summer is generally the most expensive, but figure $100 to $150 per person a day for a standard cabin (185-220 square feet) and another $100 to $200 for every round played. That means two golfers could cruise for seven days, eat for free, play five or six rounds of golf on as many courses, including green fees and transportation, and get as much nightly entertainment as they want for $1,500 to $2,600 per person. Not bad considering seven nights with seven rounds of golf for two players at the Doral Resort Spa in Miami in mid-January would cost at least $4,944, and that doesn't include lunch, dinner, entertainment or $125 surcharges at its two marquee courses, the Blue Monster and the Great White.
These big-ship golf trips should not be confused with the "golf cruises" offered by smaller companies such as European Waterways Ltd., Wide World of Golf and Kalos Golf. These cruises are typically on luxury sailing ships that hug the coast of Spain or Scotland, or on barges that float down the canals and rivers of Europe.
Although there is clearly a difference in service between the smaller golf cruises and the larger cruise lines, you still might be impressed by the quality of service, entertainment and dining on one of the big ships. It's like a floating golf resort where the view outside your bedroom changes daily, and nearly everything—except drinks—is included in the price.
First-time passengers on one of these ocean liners will discover, by about the second or third day, that the boat has a small-town feel. You'll get chummy with the nice waitress from the Czech Republic. You'll meet the overzealous newlyweds from Delaware and the retiree from Florida with way too much back hair. You'll probably run into the captain a half-dozen times, too. Soon, you'll be known as "the golfer guy."
But the all-day, everyday party-like atmosphere makes your time away from the links almost as enjoyable as your golf experiences. Breakfast, nap, sunbathe, nap again, lunch, hit the gym, nap again, watch a movie in your room, nap, dinner, comedy show, drinks, gambling, eat again. It's a week of total indulgence.
Still, the true beauty of turning a cruise into a golf trip is that you don't have to do much other than show up before the ship leaves port. It's refreshing not having to worry about booking tee times, getting directions to the courses or arranging transportation. It's always a good idea to let the travel agent or cruise representative know in advance that you would like to play golf at each port of call, but it's not a necessity. You can sign up for the golf excursion on a round-by-round basis unless, on rare occasions, they have more golfers than tee times.
On Carnival, the on-board pro will handle the tee-time arrangements as well as transportation to and from the course. Another bonus: On all the cruise lines, whether it's Carnival, Royal Caribbean or even Kalos Golf, it's not necessary to show your passport as you enter or leave each country—although it's always smart to have it handy, just in case. Arrangements have been made with the local governments to make entering and leaving each country as easy as showing a cruise-ship photo I.D.
Even though club storage is a little difficult—especially if you carry a lot of luggage on board—it's probably a good idea to bring your clubs and shoes. The cruise lines have a limited supply of rental sets, and many of the courses also have rentals, but for avid players the equipment generally is inferior to their own. In a standard two-bed cabin, you can store your clubs in one of the upright closets or under the bed. The pro also might offer to store your clubs. You can always pack your daytime clothes inside an oversize golf travel bag to make things simpler. One potential negative to a cruise is that most ships recommend that men wear a coat and tie or even a tuxedo to dinner in the evening, which does not make packing light easy. But formal and semi-formal clothing are not required, and the tradition of dressing up seems to be waning in recent years.
Most golf excursions take at least six hours—including transportation to the course and time to purchase souvenirs in the golf shop. The quality of golf can be hit and miss, especially in the Caribbean, where it often depends on how developed the island is. St. Thomas, for example, has only one golf course—Mahogany Run. Holes 13 and 14 offer breathtaking views of the Atlantic Ocean from alongside a mountain ridge and are worth the green fee alone. But the grooming of the course is a notch below American course standards, and golfers looking for a tropical paradise might be a little disappointed.
Then there are other ports where Carnival doesn't have a deal with the best courses on the island. Carnival's golf course on Barbados is the Barbados Golf Club, which is average in terms of aesthetics (but the flying-fish sandwich at the clubhouse grill is terrific). You would much rather play Royal Westmoreland Barbados ($100 to $120 green fee, royalwestmoreland.com), a 4½-star course in Golf Digest's Best Places to Play.
The good news is, many of the cruise line's stops are for at least 12 hours, enabling a golf-hungry player to sample two courses on the same island. There also is nothing stopping you from doing your own island tour and playing your course of choice instead of the one offered by the cruise line. You won't get the guided tour, and you'll have to find your own transportation, but there is no shortage of taxi drivers when your ship comes in. You'll probably be able to arrange for the driver to return to the golf course and take you back to the ship at a certain time as well.
Book a round through the cruise and you'll typically pay more than if you went straight to the golf course. Tierra del Sol in Aruba, a 4-star course in Best Places to Play, would cost $110-$145 to play in January if you booked the time on your own. But Carnival charges $195. Bear in mind, though, that the higher fee includes transportation, and the on-board golf pro takes care of all the little headaches like booking the tee time and making sure you get on the course as soon as you're ready.
Although you can pay for golf in advance—on board or through the person who books the cruise—you'll still need some cash for food and drinks on the course and tips for the golf staff. In Mexico and the Caribbean, U.S. dollars are gladly accepted. And don't forget to tip your on-board golf professional. This doesn't occur to some people, Leake says, but the pro should be treated as you would any other cruise employee who directly serves passengers. Figure on 15 percent of the golf-excursion fee. If you're playing multiple times, then 10 percent of the total golf bill for the week is acceptable and can be given to the pro at the end of the cruise.
Why tip the golf pro? Typically, that person will play a few holes with the passengers and, if asked, give you some tips or provide interesting background on the golf course. He can also help speed up play if you get stuck playing with two knuckleheads who want to "try" golf for the first time. Or, even better, he'll quickly assess the level of ability and type of personality of each cruiser and pair you with players you can hang with for 18 holes.
On board the ship, the pro might also help sort out your problems from yesterday's round. They do charge for lessons, but $80 for an hour (or $25 for a 15-minute swing check) is well worth it when you've got an entire day at sea with nothing to do but sip pina coladas and make another trip to the dining room.
Royal Caribbean Vision of the Seas
Day one: Fly to Los Angeles, play Trump National Golf Club, Los Angeles ($99-$120, trumpgolf.com, 310-265-5000). Board ship.
Day two: Day at sea. ____
Day three: Dock in Cabo San Lucas. Play 4®-star Cabo Del Sol's Ocean Course ($148-$250, cabodelsol.com, 800-386-2465). Note: The cruise line does not offer a golf excursion in Cabo because it is in port for only 7® hours. You'll have to book this round on your own.
__ Day four:__ Dock in Mazatlan. Play Estrella del Mar Golf Course ($114-$122, estrelladelmar.com, 800-967-1889). ____
Day five: Dock in Puerto Vallarta. Play 3® star Marina Vallarta Club de Golf ($125-$140, foremexico.com/marinagolf, 011-52-322-221-0073); play second round at 36-hole Vista Vallarta Club de Golf ($140-$150, vistavallartagolf.com, 011-52-322-221-0073).
__ Day six:__ Day at sea. ____
Day seven: Day at sea. (End of tour.) ____
Day eight: Dock in Los Angeles. Play 4-star Palos Verdes Golf Club ($135-$205, pvgc.org, 310-375-2759).
Day one: Fly to San Juan, Puerto Rico, play 4-star El Conquistador ($110-$185, el-conquistador.wyndham-hotels.com, 787-863-6784) or Rio Mar Country Club's 4-star Ocean or 4-star River Course ($80-$185, riomar.com, 787-888-6000). Board the ship that evening.
__ Day two:__ Dock in St. Thomas. Play 3-star Mahogany Run Golf Course ($155-$180, mahoganyrungolf.com, 800-253-7103).
Day three: Dock in Dominica. There's no golf on this island, so do a tour or take a lesson on board with the pro.
__ Day four:__ Dock in Barbados. Play Barbados Golf Club ($125-$180, barbadosgolfclub.com, 246-428-8463). Instead of returning to the ship, play a second round at Royal Westmoreland Barbados ($100-$120, royalwestmoreland.com, 246-422-4653).
__ Day five:__ Day at sea. Use golf simulator.
__ Day six:__ Dock in Aruba. Play 4-star Tierra del Sol Country Club ($145-$195, tierradelsol.com, 297-586-0978). Plenty of time for a second round at Tierra del Sol.
__ Day seven:__ Day at sea. (End of tour.)
__ Day eight:__ Dock in San Juan. Play El Conquistador or Rio Mar, fly home.