The Loop
Critics of college players using push carts are wrong, one expert says
The push carts used by Stanford players at the 2014 NCAA championship created some Twitter chatter, much of it unfavorable and similar in tone to what ESPN's Trent Dilfer said about it.
"Push carts are a BAD look for these kids," wrote Dilfer, a former NFL quarterback and an avid golfer. "C'mon Man, how can a college kid not be carrying his bag?"
"Agreed 100%," replied the PGA Tour's Bo Van Pelt.
Are they right? No, said Dr. Neil Wolkodoff, medical director of the Colorado Center for Health and Sports Science, who once conducted a study on the physical benefits of using a push cart vs. carrying your bag.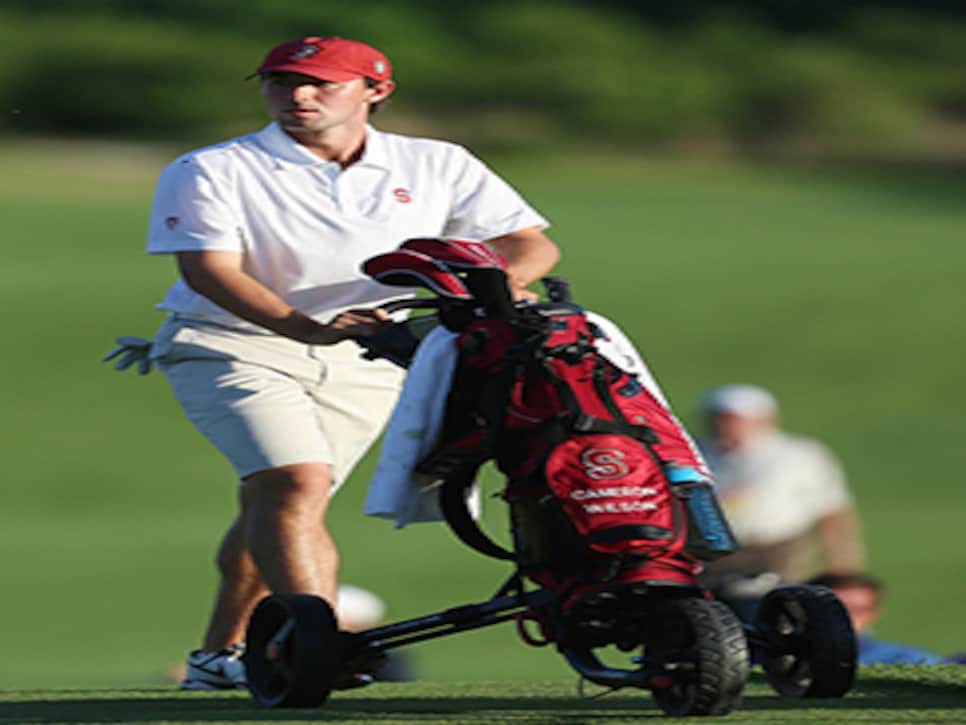 "I would just tell you this from my observations of golfers I work with," Wolkodoff said on Tuesday. "People who push a cart have a lot fewer [health] issues, and a lot less potential for issues. The golf swing is tough on the back no matter how you look at it. If you can use a push cart and keep one more stress away from the back that's a great thing."
Cameron Wilson, a Stanford player (shown here) who won the individual championship, came to use a push cart as a result of prior back issues.
Wolkodoff's study was among those cited by the American Junior Golf Association when it began allowing push carts in 2009. "After studying the issue in depth, the AJGA found that carrying heavy golf bags on the back, especially among younger players, could potentially contribute to back injuries and fatigue," it noted.
An additional benefit of push carts is a slight competitive advantage, particularly on courses with hills, Wolkodoff said.
"No matter how good your carrying system you still have to use core muscles to hold the bag," he said. "When you're pushing a cart you don't have the stress on your core musculature and shoulders. You're able to go up a hill and those muscles were not pre-fatigued."
As for the the notions that a push cart looks bad or was not how the game was meant to be played is an archaic one, Wolkodoff said.
"That's a stupid way of looking at the game of golf," he said. "Think about it, 1880 in Scotland, guys…didn't have near as many clubs as we lug around. As for a cart, you would have to have taken wagon wheels, and a two-wheel cart would have weighed 400 pounds. That doesn't mean we shouldn't do it now.
"Things have changed. Golf has accelerated the demands on the body over the last 20 years. Practice schedules are far more rigorous. It's a full-time endeavor [at the college level]. If we can do something to help ameliorate it we should do it.
"I work out five to six hours a week and have a strong core. Do I carry? No way. I think carrying is dumb, and I probably have a much stronger back than those I work with."