The Loop
'Crispy' greens the story of Day Three at Bethpage
FARMINGDALE, N.Y. -- The first round of the third U.S. Open at Bethpage Black broke out Saturday afternoon on the Black course at Bethpage State Park.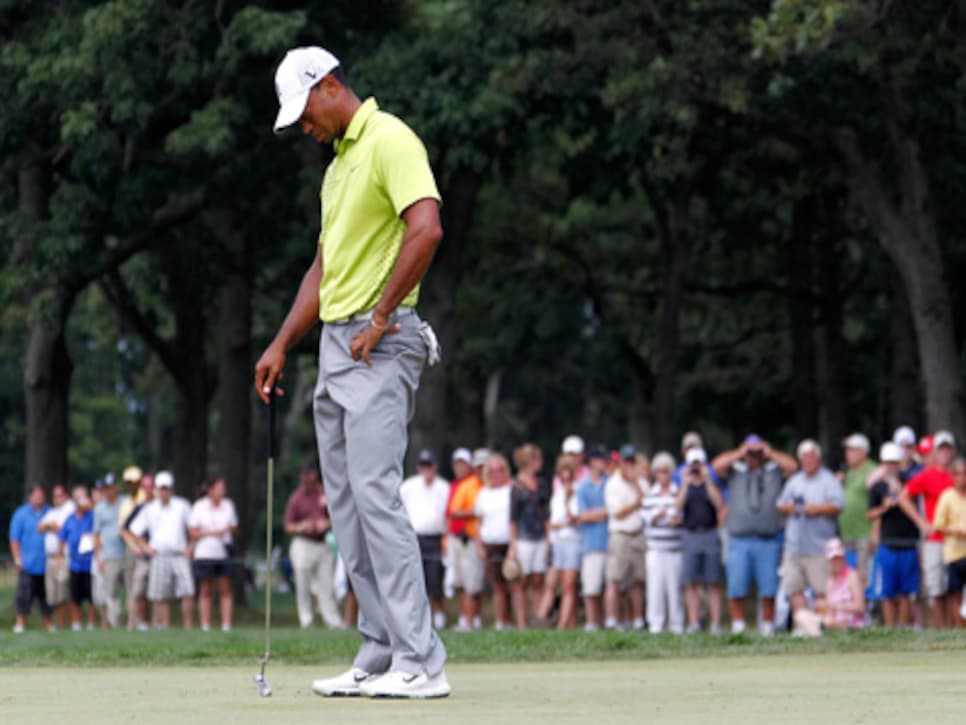 Tiger Woods reacts to a missed putt on the ninth green during the third round of The Barclays. Photo: Gregory Shamus/Getty Images
Not really, but as baked as the greens and as fried mentally as some of the players felt during a challenging third round of the Barclays, it sure seemed that way.
The difference in the putting surfaces between Friday and Saturday at the site of the 2002 and 2009 U.S. Opens was like that between a peaceful sunrise at Montauk and a traffic snarl on the Long Island Expressway.
"I've never seen greens change like this, from what they were yesterday to today," said Tiger Woods, whose one-over 72 included four three-putts for the first time in his PGA Tour career. "The grass even seems slippery."
The lead was tenuous for Nick Watney, the 36-hole co-leader with Garcia. Watney was 11 under and three ahead of Garcia after 10 holes. But he finished the third round at eight-under 205, two shots behind Garcia. Kevin Stadler, who teed off 3 hours and 20 minutes before the final grouping, shot a 65 to charge into contention and is alone in third place at seven under.
As the breezy day developed, the greens got increasingly firm and fast. "The course definitely got away from them today -- I think maybe more than they anticipated," said Ryan Moore, who shot 70 and is T-6 at 208. He noticed the greens getting some spice late Friday afternoon. "They were, you know, getting crusty in spots," he said. "Hopefully they put a little water on tonight and make it play more reasonable."
To Moore -- and others -- it wasn't reasonable that there was only one birdie made on the par-3 17th, a one-shotter to which golfers were hitting 6- and 7-irons Saturday. "Seventeen is unplayable right now, unfortunately," said Brandt Snedeker, who scrambled his way to a 68 and T-4. "It's a great hole, but you can't possibly hit one close there, so you have to play to edges of the greens, backs of the greens, and get up-and-down from there."
"Was it unfair? I wouldn't say it was unfair," said Garcia. "It was borderline." The Spaniard likened the greens to the infamously dried-out surfaces at Shinnecock Hills during the final round of the 2004 U.S. Open. "You could have a 10-footer and hit what you thought was a good putt and hit it six feet by."
Woods had one of the worst days when he got to the greens, unable to get the speed down. "I felt like I hit good putts, but my speed was awful," he said. "I don't remember blowing putts by eight to 10 feet. So that was a bit of a shocker."
As Garcia put it, "It was easy to make bogeys with good shots."
But Phil Mickelson, a Bethpage fan who had one of the days best rounds, a 67, said the set-up agreed with him. "This is setting up to be a perfect test where the best players are going to come to the top," he said. "If you hit some great shots, you'll make birdies. Anything less than that, you won't."
Still, it's probably not a great thing when an adjective better suited for bacon is used to describe the greens.