The Loop
Crazy happened, and Seve saw it
MEDINAH, Ill. -- This story begins on a sandy beach in the north of Spain. A boy with an old 3-iron. Hitting stones. Severiano Ballesteros, who in time would work magic. Better with a 3-iron out of a greenside bunker than most men with a sand wedge. Seve would win in ways no one else could imagine. To call him beautiful is to be precise, for he came to the world with looks and charm and with a gift of talent that he shared with us all.
He died a year ago, 54 years old, a cancer in his brain.
He was in Chicago this week.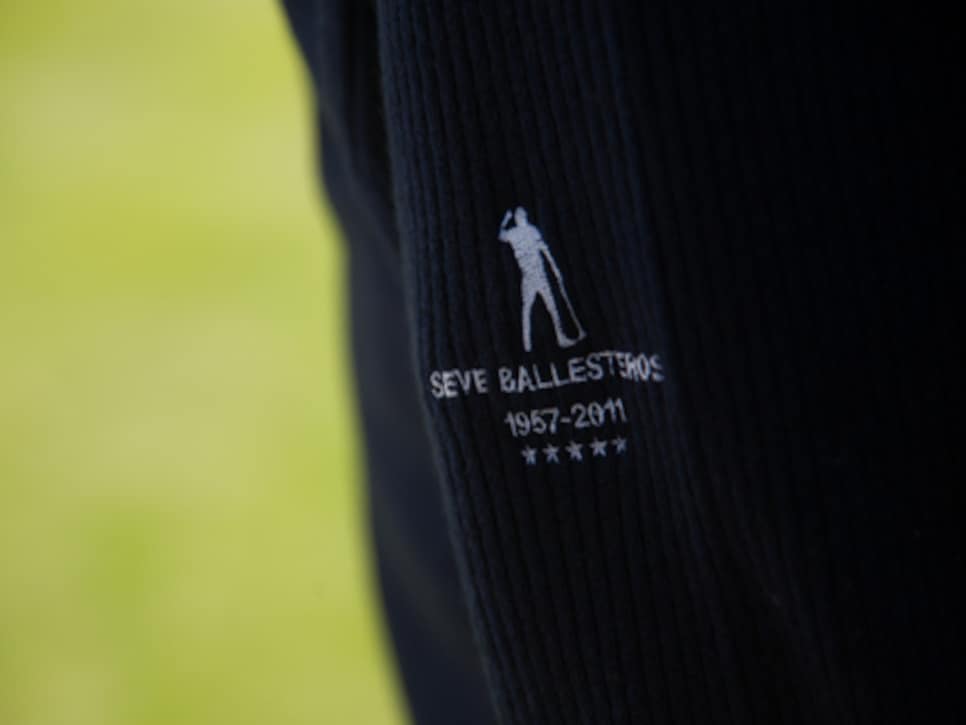 Photo: Montana Pritchard/Getty Images
Sunday morning , before anyone struck a golf shot in this Ryder Cup, the European captain, Jose-Maria Olazabal, told a reporter, "I felt Seve in the team room last night." They'd been friends and partners, Ballesteros and Olazabal. Both won the Masters. They won and lost Ryder Cups together. They shared life. Sewn into the left sleeve of the European team's shirts for the Sunday singles competition, Olazabal had asked for the iconic image of Seve, an arm raised, Seve triumphant.
This was the kind of day Seve Ballesteros lived for. It was a day when something gets done that no one thought could be done. To win the Ryder Cup, the Europeans needed an historic, unprecedented comeback. They needed to win 8 of 12 singles points on the other team's home course. They won 8.5.
They won those points against an American dozen that had nearly turned the thing into a rout in the first two days. As the shadows lengthened at Medinah Country Club late Saturday afternoon, the U.S. led, 10-4. With 14 points available, needing only 4 ¿ to win, a certain confidence settled on the Americans -- until, in Saturday's last two four-ball matches, the Europeans produced unlikely victories. Sergio Garcia and Luke Donald defeated Tiger Woods and Steve Stricker. Then came Ian Poulter, the fire-breathing Englishman, "a cross between Rod Stewart and Sid Vicious," broadcaster Peter Jacobsen called him. Came Ian Poulter with five straight birdies on the last five holes to beat Jason Dufner and Zach Johnson.
There, in Poulter's work, was the turning point in this story. Poulter recognized it. "It was amazing to see the atmosphere change in that team room," he said. "The spirit, I mean, it just changed. ... All week we'd been beaten quite clearly, and we just felt there was that little glimmer of hope."
Two hours into Sunday's rounds, the glimmer had grown to a glow. Midway through most of the 12 matches, the Europeans led three and were all-square in seven. Suddenly, the game was afoot. On a golden autumn day, with Medinah's thousands of trees blazing orange, red, and yellow, the Ryder Cup became the best sports event in America. Better than any World Series spread over two midnight-oil weeks ... better than any NBA Finals, because, really, Oklahoma City? ... better than any Super Bowl because Mother Nature's spectacle is better than anything the NFL can create ... better, mostly, because the Ryder Cup is golf, and golf, more than any sport, gives us real narratives that, in the best of its stories, cause us to wonder how in hell anybody can breathe let alone draw it back for a shot over a pond the approximate size of the Atlantic.
Then the blue went up on the scoreboards, the European blue. The Scotsman, Paul Lawrie, defeated Brandt Snedeker, 5-and-3. That wasn't supposed to happen. Then Rory McIlroy defeated Keegan Bradley, 2-and-1 -- this after McIlroy had lost track of Illinois time and needed a state-trooper escort to reach Medinah 12 minutes before his tee time. Next, Poulter defeated Webb Simpson, 2-up, and he talked, haltingly, of "this good man on my left sleeve right now that's going to pull us through this."
A fantasy, that. But the signs were there for those who would see.
It turns out that McIlroy can make six birdies in Ryder Cup play without warming up, unless stuffing a breakfast sandwich into one's mouth while putting on one's shoes is warm-up enough at age 23. Soon enough, three Europeans had chipped in for birdies from distances as great as 100 feet. Lee Westwood heard silence and knew what it meant during his match with Matt Kuchar: "Quiet... then you knew that when you start hearing fans, 'Matt, we need you, they are under pressure."
The story is things we didn't know. "A Ryder Cup is not for the faint of heart," Poulter said, and the Belgian Nicolas Colsearts said, "It gets you through the guts." The Canadian sportswriter Bruce Arthur, in a tweet, called the developing story a mash-up of "Happy Gilmore and an Idiocracy Presidential convention." Meaning, let's guess, that Arthur liked the goofy improbability of it all. "It's what golf is all about," U.S. team captain Davis Love III said.
Now we have seen Keegan Bradley on fire. We have seen Jason Dufner impervious. Tiger Woods, the ultimate soloist, came down the first fairway this morning to cheer for a teammate. Zach Johnson has iron in his spine. All those Europeans, with their stout hearts, earned this Ryder Cup; with the Cup at stake, they made 51 birdies to the Americans' 44. This after trailing in birdies the first two days, 99-74.
Whoever wrote this implausible story foreshadowed its end early. The fourth American out, Phil Mickelson seemed to have a critical point won only to see the Englishman Justin Rose steal it by rolling in three straight putts on the last three holes, the last two for heroic birdies.
And Rose said of his last stroke, "As soon as I holed that putt, and as soon as I came off the green, my first thought was of Seve."
There were groups behind, the story moving quickly to its end now.
"He's been an inspiration for this team all week long, and who knows, if something crazy happens today, I know that were are going to be looking upwards."
Crazy happened. Seve saw it.