News
Craziness continues at NCAA Women's Championship as top teams face last crack at advancing to match play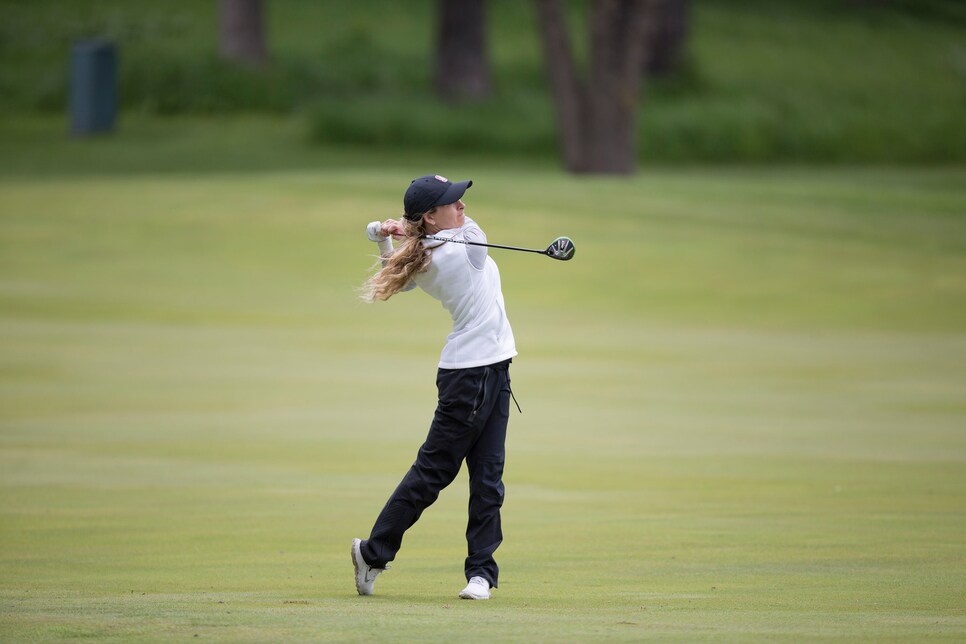 The 2017 NCAA Women's Championship is becoming more infamous by the day.
On Sunday at Rich Harvest Farms outside Chicago, the weather-delayed second round finally was played, the sun finally shinning (but the winds still howling) as Northwestern remained out front, extending its first-round lead to eight strokes over Kent State with a 10-over 298 score, the best number of the day.
"I was really proud of the way our kids came out of the box on the back nine and played really solid," said Northwestern women's coach Emily Fletcher of her 12th ranked Wildcats. "We played a good round of golf. We can't be discouraged. This is a big golf course. There are a lot of holes where you just can't let up. You have to play it a shot at a time. We made some mistakes out there. There were some things that got away from us, that we could control, that we need to do better tomorrow."
Yet the story of the championship was not necessarily what's happening at the top of the leader board but what's going on all around it. On Sunday, two players, Northwestern's Sarah Cho and Kent State's Kelly Nielsen, were assessed two-stroke penalties after hopping on a golf cart during their round to … use the bathroom (?). The condition of competition stipulates that a player "must not ride on any form of transportation during a stipulated round unless authorized."
The issue here is "authorized" as players have been allowed to take carts to speed up play on long walks from the third to the fourth tee, ninth to the 10th tee and 11th to the 12th tee. The good news is that the extra strokes had little likely impact; Cho's team looks as if it will safely qualify for match play on Monday and Nielsen was already the non-counting score on Sunday for Kent State.
The difficult conditions have thrown all the players in the field for a loop, and left some of the nation's top-ranked programs searching for answers. Of the top eight schools on the leader board through 36 hole, only two sit where their rankings would suggest they would wind up: No. 1 Stanford, in third place; and No. 6 USC, in seventh place. Meanwhile, No. 2 Alabama, No. 5 Florida State and No. 7 Arizona State and No. 8 Duke will all need stellar play on Monday to find their way into match play.
"The fact is we haven't played well," said Duke women's coach Dan Brooks, the Blue Devils tied for 17th, 15 strokes out of eighth place.  "We have played pretty bad. This is a hard golf course and hard situation, but we have not been playing good golf. If we wind up being able to get into the top eight, I think we will be very, very fortunate. We are going to do our very best, we are going to fight like crazy—it is the only thing we know how to do, but we are a ways back."
The championship's most bizarre occurrence? When strong winds made it appear that some of the players in the field might not cross a pond on the par-4 fourth hole, officials brought in a roughly 150-square-foot artificial mat and set it up to help shorter hitters.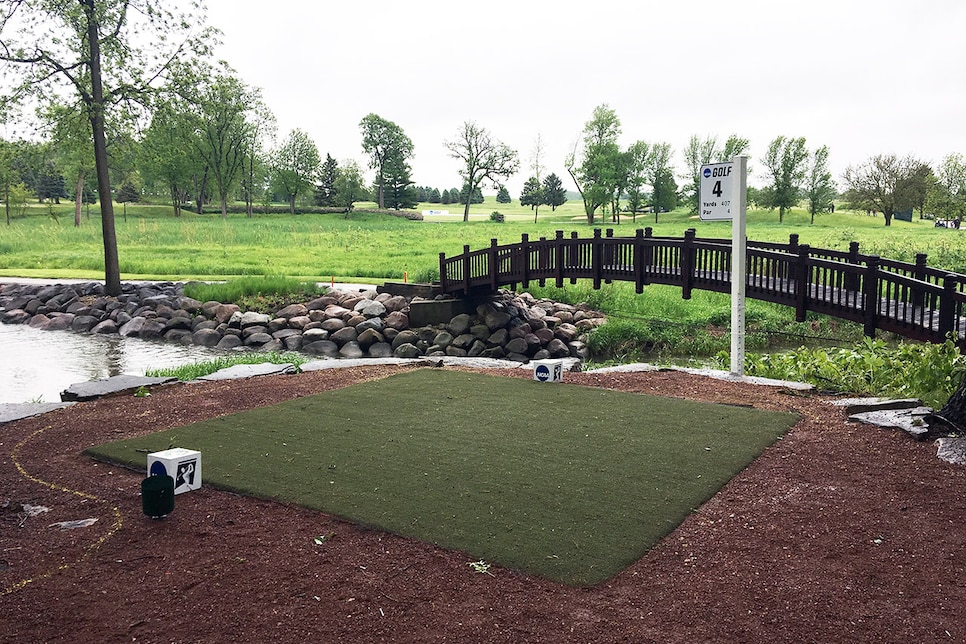 "I've never seen that in my life," Baylor women's coach Jay Goble told Golfweek. "I wasn't too impressed with that."
Barring another weather delay, stroke-play ends on Monday—with the potential for still more infamy.