obsessed
Marvelous Maniacs: Our course-ranking panelists share their most notable experiences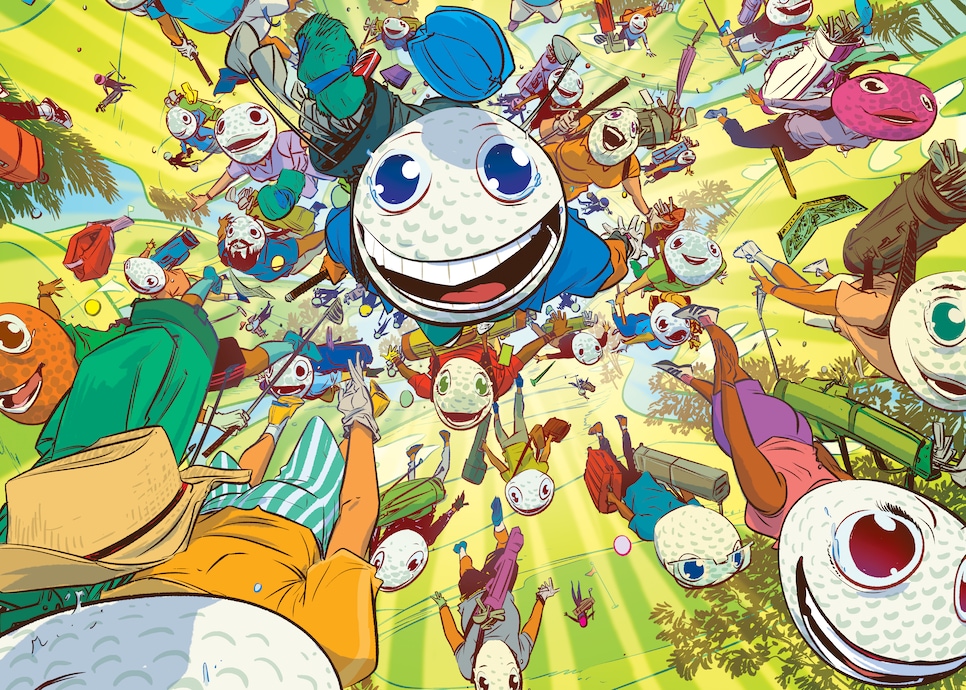 As defined by the American Psychological Association, obsession is "a persistent thought, idea or impulse that is experienced as intrusive." Family and friends of many of Golf Digest's 1,900 course-ranking panelists likely would nod their heads in agreement. These course-obsessed junkies—all with 5-handicaps or better when accepted to our exclusive group—travel the United States and Canada on behalf of our publication, filing scores that determine our course rankings. Some of our panelists have been traveling the world for us for more than 30 years. Theirs is an ongoing education in being trained and graded by the architecture editors of Golf Digest to judge the finest designs in our sport, all for the betterment of our 100 Greatest Golf Courses and Best-in-State rankings. We'll call it a healthy obsession. Here are some of our longest-tenured panelists recounting their favorite trips and experiences.
THE TRIP WHERE YOU PLAYED THE MOST GOLF
My good friend, the late Lee Tuttle, and I meticulously planned an 86-day golf trip in 2014 in which we played 104 courses across 12 states and drove 11,600 miles. We played 66 of the Best-in-State courses on the Golf Digest ranking, 19 of the 100 Greatest Courses, 12 of the Second 100 Greatest and 10 of the 100 Greatest Public. We only needed raingear for one round, but we did run into the massive forest fires in Northern California.
–TERRY INSLEE, LECANTO, FLA.
Every golfer should plan a trip for the summer solstice. It's easy to play 54 or 72 holes comfortably. We even have time to shower, have dinner, tee off for the last round by 6:30 and finish with plenty of time before the sun goes down at nearly 10. It's a taste of Scotland for U.S. golfers. My group has found that golf shops are accommodating of the endeavor. Some think we're a little crazy, but we've often just been charged a cart fee for our replay rates, or we've found great stay-and-play packages for unlimited golf. I've done 72 holes at Michigan's Boyne Highlands, but 54 holes is much easier to pull off, and we've done it at Greywalls, Forest Dunes and Garland Lodge & Golf Resort, which might be one of the best-kept secrets among golf resorts. Garland, in Northern Michigan, has four courses with private cabins that are cost-effective. The key is organizing the rounds at courses close to each other, but these are some of the most fun days you'll have.
–ANONYMOUS PANELIST FROM ST. LOUIS
Illustrations by Nathan Fox
To honor my father's legacy after he passed in 2014, I set out on the type of road trip I've always dreamed of. I played 45 courses across 22 states in 42 days, driving 8,101 miles in a rental car after my car overheated 45 minutes into the trip. I even flew home to take some teaching tests (another commitment I had made to my father) and visited my mother in Indiana for five days. One of the highlights was playing four rounds at 100 Greatest Courses (Winged Foot East and West, Somerset Hills and Plainfield) with my father's best friend. To punctuate the trip in his honor, I lit a candle at the Grotto at Notre Dame.
–ANDY TROEGER, ALBUQUERQUE
In 2011, we planned a trip around the final round of the Open Championship at Royal St. George's in England. In 16 days, we put 2,500 miles on a rental car, playing 22 courses, including 17 of the World's 100 Greatest (eight of which were among the 14 Open rota courses). We estimated we walked 160 miles on golf courses alone.
–DARYL BOE, GREENVILLE, S.C.
I always play three rounds a day on a golf trip. On a recent trip to California, I played four courses at PGA West in the same day. We did 21 courses in six days on that trip.
–CORY LEWIS, SUMMERVILLE, S.C.
On a trip to Bandon Dunes Golf Resort in Oregon years ago, my buddy and I carried our bags 45 holes each day for three straight days. The biggest issue was that we were in the windy season, and the wind became unbearable—so the next day we moved inland, driving to Sunriver Resort where we played two additional days of 45 holes. We both birdied the last hole!
–JACK CARNEY, BROKEN ARROW, OKLA.
A BENEFIT OF BEING A PANELIST YOU WISH MORE GOLFERS WOULD EXPERIENCE
Walking a new course with one of the designers, who points out how the elements of the golf course came to be, is something anyone interested in course design would enjoy but tends to be an experience reserved for golf writers and panelists.
–JANINA JACOBS, ST. CLAIR, MICH.
Getting to play a course setup before or after a USGA or PGA Tour event. It's tough to appreciate how differently the course can play for regular play as opposed to tournament play for the best players in the world.
–ROBERT KLEINMAN, JERICHO, N.Y.
'I METICULOUSLY PLANNED AN 86-DAY GOLF TRIP IN 2014 IN WHICH WE PLAYED 104 COURSES ACROSS 12 STATES AND DROVE 11,600 MILES.'
One of the best perks of being a panelist is the fact private clubs will put you out first in front of their membership, and you can really fly. I've played rounds at 100 Greatest Courses—in front of some really important people—and you feel like you're the pace car for the day. It becomes a point of pride to make sure you're a few holes in front of the first member group—just to ensure you don't hold anyone up, not even for one second.
—ANONYMOUS PANELIST FROM ST. LOUIS
If you get a chance to play with a member at Royal St. George's, Muirfield, Rye or Prestwick in the United Kingdom, go on a foursomes day (which is most of the time). In the mornings, the format is alternate shot—followed by a massive, white-cloth lunch (where the men wear a coat and tie). Afterward, you head back to the tee for another round of foursomes (switching on which holes you and your partner tee off). It takes two-and-a-half hours for each round, plus two-and-a-half hours for lunch. To me, there is no better experience in golf, and certainly there is nothing like this in the United States.
–GRANT LIU, BALA CYNWYD, PA.
THE MOST UNDER-THE-RADAR GOLF COURSE
Wild Horse in Gothenburg, Neb., is Sand Hills for the everyman. The course was designed by the same shapers as Sand Hills (Dan Proctor and Dave Axland), and it's one of the best values in the country.
–DARYL BOE, GREENVILLE, S.C.
Perhaps the most underrated collection of public courses can be found in Duluth and Biwabik, Minn. If Giants Ridge, the Wilderness at Fortune Bay and Superior National were in more populous areas, their green fees would approach $200, and they would have full tee sheets, but they remain best-kept secrets, a treat for a value-seeking golfer.
–TERRY INSLEE, LECANTO, FLA.
Belvedere Golf Club in Charlevoix, Mich., is a charming Willie Watson design open to the public and an example of the type of course that should get more publicity. Tom Watson spent his summers growing up playing there.
–JEFF SERNICK, DEERFIELD, ILL.
Country Club of Buffalo in Williamsville, N.Y., is a Donald Ross design with a marvelous set of par 3s hard against an old quarry.
–DONNIE LUPER, BRIDGETON, N.C.
To architectural fans, Myopia Hunt Club in South Hamilton, Mass., is very highly regarded, but most average golfers might not realize it was the site for four U.S. Opens and is one of the best examples of how a shorter course can still test the best players in the world.
–JACK CARNEY, BROKEN ARROW, OKLA.
Palmetto Golf Club in Aiken, S.C., is the most underrated course in the United States. Alister MacKenzie revised it in the early 1930s. It has incredible bunkering and green complexes and some of the best holes one will play anywhere (Nos. 7 and 12 come to mind). It's the second-oldest U.S. 18-hole golf course, operating at the original site, and there is also a really cool room of historical items just off the golf shop.
–MICHAEL CLEMENTS, CARMEL, IND.
I know it's on the Golf Digest 100 Greatest Public list, but Lawsonia (Links) in Green Lake, Wis., features some of the most interesting architecture anywhere, and it's available to the public at a reasonable price. It needs to be on everybody's list when taking a Wisconsin golf trip.
–ALEX BROWN, NORMAN, OKLA.
Mike DeVries is one of the most creative designers among his contemporaries, and he carved Marquette Golf Club (Greywalls) out of granite rock outcroppings in Michigan's Upper Peninsula. Everyone familiar with Michigan golf has this on their list of most fun courses.
–CLIFF HAKA, EAST LANSING, MICH.
Brackenridge Park Golf Course in San Antonio is an A.W. Tillinghast design for $60 that is so much fun.
–CLIFF HAKA, EAST LANSING, MICH.
THE MOST MEMORABLE FOOD YOU'VE ENCOUNTERED AT A HALFWAY HOUSE
The food at Craig's Porch at Sand Valley in Wisconsin remains the best in golf for affordability aside from the concessions at Augusta National. For $5 you can have a beer and some tacos as you watch the group behind you play the 18th hole. Oh, don't forget to get an ice cream sandwich after you've finished your tacos.
–BRIAN JOHNSON, MINNEAPOLIS
At Osprey Point at Kiawah Island in South Carolina, the halfway house attendant told us emphatically, "Do not feed the gators." That was for good reason. There's a bridge that takes you to the 10th tee, and under the bridge there must have been 20 alligators wading in the water below, looking for a handout. Others clearly must not follow instructions.
–CLIFF HAKA, EAST LANSING, MICH.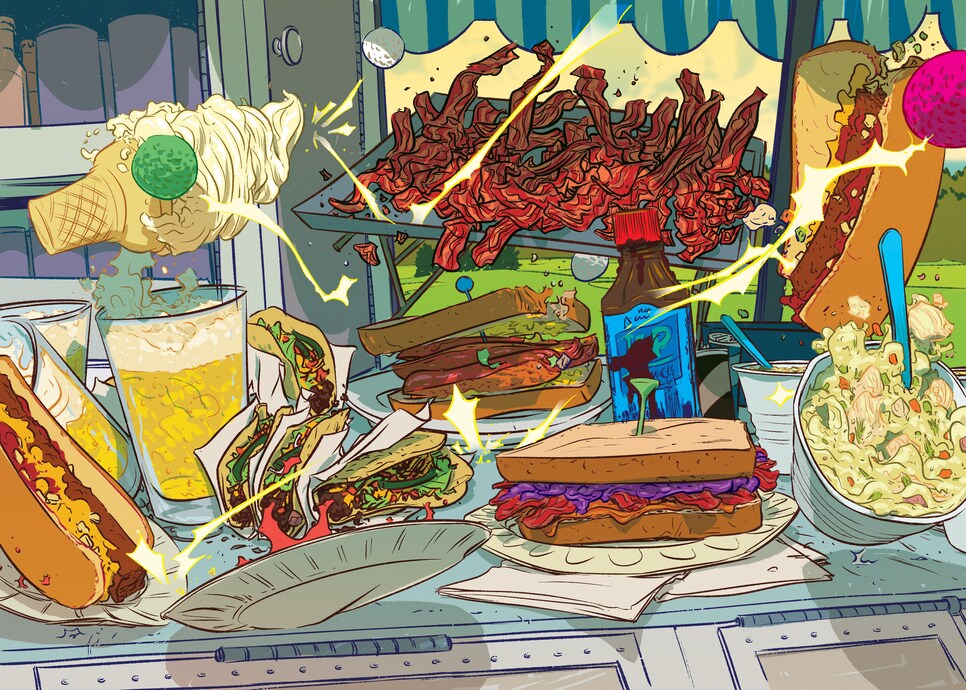 The peanut butter, jelly and bacon sandwiches at New York's Fishers Island in that setting are tough to top. However, the milkshakes at the 11th tee box at Mountain Lake in Lake Wales, Fla., come close.
–MITCH HANTMAN, BOCA RATON, FLA.
I found the halfway house at Sunningdale in England to be surprisingly unpretentious for one of the great golf venues in the world. Their sausage sandwich, which comes with two pieces of sausage and the club's own HP sauce, really tastes different than any other sausage sandwich I've had in America.
–TOM WILLIAMSEN, BASYE, VA.
The soft-serve ice cream and endless amount of candy at the Discovery Land properties [such as Madison Club, Summit Club or any of the others] is always a surprise to stumble upon.
–CORY LEWIS, SUMMERVILLE, S.C.
Burger dogs at Rock Creek Golf Club in Fairhope, Ala. Most have heard about the burger dogs at The Olympic Club in San Francisco, and I was surprised to find them in the middle of Alabama.
–JANINA JACOBS, ST. CLAIR, MICH.
The fish chowder at Caledonia Golf & Fish Club is free and hits the spot after the front nine—particularly after a cold morning tee time.
–DARYL BOE, GREENVILLE, S.C.
Platters of bacon at Quaker Ridge Golf Club in Scarsdale, N.Y., is one of my favorite snacks. They usually have three to four types with little paper cups to carry to the 10th tee. It's funny to see bits of bacon on the ground as you walk to the tee.
–JOHN BRETSCHNEIDER, MELVILLE, N.Y.
TELL US ABOUT YOUR COLLECTION OF TRINKETS FROM YOUR LIFE OF TRAVEL
Golf towels are my thing—I have more than 600. My wife took my favorite ones and framed them to hang in my office, then made blankets out of the others.
–PAUL JONES, LAFAYETTE, LA.
I have more than 1,500 bag tags hanging on the wall of my home office. There are a few hundred more in a box waiting to go up. Out of the 2,174 courses I've played, I have the bag tags for about 1,800 of them.
–DARYL BOE, GREENVILLE, S.C.
After playing Pebble Beach in 1999, I was inspired to try to play all courses on America's 100 Greatest list. My wife bought me a golf-ball holder in the shape of the United States with 100 slots. I completed the journey in 2019, and now the board sits in my home office, with a golf ball and plenty of stories for every course played.
–BRENT HENRY, ROGERS, ARK.
Hats are one of the things I collect, but I have to be selective—I now have upward of 500 hats. I only buy them at the nicest courses I've played.
–TERRY INSLEE, LECANTO, FLA.
I have a plaque with 100 slits in the shape of a golf pencil so that I can mark the most meaningful rounds. Twelve of them are from the clubs I've worked as a golf professional and the rest are my favorite courses and most fun trips I've taken over the years.
I keep the scorecards from all 843 courses I've played in binders organized in the order I've played them. For courses that are highly ranked, I also include magazine clippings and photos from that course in the binder. After every round, I come home and fill out a scorecard nicely with the names of the other players I played with, the date we played and all their scores. It has become a great scrapbook of memories—and something fun to show off when friends come over.
–JEFF BATTAGLIA, ALPHARETTA, GA.