The Loop
Couples' back, not game, the main question
AUGUSTA, Ga. -- The azaleas haven't yet reached their peak at Augusta National GC this week. Fred Couples is past his, but that hasn't stopped the 51-year-old from returning to contention after two rounds of the Masters and adding some experience to a leader board topped by a golfer three decades younger.
While 21-year-old Rory McIlroy was cruising along in front Friday, Couples, the 1992 champion, shot a four-under 68 Friday and finished 36 holes at five-under 139, giving himself another chance at his favorite tournament, where he finished sixth a year ago.
"Could I win? Of course," said Couples. "Am I looking forward to playing tomorrow? Yeah, you better believe it. Today was a great round to make it a thrill-seeking Saturday for me."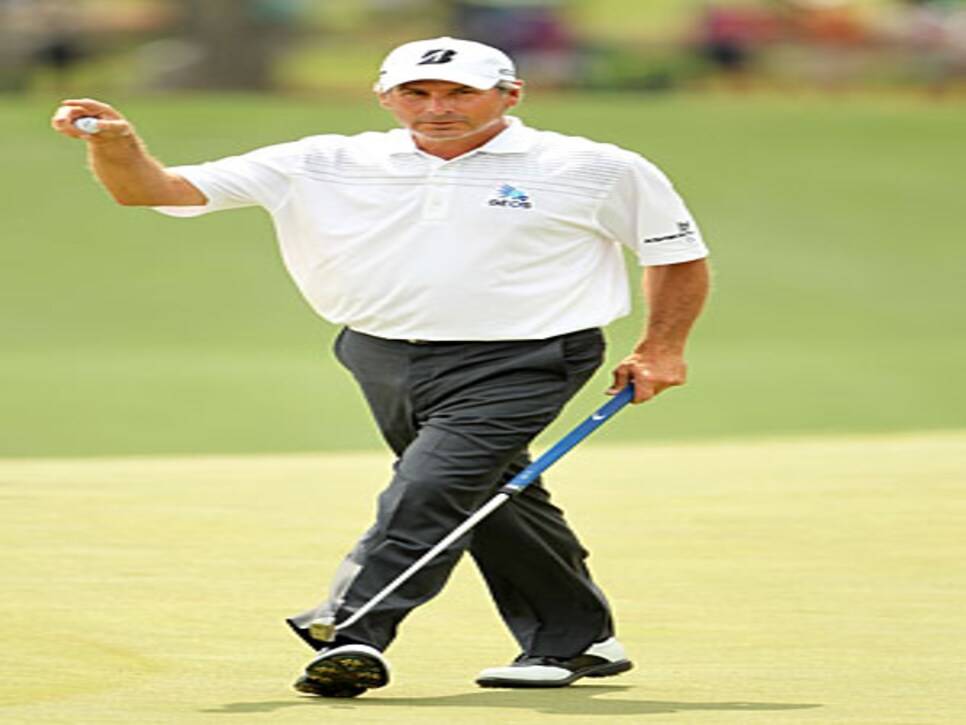 Friday was Couples' 102nd round at the Masters, and among players who have played 100 or more rounds at Augusta National, he has the best scoring average. Despite his painful back, for which he had cortisone injections last week so he would have a chance to get through his 27th Masters, Couples' local knowledge and length gives him a chance to be competitive.
"Last week was brutal," said Joe LaCava, who has caddied for Couples since 1990. "He felt better Tuesday night into Wednesday -- that's when he started feeling decent."
But improvement for Couples is relative. Bending over to play short irons or putt is when his back bothers him the most. He starts practice-range warmup sessions with a 5-wood and works down to the short irons -- the reverse of convention. He is one awkward move from his back going from bothersome to sending him to his knees.
A reporter asked LaCava if he woke up in the morning wondering if Couples was going to be able to play that day. "I wonder that over every shot," LaCava said. "He still may not make it over the weekend. I've seen it happen. Sometimes, leaning over, he explodes and he's done. It could happen at any time. He's definitely not out of the woods, back-wise."
Couples made five birdies in the second round (Nos. 2, 4, 7, 12, 15) and missed a great opportunity from six feet at No. 14. His only bogey came at No. 16, where he three-putted from 40 feet. He ended the day on a bright note, however, by making a 10-foot par putt on the 18th hole.
Twenty-five years after Jack Nicklaus became the oldest Masters champion at age 46, Couples is at least in position after two days to eclipse that mark -- and also become the oldest major champion ever. Tom Watson, who almost won the 2009 British Open at age 59, put the difficult challenge in perspective.
"It's not out of the realm of possibility," Watson said of Couples' chances. "It can work... Freddie know the golf course very well. It's just ... Jack [Nicklaus] said it right, he said this a young man's golf course as far as nerves and putting on the greens. Length has its advantage, though. That makes some of the par 5s into par 4s. Freddie's got the advantage."
When Couples won at Augusta in 1992, he turned back 49-year-old Raymond Floyd, about which Couples quipped Friday, "I'm glad I won. I'm glad he's not the oldest winner of this thing."
What if Couples could pull off the improbable over the weekend?
"I'd be gone," Couples said. "It'd be the biggest upset in golf history."
"It would mean everything to him," LaCava said, "but there is a long way to go."
(Photo: David Cannon/Getty Images)