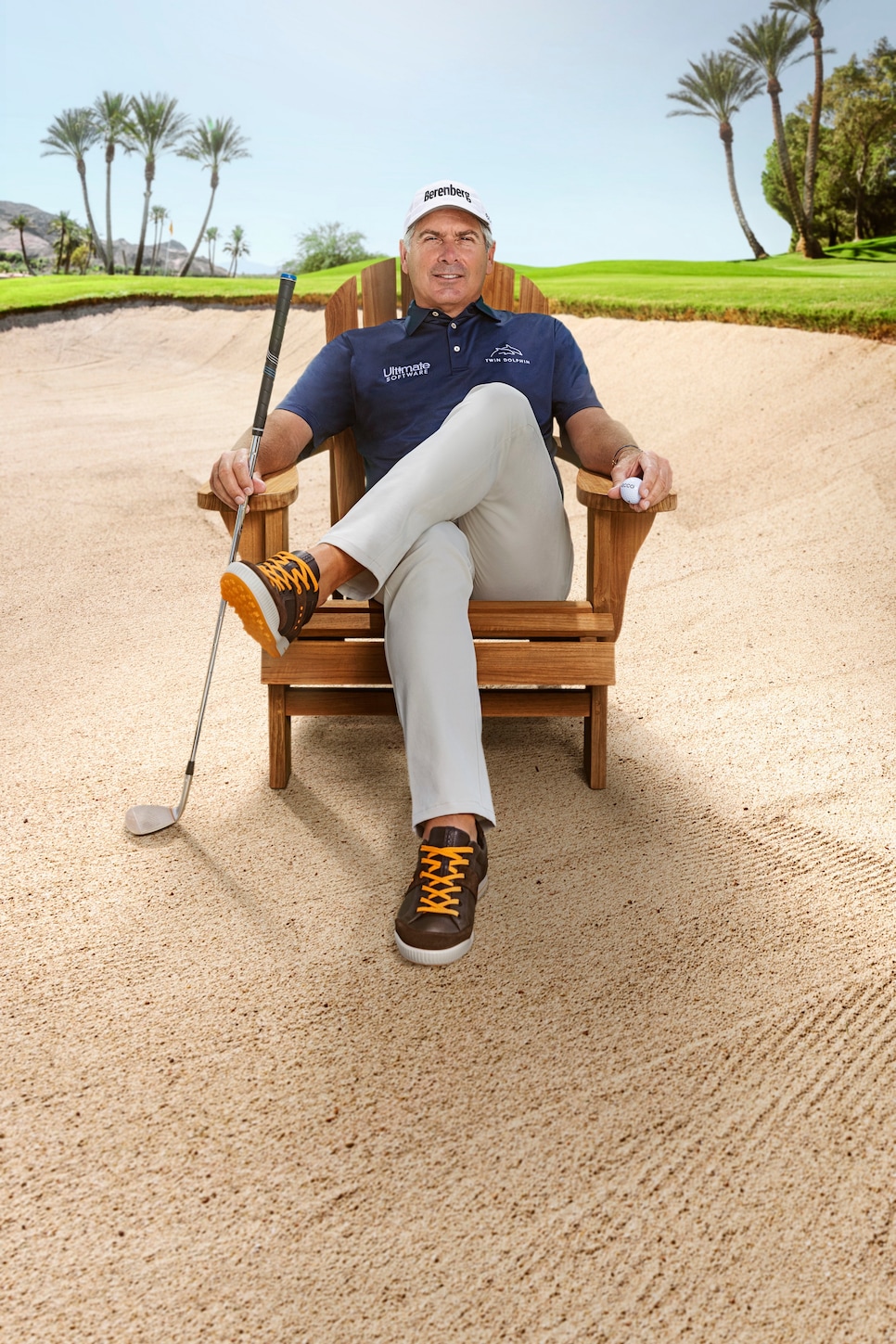 It was surreal and familiar all at once: just Fred Couples and me in a cart, rolling down emerald fairways on a perfect California desert morning with the Indian Wells Resort Celebrity Course -- where in four days he would play in the Skins Game for the 14th time -- all to ourselves.
Surreal because Couples is often the top choice in surveys that ask the question, "With which golfer would you most like to play 18 holes?" Familiar because the outward normalcy and lack of pretension that make him so easy to like created instant comfort.
There was also a sense of nostalgia at seeing the trademark mannerisms: the graceful walk, the limb-loosening gyrations, the utterly placid expression while following an utterly perfect drive. Fred Couples has been away from golf's big stage for a long while, with no lack of formidable forces conspiring against his ever making it back.
Not surprisingly, Couples wasn't bothered by my flared tee shots and fatted irons, and after the odd good one, he'd offer a "Nice shot" in the same nasal tone that I'd heard him use to compliment Phil Mickelson during their final-round duel at the 2006 Masters. Once, after I'd caught a solid drive on a blind, downhill dogleg, we crested a hill and saw two balls, one 30 yards behind the other. As we approached the first one and I remarked that it was surely mine, he responded, in all seriousness, "Now how do you know that?" The ball was indeed mine, and it had gotten about as close to one of his drives as I would get all day. Very Fred.
"You know, I would never not tell some guy 'Nice shot' just to bypass him," offers Couples, employing the odd word choice that helps make his sentences inimitable. "Even with a guy who annoys me a little but not a lot, I might not talk as much, but I'll still say, 'Nice shot.' "
Of course, Couples also happens to be supremely gifted. Even at 48, with graying hair and a trick back that keeps him from doing anything resembling strength training, the breadth of his shoulders and calves suggest an extraordinary power plant, one fully realized in the instant he gathers himself at the top of his driver swing and unleashes his lower body toward the target. At close range, the force of the surge reminded me of crossing the low stone bridge just short of Niagara Falls, where the impossibly fast and thick rush of water just below created the unsettling feeling of being pulled toward the drop-off. In Couples' case, the sudden violence gives way to a slippery quick and complete clearing of the left hip, allowing him the space and time for the syrupy tempo that lets him butter or bash the ball as he pleases.
"To me, that move makes Fred the athlete/golfer," says instructor Jim McLean, who after measuring more than 200 PGA Tour pros found that Couples and John Daly moved the left hip the greatest distance forward on the downswing: 19 inches -- a full six inches farther than the tour average. It's the kind of extraordinary physical act that gets the attention of other professional athletes, who are always most fascinated by the things they can't do. Says Golf Digest/Golf World Senior Writer Bob Verdi, a sports columnist at The Chicago Tribune for the past 30 years: "All I know is that whenever top guys from every other sport care about golf at all, the guy they all want to know about and meet is Fred."
Couples is hard-wired to be embarrassed by such singling out, and being asked about it is likely to start him on one of his trademark stream-of-consciousness rambles that usually leaves the questioner too puzzled to follow up. It's axiomatic in PGA Tour pressrooms that the less Couples wants to say about something, the more words he will use. Conversely, he was never more eloquent than after flushing his 3-iron to the 13th green during the third round of the 1998 Masters. Entranced as the ball homed in on the flagstick, Couples brought chills to the television audience when the boom mike caught him intoning, "Oh, baby!"
The talent, the good looks, the common touch and the sheer ease: They're why Couples so often has been considered Mr. Lucky, the man everyone would trade lives with. But the truth is, it would be a Faustian bargain that would include divorces, paralyzing back pain, migraines, early parental passings, episodes of debilitating inertia and sundry "blunders" (another Couples pet word).
When Bernard Darwin titled his autobiography, The World that Fred Made, he referred to the family gardener whose seeming ability to fix all problems helped imbue Darwin with a lifelong optimism. Couples is an avid gardener who learned the basics watching his father do the groundskeeping at a Seattle zoo. But except for golf, Couples' adult life has been a tangle of vines.
At the moment, Couples is in a now-two-year divorce proceeding from his wife, Thais, whom he married in September 1998 after meeting her at that year's Nissan Open at Riviera. Only a couple of weeks after they had started to date, Thais was diagnosed with breast cancer. Couples accompanied her through aggressive treatments at clinics in Switzerland and Chicago. The cancer went into remission, and in the following years Fred said he had found the love of his life, as well as the joy of being a stepfather to Thais' children from a previous marriage, GiGi and Oliver, both now teenagers. But behind the public idyll the relationship foundered. Then, shortly after Couples had moved out of their sprawling Santa Barbara estate in 2005, doctors found that Thais' cancer had returned. For several months, Fred lived in Scottsdale with another woman with whom he'd had a long friendship. After that relationship ended, last March he and Thais, whose health has improved, tried to get back together. But Couples moved out again in October and has been living alone in La Quinta.
"I know what people are saying," says Couples. " 'Wow, the guy's getting divorced again?' " He is sitting at the dining table of the Indian Wells condominium of Tony Porcello, an 84-year-old jeweler who was close to Couples' parents and has become a trusted friend. As Porcello nods, Couples lets out his version of a saga that he has largely kept bottled up.
"I mean, she's got two kids, she's sick, I went with another woman for a year -- I'm the bad guy. I don't think I am, but I can be a jerk, and I wouldn't sit here and not admit all the mistakes I make. But going back 10 years, I remember Thais saying after we'd found out about the cancer, 'You don't want to be with me. You don't even know me.' And not long ago she asked me, 'Did you do it because of all the stuff that happened to you?' [Couples' mother, Violet, died of cancer on Mother's Day in 1994, and his father, Tom, died of leukemia late in 1997.] I said, 'No, I did it to help you, and I fell in love with you.' But honestly, I still don't know the answer to that question. I guess it happened fast, she was fighting for her life, and I got caught up in that. Because we really didn't know each other. When she started feeling better, my playing golf got to be a problem, and my being gone was a problem, and now you look at where we're at."
His gaze steady, he pauses, giving his emotions time to settle.
"I hope she ends up my best friend," he says. "I really care about her kids -- I thought eight or nine months sitting with GiGi and Oliver would be the greatest thing. And I'm glad she's doing really well with her health. But it's over. It's too combative. I ask myself, What is my purpose here? And the answer is, there isn't one. I tried very hard. I'm exhausted. I'm not smart enough to figure it out. But I think it comes down to: Life is too short to be unhappy."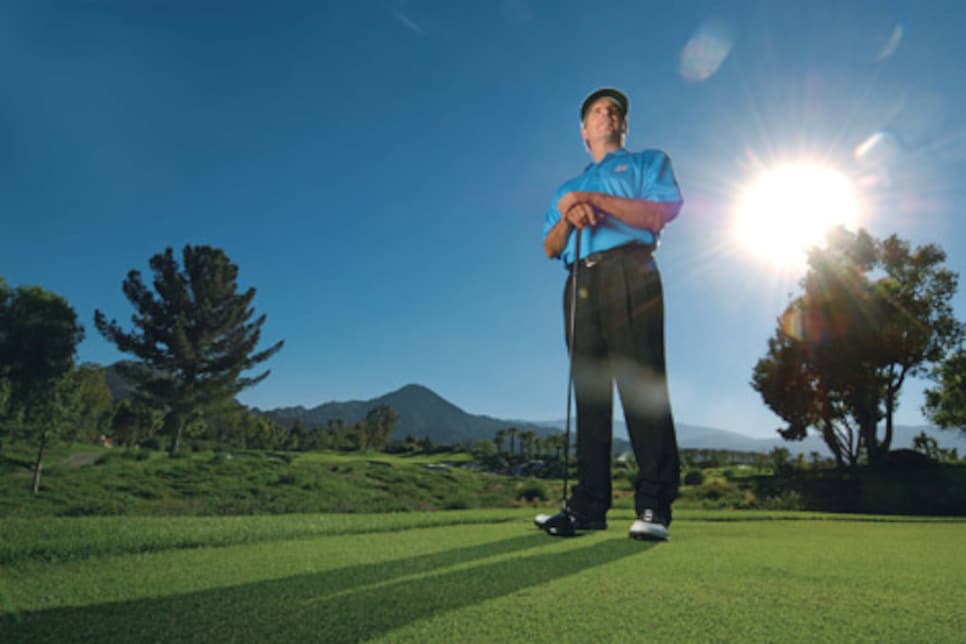 It's a realization, according to John Bracken, a close friend since childhood, that has been a long time coming.
"Fred did something he's not used to doing, which was going back and trying to make it work with Thais, basically taking last year off to work on his personal life," says Bracken. "But he realized that it's just not going to work, and that he has to move on. It shows growth because he faced a difficult situation and found out what he really wanted, and because for the first time in a while he didn't replace one woman with another. Fred has always been pretty shy, and he doesn't really like being alone, and in the past, when women have pursued him because of who he is, sometimes he's gone along and gotten into bad relationships and then just stuffed his feelings and not talked to anyone and been unhappy. I think he's realized that way hasn't worked very well, and he's decided to take some control and really be himself. It's a new chapter in his life."
And so golf -- so long a source of such obvious ambivalence for Couples that there is little argument he underachieved even as he won 15 official tournaments including the 1992 Masters -- has become a refuge, although one he can use only sparingly. His back, which he injured on the practice range at Doral in 1994, is as mysterious as it is precarious. It's another big reason he played only six official rounds in 2007, four of them at Augusta, where he has never missed the cut in 23 appearances. The back is the great "What if. . . ?" of Couples' career. It struck in his prime, severely limited the number of tournaments he can play, and essentially hasn't allowed him to practice putting -- long his biggest weakness -- for 10 years. It has also taken a huge toll mentally.
"When my back is thriving," says Couples, again dipping into his personal thesaurus, "I just get really edgy. Every move you make, it's like a toothache. By the end of the day I'm physically spent, and a lot of nights by 7 o'clock I'm in bed. So when I play in a tournament, that tension builds up. The problem is that I want to play better, but I can't try any harder. Pushing it a little, like hitting 15 more balls, that's the biggest thing I can't do. Because I can't play many tournaments, when I do play, I feel like it has to happen, and that just makes me more tense. Everything has to work, and usually it doesn't."
Joe LaCava, Couples' caddie since 1990, believes tension in the player's personal life has had a physical effect. "I can tell if he's hurting just by looking at his eyes," says LaCava. "If they're wide open, he's OK, but if they're narrow, it's because his back is killing him and he didn't sleep, or he's got a migraine."
After years of treatment with back guru Tom Boers, Couples last year began working with John Patterson, a rehabilitation specialist whose clients include the NBA's Tracy McGrady and major-league pitcher John Smoltz. Patterson's approach has worked well. Since moving to the desert, Couples has practiced and played more frequently, including regular visits to work with Butch Harmon.
"The issue with Fred has always been motivation," says Harmon, who guided Couples to his last official victory, the 2003 Shell Houston Open. "When his back's good, he's still exceptional physically, still drives the ball very well and very long. He struggles with his nerves on short putts, his chipping is rusty, and he can get negative, but he's so gifted that when he works on the right things he gets results. Obviously he can't work as hard as a lot of guys, but he has to work as hard as he can. He's got some personal baggage right now, but there's no doubt he can still win on the regular tour. I'd like to light a fire under him."
But the issue might be more complicated than just desire. Though Gary Player can say with certainty that his greatest gift has been energy, Couples might one day say that his biggest weakness was a lack of the same.
"I don't know anyone who can say they don't have a regret," he says. "I could go away five or six weeks in a row and never touch a club. I would just look at them and say, 'I just don't want to; it's not that important.' And it wasn't that important. Golf -- I don't want to answer loosely -- I pay a lot of attention to it, but I don't ever really think about it. I do think about a lot of other things that I can't get my mind off of. But golf is a game to me. Other players work extremely hard all year long. I work hard before Augusta. I know I get good results when I practice, but it also wears me out. It literally wore me out even when I was in my 20s. I don't have the mentality to go out there for two hours and get drenched in sweat. But that's what you're supposed to do. You really are."
In short, Couples doesn't grind. In 1991 and 1992, when golf "seemed really, really easy," Couples played at a level no American save Tiger Woods has exceeded since. But when Couples won the Masters and found the attendant expectations and obligations unpleasant, his run was over.
Unlike Jack Nicklaus, who said it never mattered whom he was paired with, Couples admits that advance knowledge of his playing partners can either delight him or send him into a funk. He loved playing in the World Cup with his friend Davis Love III, and the pair won the event four times. In the PGA Tour's unofficial-victory category of "Others," which includes low-key, select-field, team and Silly Season-type events, Couples is the all-time leader with 21. Woods is next with 13, and Nicklaus and Arnold Palmer have nine each.
Outside the ropes, crowds have always made Couples uncomfortable. It's his particular curse to be liked for so many reasons, but he is naturally shy and is repelled by the demands of well-meaning admirers. He admits he can be "nasty" when cornered, which in one way made 2007 comfortable.
"I didn't see many people, wasn't bothered too many times," he says. "People like to say hi and goodbye, but it's hard to get them out of your hair that fast. ... I don't know if those are the right words, but did I miss the attention? Not for a second. Ever."
As if suddenly inspired to come up with another Steven Wright-style line like his cult classic -- "I don't like answering the phone because there might be somebody on the other end" -- Couples thinks an extra second and says, "I think people. ... I think they expect more, so I don't give them much. ... How's that for an answer?"
The people in his life who ask little of Couples are the most likely to gain his friendship. "You just kind of latch on to someone you like," he says. "You figure it out in three seconds."
LaCava offers the minimum requirements for prospective members to Couples' inner circle: "Stay in the background -- the full-court press turns Fred off. Show that you're just a buddy and that you mean well, and he'll treat you like a brother. Be able to talk sports. Don't crowd him."
Another intimate, Tony Renaud, who first met Couples the week of his first victory, in 1983, is now a vice president at ESPN who earned his hang-out bones as a member of Frank Sinatra's boys' club in the '70s. "They're not unalike," Renaud says. "Out in public, keep things low-key. Any big-timing or name-dropping is out. Frank noticed everything. Fred will sometimes act clueless, but he's very perceptive. And he likes hearing Sinatra stories."
Indeed, Couples, who enjoys Los Angeles and Las Vegas, possesses a Rat Pack cool. "Fred is the first real golf Zen master," says Gary McCord, who nicknamed Couples Boom Boom. "It's how he plays, how he moves, how he talks. As great a player as he's been, I think his legacy will be more as a persona."
John Ashworth, who signed Couples to a clothing contract in 1986, never forgot seeing him for the first time, at a late-'70s college golf match.
"You could see it from two fairways over -- Fred just had it," says Ashworth. "My company was founded on the idea that I didn't want to be ashamed to be a golfer, that golf clothing could be hip instead of nerdy. When I thought of the player who could convey that better than anybody, it was Fred."
Tiger Woods, who as a kid wore oversize shirts like Couples did and walked in his gallery, found him even cooler close up. "A lot of things about Freddie are special, but the best thing is, he's so genuine," says Woods. "The way he treated me when I played practice rounds with him as an amateur, I'll never forget. He can be hilarious rambling about nothing, or he can just stand there and make people feel good."
Of course the flip side of cool is often emotional detachment. It was true of Dean Martin, known as The King of Cool, of whom Shirley MacLaine once said, "He was nice to everyone; he just didn't want nice to go on too long." After divorcing Martin, his ex-wife, Jeanne, said, "Now he can hide, which is what he does best." Jerry Lewis eulogized his ex-partner as a man of "exquisite tranquility despite a great inner turbulence."
It would seem all those descriptions could apply to Couples. During a 12-year marriage, which ended in divorce in 1993, Deborah Couples, who committed suicide in 2001, would lament to friends that Fred had to be prompted to open up. Blaine McCallister, who was Couples' suitemate at the University of Houston before joining the tour, says, "Fred's always been the kind of guy you feel like you've known forever. But then over the years you don't really feel like you know him any better. You get very little of him, but he's so much fun when you're around him you want a whole lot of him."
At a fund-raiser last October for the Tiger Woods Learning Center, Couples jumped up on the stage during the auction and supercharged the demand for four tickets to the Masters by offering extras. The bidding, which had been stuck at $30,000, ultimately jumped to more than $150,000. "I thought I'd dice it up a little," says Couples.
After passing on induction into the Italian American Sports Hall of Fame in 2006, Couples -- whose forebears on his father's side were named Coppola -- accepted the honor last year. Couples called the night "a thrill," especially when Yogi Berra, one of his father's favorite players and the progenitor of the mind-bending bon mot, presented his induction medal.
At the Target World Challenge, Couples made a point of criticizing Rory Sabbatini for pulling out of the event on Saturday night without notifying sponsors or the host, Woods. "Hey, Monty, am I wrong about this?" Couples called out to Colin Montgomerie with reporters present, as if recruiting more public comment against Sabbatini. The often-voluble Montgomerie thought better of it and threw up his hands, a gesture one could easily have seen Couples making only a few years ago. "I just think it's important not to disrespect people," said Couples, who went on to call for Sabbatini to donate his last-place prize of $170,000. "I mean, this whole thing is a gift. For the guy not to say 'I'm sorry' and 'thank you' is an insult."
And look for Couples to continue his not-so-subtle lobbying for a captaincy in the Ryder or Presidents cups. Even if he gets one of the jobs on his terms -- golf buddy Michael Jordan and comedian Robin Williams as assistants; no official team functions at night -- Couples knows he would still be under the kind of public scrutiny he has detested. "Maybe so," he says, "But it would still be a blast."
All the talk of social interaction reminds Couples of his late mother.
"My mom was so people-friendly," he says. "She was incredible. She'd go to the mall, and she'd talk to everyone. Give people a kiss on the cheek. I think if I wasn't pushed around a lot, I'd be great with people. Maybe I still can be."
That change, and others, will require Couples to push back against his own nature, which is perhaps another way of defining the process of maturity.
"You know, the clock doesn't stop ticking," says Porcello, the family friend. "I know Fred is determined, more so than I've seen him in a long time. Fred is like his dad, who was a great baseball player and the nicest person. But neither one of them ever went all out, never thought of anything as life and death. But now I see something new in Fred -- he's trying to extend himself further mentally than normal. If he can do that, I think it would be significant."
For someone who must take his golf day to day, Couples resists projecting. "My legacy? Hell, I don't know," he says. "My goal has always been to play golf, and play it well. In the end, that's what I am, a golfer. If my back lets me, I'm going to play my favorite places. If I hurt myself, that'll probably be it for a while. Maybe once I turn 50 I'd like to go out on the Champions Tour for a few years and win. I think it would be fun. To hoist those trophies up, I don't care who you are, it'll be a chore. It ain't easy."
As even Fred Couples finds out, nothing really is.