News
Count the PGA Tour commissioner among those excited about Tiger Woods' return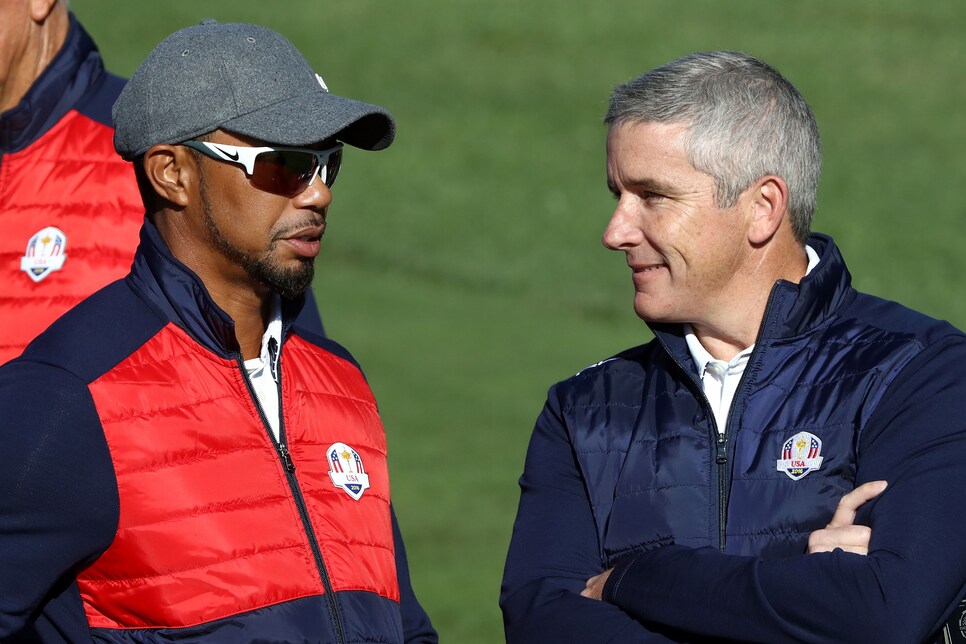 KAPALUA, Hawaii — The prospect of Tiger Woods returning to competitive golf already has created enormous buzz among his fellow PGA Tour players and among both casual and devoted fans of the game.
Jay Monahan, entering his second year as commissioner of the PGA Tour, said he sees "nothing but upside," as Woods attempts a comeback from a back injury that has kept him out for almost all of the last two seasons.
Monahan, who succeeded Tim Finchem as the tour's fourth commissioner of last January, met with a small contingent of the media Sunday at the Plantation Course at Kapalua prior to the final round of the Sentry Tournament of Champions. He touched on numerous subjects, from potential changes to the tour schedule in 2019, to the Presidents Cup, legal challenges, and reaching new fans. Because those issues are developing or in flux, he couldn't provide many definitive answers.
But on one subject he offered no equivocation: Tiger's return is good for golf and good for the tour.
"From the fans' perspective, it's extremely positive," Monahan said. "You have one of the greatest athletes of all time and one of the greatest golfers of all time, one of the most accomplished of all time, who has been away from the game for a long time coming back—and coming back with a smile on his face and a fire in his belly, and with a comfort to him. I think it's going to be really interesting for fans to watch and to see."
And he expects a lot of fans to be watching when Woods returns. The 14-time major champion has committed to the Farmers Insurance Open and the Genesis Open in California to start his 2018 season.
"Just look at when he played at the Hero World Challenge. Look at that level of coverage," Monahan said. "You're going to see that in San Diego [at the Farmers]. You're going to see that in L.A. [at the Genesis]. We've been so fortunate that some of our young players, and our players generally, have stepped up and carried the game forward. But to bring Tiger back into the mix and to have the question out in front of everybody, I just think it's going to be fascinating to watch and we're blessed that it's happening."