The Loop
Could Phil Mickelson be a playing captain at the 2024 Ryder Cup? His caddie seems to think so. . .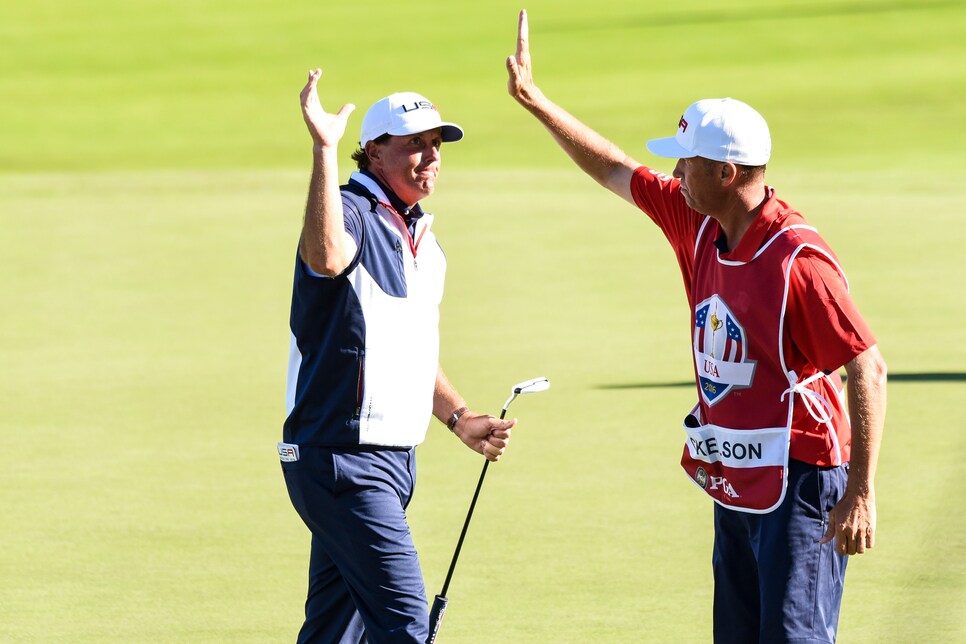 Phil Mickelson will be 48 when the next Ryder Cup rolls around in 2018. But according to his caddie, the five-time major champ has no thoughts about that being his swan song in the event.
Jim "Bones" Mackay appeared on the No Laying Up podcast on Monday. In addition to telling great stories about the 2004 Masters and some U.S. Open heartbreaks, he addressed his boss's strong belief that he has a lot more to give to Team USA as a player. When asked how many more Ryder Cups Phil will play by host Chris Solomon, Bones said the following:
"Well, I tell you what, if you ask him about being a captain, he does not want to have that conversation right now."
"He refuses to acknowledge that he's not going to be on the next team or the team after that. And I love that about him, and I hope it works out exactly the way he wants it to. So multiple is the answer to that. . . . But right now he is all about playing and he doesn't want to hear about that."
Can you blame him? Mickelson is coming off a stunning Sunday singles performance at Hazeltine where he made 10 birdies. The previous fall he was the MVP of an American team that won the Presidents Cup.
Bones even said he wouldn't rule out Mickelson as a playing captain at the 2024 Ryder Cup at Bethpage Black when Mickelson would be 54(!). At 51 years and 20 days, Raymond Floyd became the oldest player in Ryder Cup history when he was a captain's pick in 1993. Arnold Palmer was the last playing captain in 1963.
Keep stretching, Phil. We'd love to see it.