News
Tseng Takes Final Corning Classic Title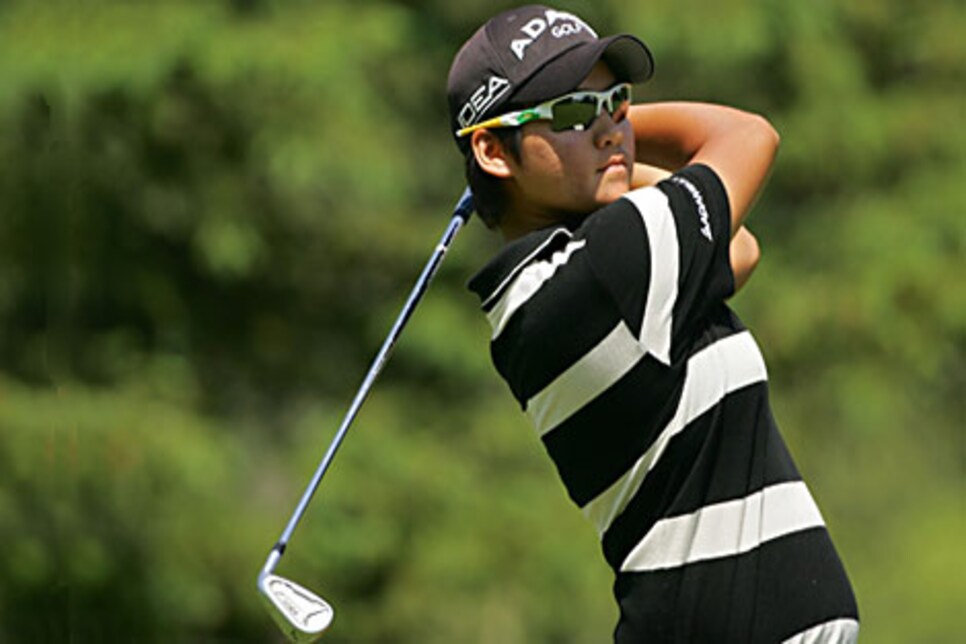 Tseng set a record by reaching the $2 million mark in career earnings after 32 events.
CORNING, N.Y. (AP) -- The LPGA Corning Classic certainly received a memorable farewell.
Just when Yani Tseng seemed headed for a playoff Sunday with fellow South Korean Soo-Yun Kang, Tseng watched in amazement as Kang missed a 3-foot par putt on the final hole.
Tseng, 2008 LPGA rookie of the year, finished at 21-under 267, one shot better than Kang (69) and Paula Creamer (65).
Japanese rookie Mika Miyazato (70) finished alone in fourth at 19 under, while Song-Hee Kim (67) of South Korea, Ai Miyazato (68) of Japan, Sandra Gal (69) of Germany and Vicky Hurst (69) were another shot back.
It was the second career victory for the 20-year-old Tseng, who won the 2008 McDonald's LPGA Championship in a four-hole playoff with Maria Hjorth.
"I've been waiting for a year to win a tournament," Tseng said. "I wrote my (winning) speech in January. Every time I get so close and I don't win. This week I just let it go."
Saturday's third round was simply amazing as 11 players shot 7 under or better, with Tseng and Mika Miyazato each tying the course record with 10-under 62s and Hurst making 10 birdies en route to a 63.
It seemed that Juli Inkster's tournament-record score of 24 under in her 2003 victory might be threatened after an early-morning shower gave way to sunshine for the fourth straight day.
But despite another day of ideal scoring conditions, the leaders failed to pull away from the closely bunched field. Kang and Miyazato began the day tied at 17 under with eight other players within three shots.
Creamer made the biggest run, and could only bemoan a couple of missed short birdie putts on the front nine. She missed an 8-footer that slid just 2 inches left of the hole at the par-3 third hole and for the first time in four rounds failed to take advantage of the easy par-5 fifth hole when her drive landed under a stand of trees along the left side and she parred the hole she had birdied the first three rounds.
Still, Creamer rallied to 17 under with birdies at Nos. 10 and 14 and was within two shots of the lead after Kang bogeyed No. 10.
Creamer kept up her charge, moving within one shot of Kang with birdies at Nos. 16 and 17. After driving near the left rough at the closing hole, her second shot clipped a tree and landed on the front of the green, 60 feet from the pin. Needing a birdie to tie for the lead, Creamer calmly rolled in a stunning putt as her 91-year-old grandfather watched from a balcony behind the green.
"That's probably one of the longest putts I've ever made. I hope he didn't have a heart attack," said Creamer, who glanced up at her grandfather and smiled broadly when the putt dropped and the big gallery roared. "That last little ridge, I was thinking, 'This has a chance, this has a chance.'
"It was the perfect putt, the perfect everything. It gives me goosebumps still thinking about it," Creamer said. "It was a great finish. I fought hard. I could have been a lot lower, but that's just the way it is. It kind of felt the long one was all the putts I missed."
Tseng began the round with a bogey, and after eagling the second hole reeled off 12 pars and a birdie. Desperate for a spark with the holes dwindling, she used driver at par-4, 304-yard 16th hole and drove the green, the ball stopping 12 feet from the pin as Tseng high-fived her caddie.
Tseng settled for a tap-in birdie when her eagle putt stopped beside the hole, but she was tied for the lead at 20 under.
Meanwhile, Kang birdied No. 12 to get back to 20 under and gained a one-shot lead with another birdie at No. 16. Tseng, playing in the group ahead, responded with birdie at No. 17 to tie it at 21 under.
Kang drove under the left trees at the 17th and managed to punch onto the green with a deft second shot and save par.
The Corning Classic, the lone event on the LPGA Tour with the same title sponsor and held at the same venue since its inception, ends a 31-year run at Corning Country Club, the victim of the depressed economy.
Corning Inc. announced a month ago that it would no longer be able to continue as title sponsor, and that was enough to kill the tournament, which began in 1979 and has been staged at Corning Country Club every year.