News
Hee Young Park, Icher Tied With 64s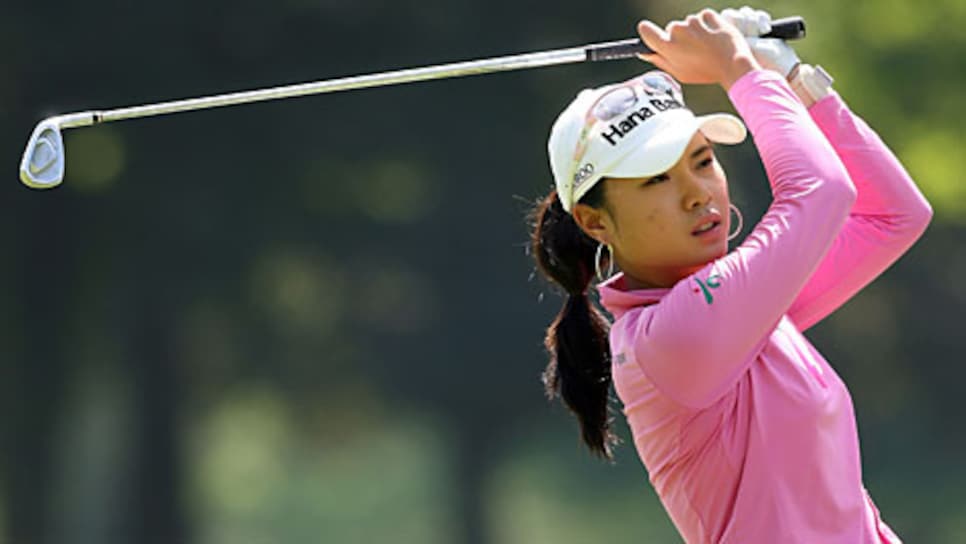 Hee Young Park had never held even a share of a first-round lead in an LPGA event before Thursday.
CORNING, N.Y. (AP) -- Hee Young Park knows firsthand that practice isn't always what it's cracked up to be.
After spraying balls all around the driving range on Thursday prior to the opening round of the LPGA Corning Classic, Park matched her career low with an 8-under 64 for a share of the lead with Karine Icher of France, who also tied her best round as a pro.
Tied just one shot back were Minea Blomqvist of Finland, Sandra Gal of Germany, and South Koreans Sarah Lee, Soo-Yun Kang, and Hee-Won Han as nearly half of the extended field of 147 that started broke par on a sun-splashed day.
Paula Creamer, Morgan Pressel, Nicole Castrale, Sarah Kemp of Australia, and Jimin Jeong and Na Yeon Choi of South Korea were at 6 under.
The leaders also matched the low first round in Corning Classic history shared by Nancy Ramsbottom (1994), Karen Stupples (2003), and Charlotta Sorenstam (2007).
Park was in uncharted territory and chose not to look at the leaderboard, maybe because all but two of the top 30 money leaders on tour were playing the 31st and final edition of the event.
"This is the first time leading finishing the first round," said Park, who tied for sixth at last week's Sybase Classic. "So tomorrow I will do the same, keep working with my caddie, just focus the mind, and just play. I have to stay aggressive."
Park excelled with her short game and needed only 22 putts on the 15 greens she reached in regulation. She had eight one-putt birdies, only one from more than 10 feet, and completed her round with birdies at Nos. 17 and 18 on the forgiving Corning Country Club course.
"The greens were very true," said Park, who battled allergies on the back nine and credited her caddie with her low score.
Icher forged the tie by making a short birdie putt on her final hole, No. 18.
"I'm going to try to keep my game where it is," said Icher, who has led at Corning before, only to falter on the weekend. "I have more experience, so it helps. I'm going to try to not make the same mistakes."
Blomqvist moved into contention by stringing five birdies on the final six holes of the front nine, making a 24-foot putt at No. 7 and a 20-footer at No. 9.
It was a nice turnaround for Blomqvist, who missed the cut the two other times she played Corning because she tried to rely on her driver off the tee on the narrow, tree-lined course.
"I just had fun," Blomqvist said. "It's such a fun course. It tells you what you have to do and gives you a lot of chances. "I know the winning score will be 20 under or better. If I want to win, I've got to keep going."
The forecast for the final three days was superb, with sunny skies and temperatures around 80 or higher. That was welcome news to Lee, who withdrew after one round a week ago at the Sybase Classic because the cold, rainy weather and tough conditions proved too much for her ailing left elbow.
"I really enjoyed the weather. I didn't make any big mistakes," Lee said. "I don't try to work too hard, just try to play my game."
Lee, who turned 30 in February, said she might like to get married and start a family, but one thing stands in the way. She's tired of finishing second, having done so five times since joining the tour in 2002.
"That's the only reason I play the LPGA Tour," Lee said. "I learned so much how my attitude was different going into the final round (of the tournaments I finished second in). If I have a good chance, I'm going to be ready."
Those who teed off in the calm morning had a distinct advantage as only Icher and Gal managed to challenge for the lead while contending with a steady wind that gusted to nearly 20 miles per hour. Gal reached 8 under after making three straight birdies to start the back side but faltered with a pair of bogeys and finished with a 65.
"The wind was a little bit of a factor," said tour money leader Cristie Kerr, who birdied her final hole to reach 4 under. "There were certain shots that were holding into the greens and certain ones that weren't. It'll be nice to get out on fresh greens tomorrow and early."
Kerr was happy with her performance, and long-hitting rookie Michelle Wie wasn't deterred by hers, a 1-over 73. "There's a lot of golf left," said Wie, who made birdie at the two par-5s on the front nine but also had three bogeys on the round.
The Corning Classic, the lone event on the LPGA Tour with the same title sponsor and held at the same venue every year since its inception (1979), will end for good on Sunday, another victim of the depressed economy.