The Loop
Cool as ever, Elkington turns back clock
HAVEN, Wis. -- He struck quite a figure as he emerged from the elevator of the five-star hotel in Bangkok. Tall, lean, ruggedly handsome. With Travolta or Sam Jackson cool, he glided along the corridor, feet barely touching the plush carpet.
Steve Elkington was "the  man" back then or as one of Tiger Woods' adoring fans (perhaps deep in his cups) put it during the first round here Thursday, he was "the man's man.'' Eighteen months removed from a victory at the PGA Championship, Elk was reaping the benefits as a supporting cast to Tiger's starring role in the Asia Honda Classic. Nice appearance fee, wonderful digs and helicopter transport to the course. Sweet.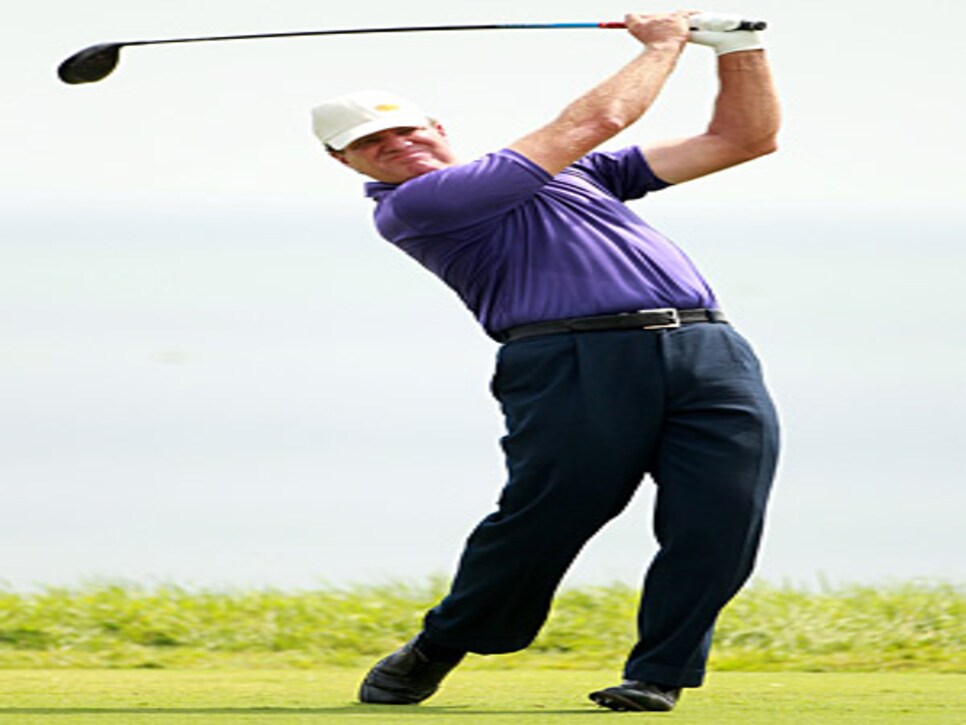 For Steve Elkington's "10 Rules On How To Smooth Your Swing", click here)
Of course, Tiger won as scripted. A couple months later, the rookie would shock the world by waltzing to victory in a slightly bigger tournament in Augusta, Ga.
Standing on the first tee Saturday alongside Tiger and Italian stallion Francesco Molinari, Elk made a slightly different reemergence to the big stage, a place currently ruled by various casting call rejects from "The Young and Restless". Not that Elk is the typical 48-year-old trying to hang on until eligible for the golden parachute known as the Champions Tour. He still has that sculpted appearance, 32-inch waist (around the belt-line, although an inch above it reveals a little extra padding for heavy lifting), square shoulders and a full head of hair, the envy of half the twentysomethings in the field. And he still has that gloriously perfect golf swing. Wonder why, in the age of the guru, has no one attempted to teach that silky pass to the myriad phenoms?
Yet, from an opening drive that split the middle of the fairway outdistancing that of both of his playing partners, it was obvious that Elk wasn't there as a throwback (although his ancient brown-and-tan, logo-less tour bag appeared a knockoff from Sam's Club and suggested otherwise). Even his caddie, portly Patrick Fitzgerald, shirt soaked from the Wisconsin humidity, looked like an exiled rocker from the '70s who had seen better days and couldn't remember them.
What took place over the next four-and-a-half hours was nothing less than remarkable rewind. While Tiger couldn't find a fairway with a compass and a GPS gadget, Elk consistently found the short grass, missing only the ninth, where he made a nifty par save. A hole later, Elk began a four-hole barrage of birdies attacking pins like his more celebrated playing partner used to.
Elk's 67 was five shots better than Tiger's score. They were, however, all square on fist pumps at zero. Cool dictates a tip of the hat or a wave instead. Elk waved and tipped aplenty.
When asked if he expected to play that well, the old Elk edginess pounced with an answer. "Sure,'' he said. "I always expect to play this well.''
The slight snipe wouldn't have been so obvious had there been a litany of success to back it up. However, since contending for the PGA Championship in '05 at Baltusrol and eventually finishing T-2 behind Phil Mickelson, Elk hasn't exactly inspired comparisons to Sam Snead.
A variety of health issues, including severe sinus trouble, derailed Elk's climb to the mountaintop, a place where many observers thought he would eventually lay claim. Never happened. He can, however, still occasionally conjure up a little of the old magic in fast company.
"I always get excited to play with the best players,'' he said. "I played with all of these No. 1s, you know. I got like a book on them. I played with Jack and Arnold and Greg Norman and Faldo. All those guys were No. 1. For me, I can't wait to get into that group because I want to see what they are doing.''
No doubt he couldn't believe his eyes Saturday with Tiger barely visible at times along the slopes and amid the tall fescue at Whistling Straits.
Could Elk rewind the tape a little further again today? He figures to give it a shot.
"Well, you know, yeah,'' he said.
Just like his swing, Elk is timeless.