Apparel
Cool apparel from the PGA Merchandise Show
ORLANDO — The 2018 PGA Merchandise Show provided an all-encompassing buffet of golf products, ranging from training aids and drivers to shoes and hoodies. Golf Digest editors combed the floor of the Orange County Convention Center to find the coolest and most stylish golf apparel. As you'll see, clothing companies are doing everything they can to ensure golfers today are able to play comfortably while looking sharp. So kick back and enjoy the bevy of new options that are either already available or coming soon.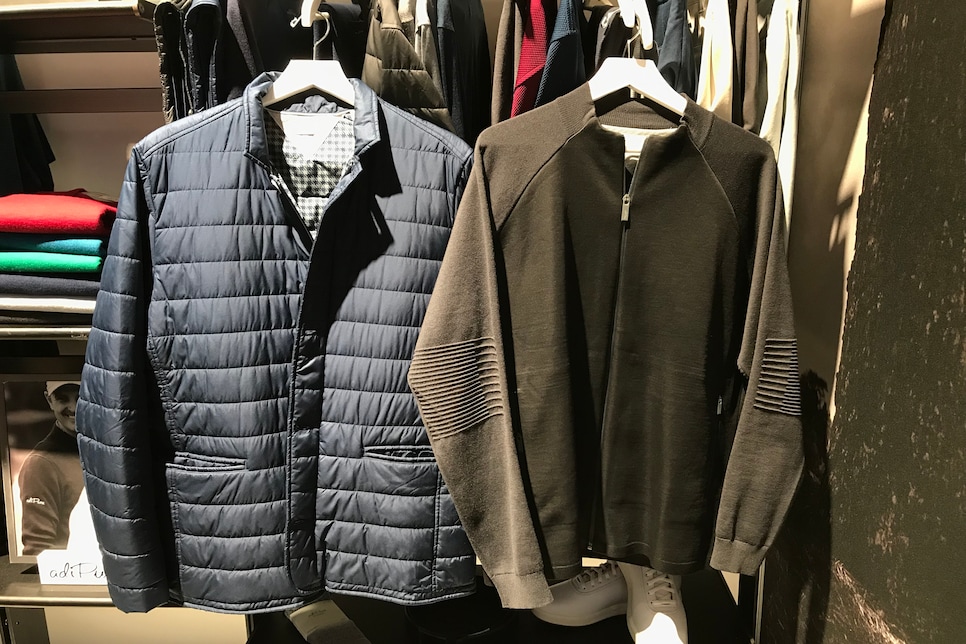 If you're looking for premium golf apparel that mixes style and performance, you should consider the pieces in Adidas' adipure collection that'll land on July 1. Inspired by luxury menswear and made with Italian materials, the items in the line, which range from polos and henleys to quarter-zips and jackets, offer the technology you need to help you stay comfortable on the golf course with the design elements of premium menswear. Two such pieces are show above: the puffer jacket is made with an athletic blazer cut and the sleek bonded jacket is both water repellent and wind proof. —Ashley Mayo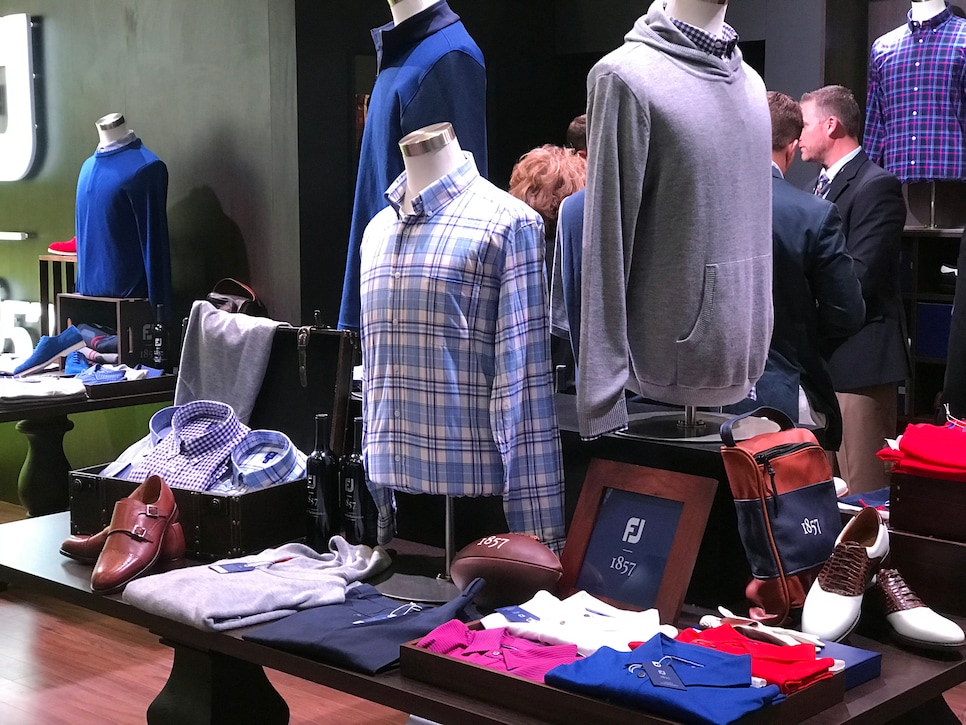 The demand for high-end, luxury products is small but it exists, and the FootJoy team felt like it wasn't serving that demographic. Enter, FJ's 1857 collection. The name is a nod to the year FootJoy began making shoes, and the collection features everything from shoes and gloves to polos and crewnecks, all of which honor the company's commitment to crafting the finest menswear. The process for creating the FJ 1857 footwear is the same today as it was 160 years ago and it features hand-selected premium Italian calfskin leathers, leather outsoles, full leather linings, suede heel pockets and cork-layered fit-beds for molded, custom comfort. And the FJ 1857 apparel line combines premium materials with timeless styling. Designed around classic colors like navy, heather grey, ink and accents of red, the collection is constructed using a supima cotton-based performance blend to optimize comfort and style. —A.M.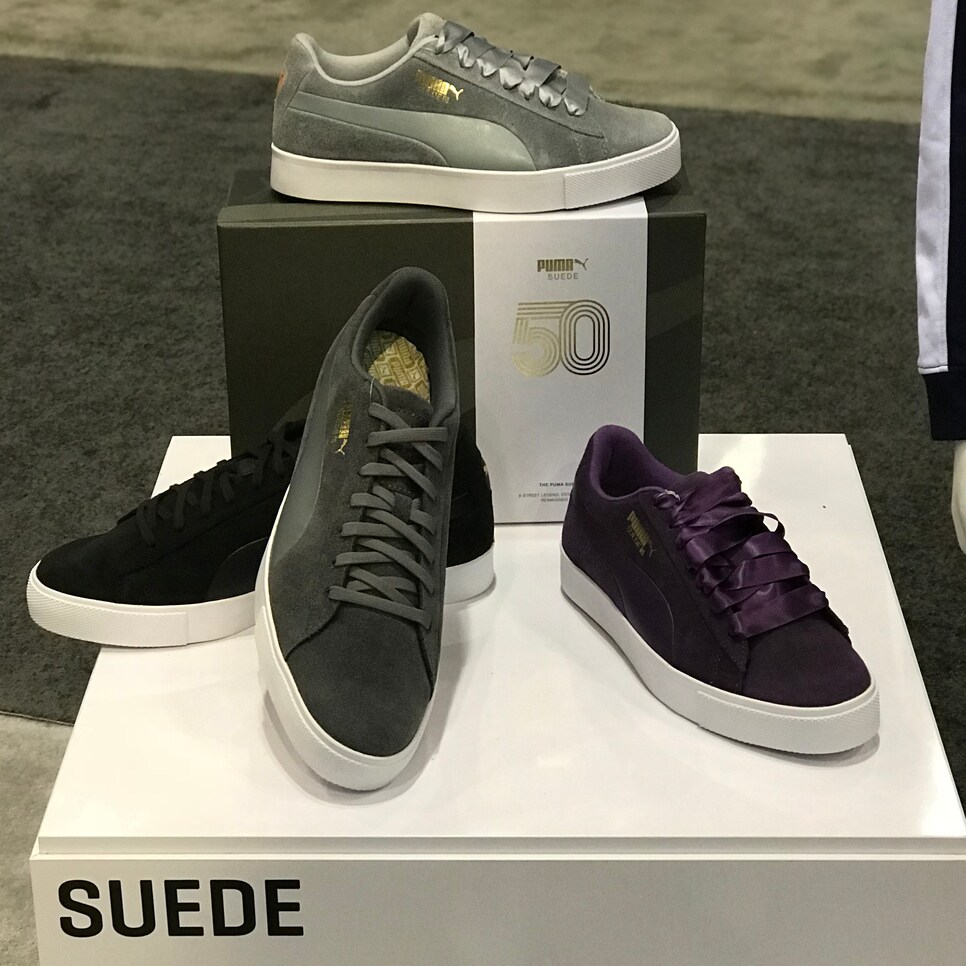 To celebrate the 50th anniversary of the company's iconic suede street shoe, Puma is releasing 50 collaboration suedes over the course of 2018. Collabs ranging from Fubu to Sesame Street will remix the classic suede, and golf will get it's own take as well. Available in May, Puma created four iterations of a golf shoe with a suede street shoe look. The men's versions will come in grey and black while the women's in a lighter gray and royal purple suede. As an added bonus, the women's shoe is laced with ribbon that truly pulls together the look. No one will know it is a golf shoe at face value, save the hidden traction on the sole and the brand's popular ignite foam on the sock liner for added comfort. —Brittany Romano
RLX x Billy Horschel capsule.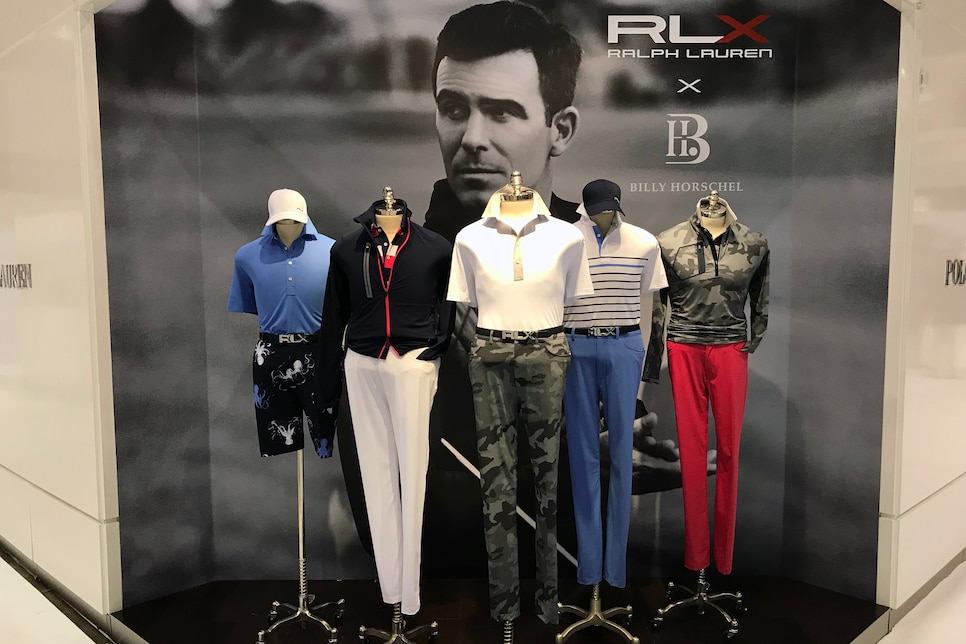 For the first time in its history, Ralph Lauren is collaborating with an outside agency. The premium company has linked up with Billy Horschel to design the five looks he'll wear at the 2018 PGA Championship. The shorts you see are for practice-round Wednesday, and yes, that's the infamous octopus print Billy made so popular way back in 2013. During the tournament, Billy will change up his looks from sleek navy-on-white to digital camo and loud pastels. —A.M.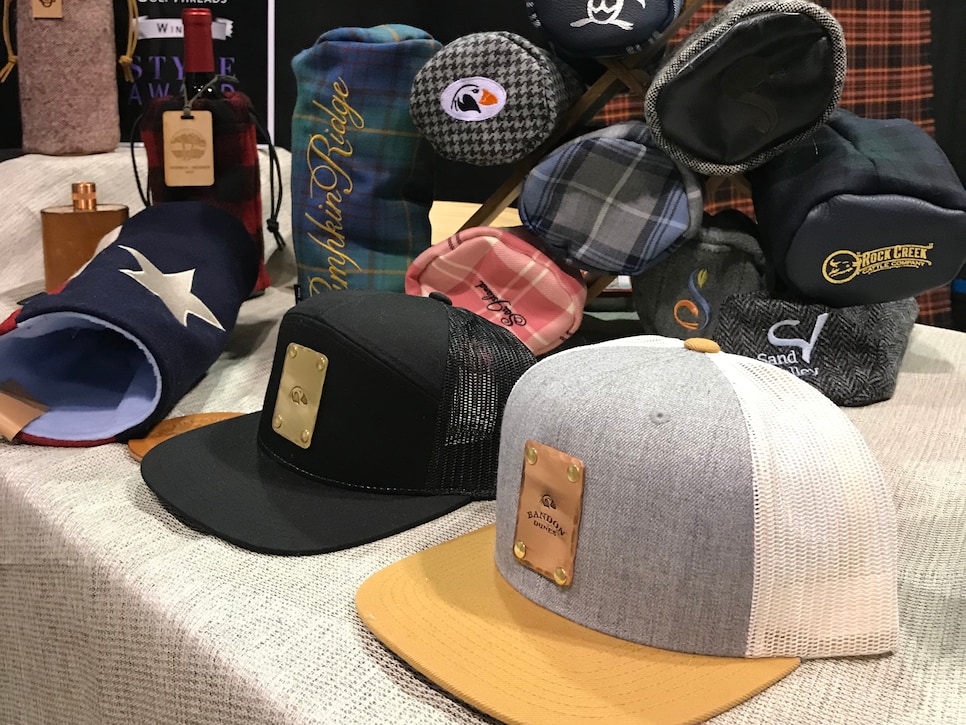 Seamus, a company known for its wide array of patterned-wool headcovers and hand-forged metal accessories, has ventured into making golf caps. The Portland-based company is small enough to be nimble, which means they test out new products in small runs all the time. They're not sure what the appetite is for caps that feature forged metals but expect to see them drop in limited quantities later this spring or summer. —A.M.
Peter Millar Crown Crafted collection.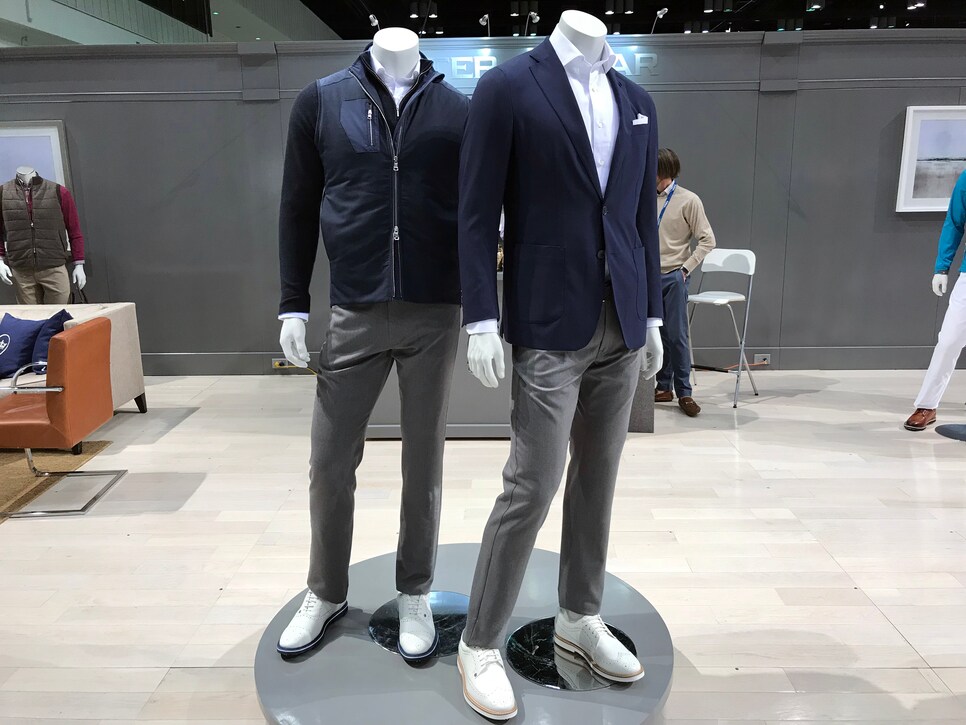 The Peter Millar Crown Crafted collection, which will land in late summer, aims to dress up on-course wear and maintain the company's commitment to using high quality materials. The luxury pieces are pill resistant, quick drying and water resistant. The waterproof cashmere sweater isn't just a performance piece that can pass as clubhouse-wear, it will elevate your look. Paired here with the collection's storm system vest that will hold up in any conditions: rain, wind and clubhouse function. The pieces in the collection range from $100 to $795. —B.R.
Jones Golf Field collection.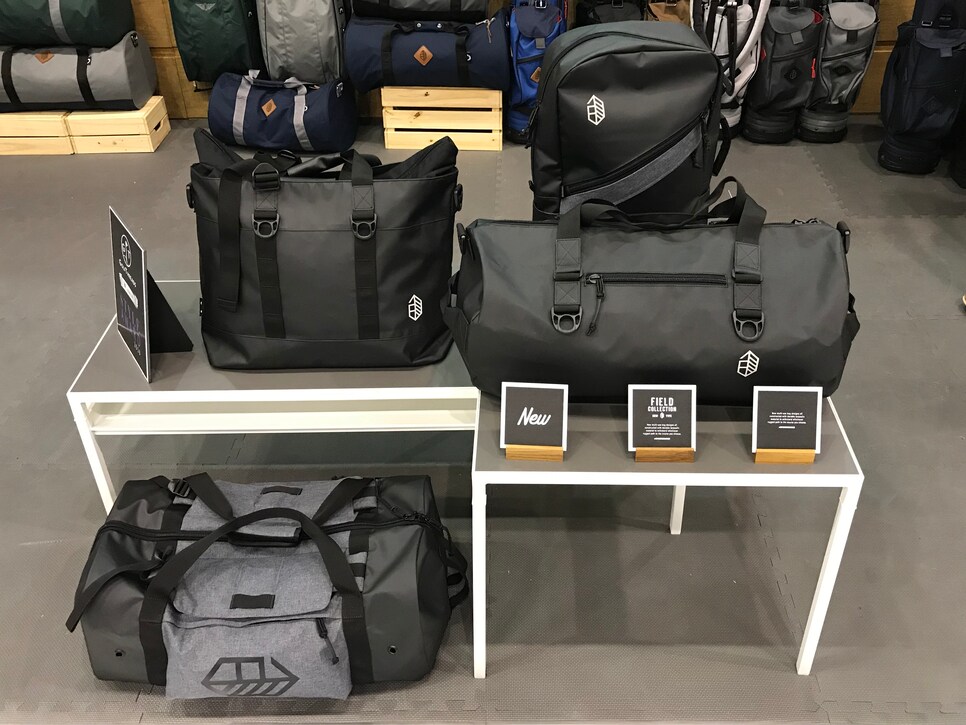 Jones Golf made its first-ever weekender bag a few seasons ago and learned plenty of lessons in doing so. Enter, the company's 2.0 version of that weekender, plus three other bags that comprise the Field collection. Made with durable fabrics that are also sleek, the four bags in this collection, which range from a tote ($80) and backpack ($120) to a duffle ($130) and a weekender duffle ($165) are constructed to withstand the wear and tear of travel while looking stealth and polished.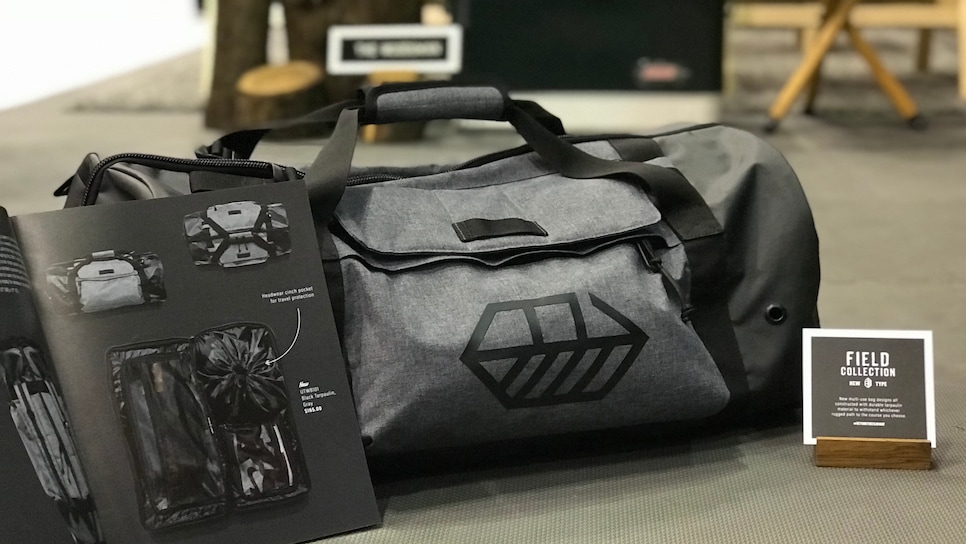 The weekender duffle opens into two halves, one of which has compartments to help organize a golfer's belongings, and it can be used as either a backpack or a duffle. —A.M.
Dunning Heathered Tour V-Neck.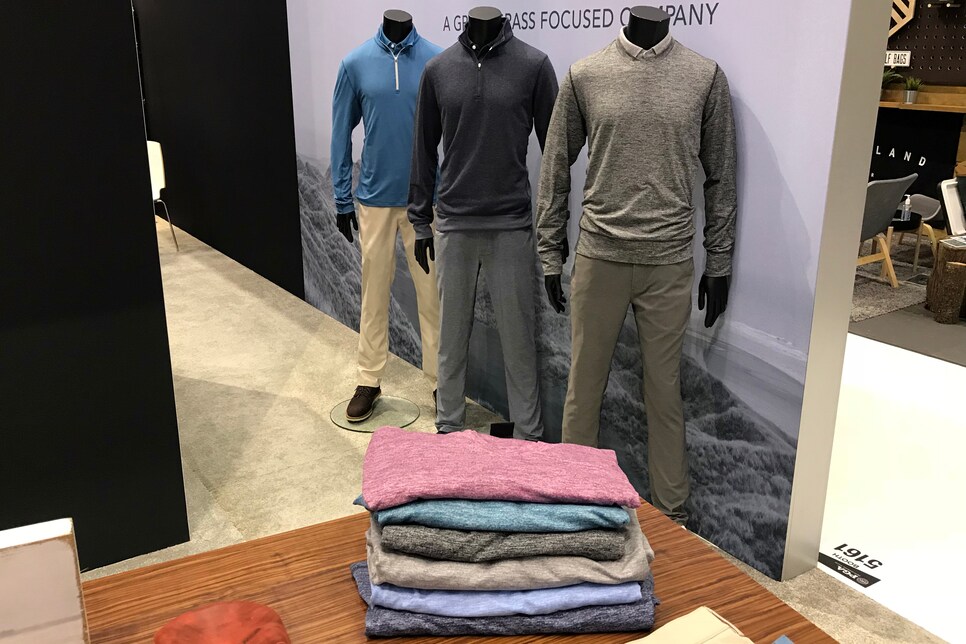 Dunning studied their demographic before crafting its Fall 2018 collection, and the findings helped shape the line. The company discovered, for example, that 56 percent of golfers who wear Dunning play more than 50 rounds per year, 34 percent of them are scratch or carry a single-digit handicap, and 20 percent of them travel to Scotland and/or Ireland to play golf. As such, the company has designed effortlessly-classy pieces that can withstand the elements and that transition seamlessly from one climate to the next. One such item is the Heathered Tour V-neck. Made with 90 percent polyester and 10 percent spandex, it's one of the more comfortable layering pieces on the market. It's available in six colors and its sole logo appears on the back of the neck, helping a golfer appear clean and classy. —A.M.
G/FORE has quickly become known as the rebel at the PGA Show, consistently disrupting the Show's vibe with sex appeal and avant-garde style. This season's G/FORE caps and kicks feature plenty of styles that push the boundary of what golf footwear and accessories are "supposed" to look like. Ranging from new-age wingtips and leather high-tops to Stan Smiths and saddle shoes, the latest collection of G/Fore footwear ranges in price from $185-325.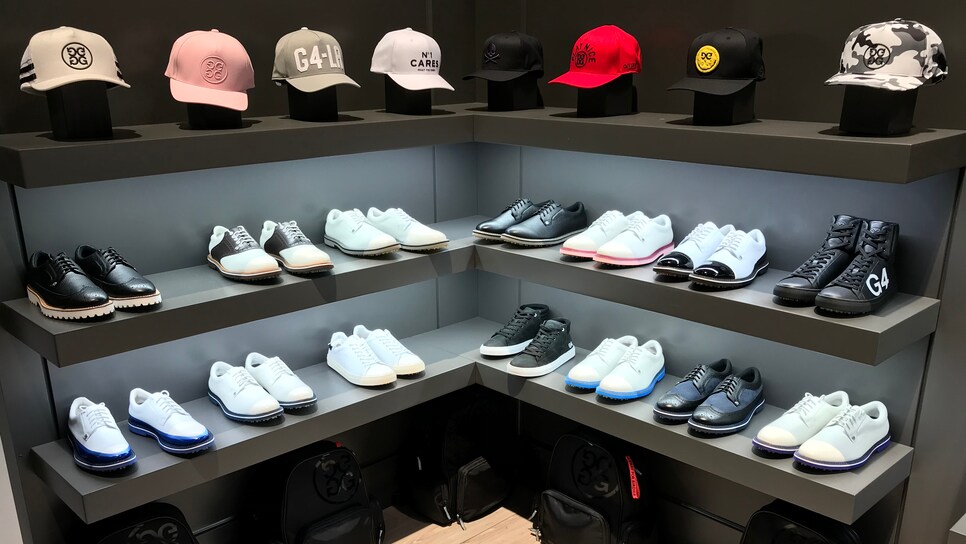 And the company's hats will continue to spread unique, eye-catching messages such as, "Play nice" and, "No one cares what you shot." —Ashley Mayo
Foray Golf Core Slim Straight Ankle pant.
For many years, golf pants had never been friendly with women. Often uncomfortable and unflattering, its traditionally been tough for females to find a trouser that felt athletic and feminine on the course. With modern fabrics and intuitive design methods, however, those days are gone. Foray Golf, a new women's apparel company based in New York City, has reimagined the golf pant. Currently available in black and soon to be available in navy and gray, the Slim Straight Ankle pant ($225) is made with a four-way stretch fabric from Switzerland that's breathable and waterproof. I tried them on they were so comfortable I barely felt as if I was wearing pants at all. —A.M.
Original Penguin X Sugarloaf Social Club.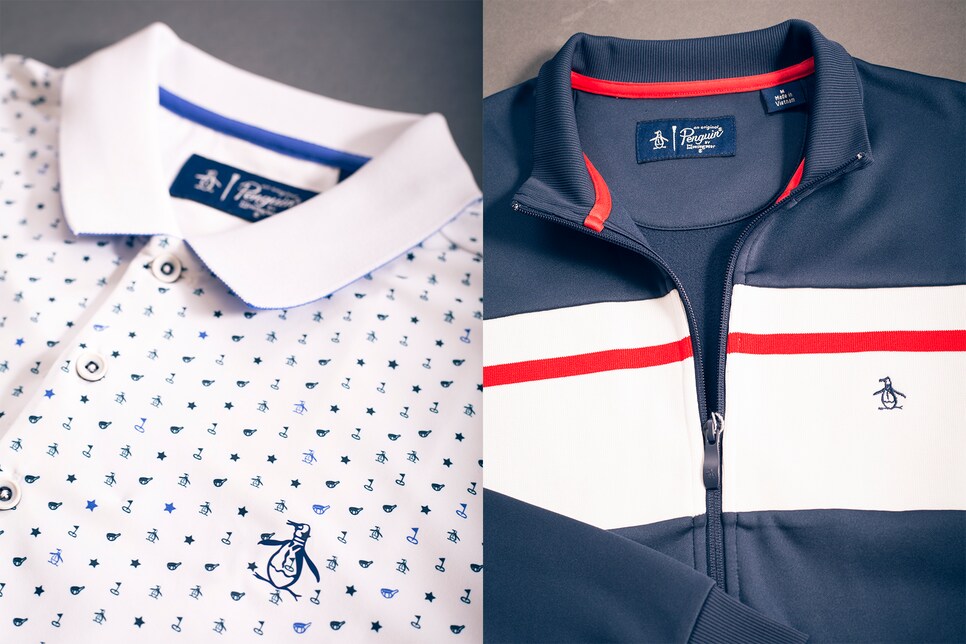 Iconic menswear brand Original Penguin is ready to get back in golf. The brand that dates back to the '50s, is relaunching their golf collection with a focus on tailored-yet functional pieces. Many of the designs draw inspiration from the company's archived collections from the '60s and '70s. To celebrate the re-launch, Original Penguin teamed up with Sugarloaf Social Club for a limited run capsule collection of archived pieces featuring technical updates. Set to debut in March, the collaboration will include four golf shirts and a full-zip jacket. Only 100 will be made of each and the shirts have a label that indicates which out of the hundred your shirt is. . —B.R.
Bonobos Highland short, $98.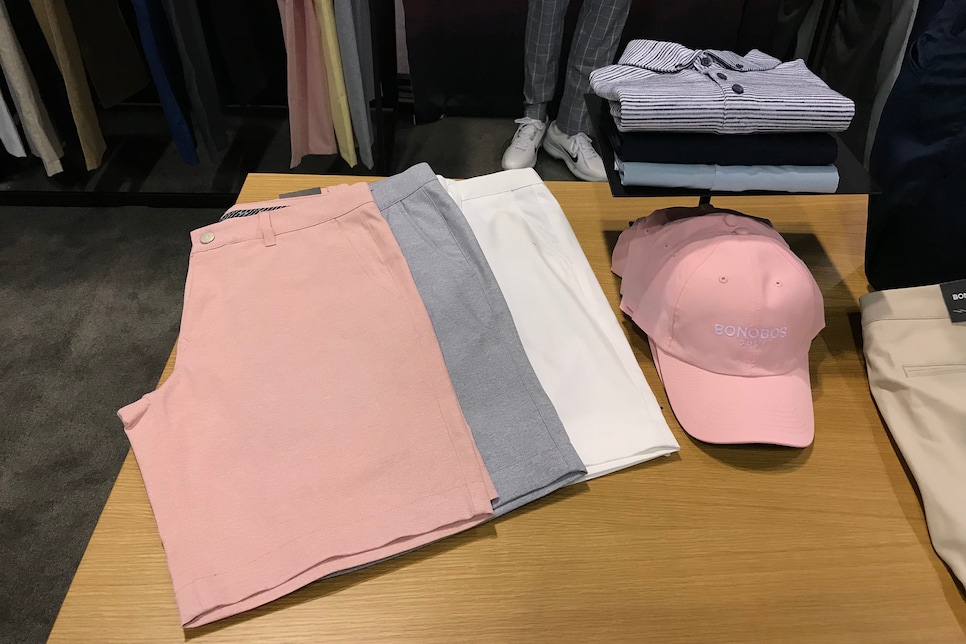 Bonobos and superior bottoms have become synonymous, and its new palette of heathered colors for spring are a must-have. Made with stretchy polyester that's breathable and a gripper gel waistband that helps keep polos securely tucked, the heathered hues of pink and indigo offer a perfect balance of fun and bright without being too flashy. —A.M.
Tory Sport "Golf" sweater.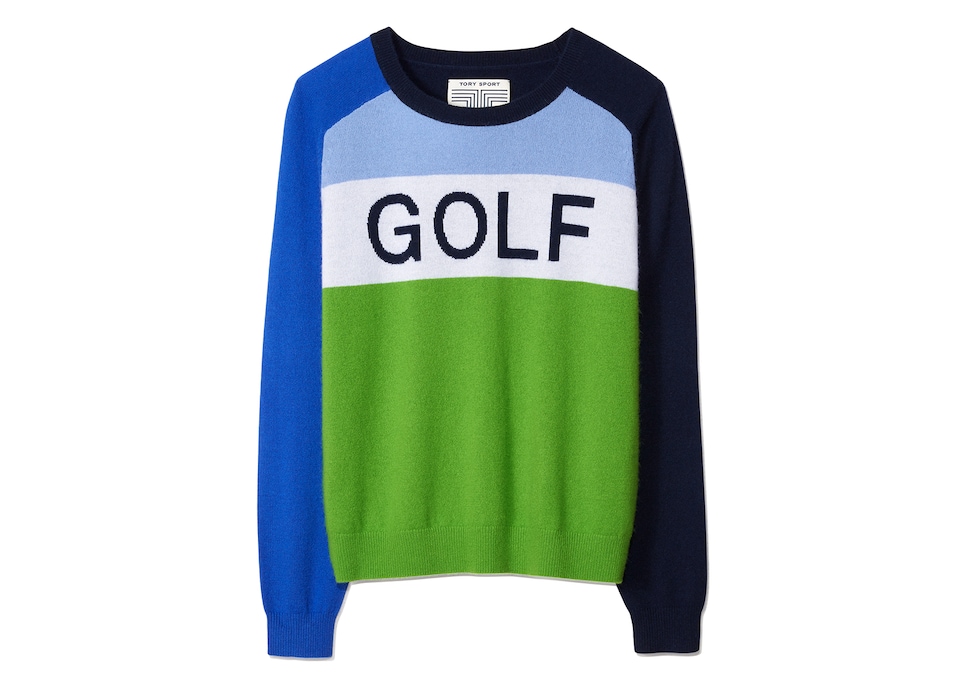 Tory Burch's activewear line, Tory Sport, includes a full range of golf options. The apparel has major 70's vibes, with its effortlessly cool colorblocking, prints, ruffles, and pops of color. The line covers everything you need in your golf wardrobe: shoes, golf dress, skirt, sweaters, pants, vests, jackets – you get the idea. There's a lot to like, but one of our favorite pieces from the collection was the 'Golf' sweater ($398). It's pure cashmere, so it not only looks cool, it'll be one of the softer items of clothing in your closet. —Keely Levins
J. Lindeberg's techno-casual collection.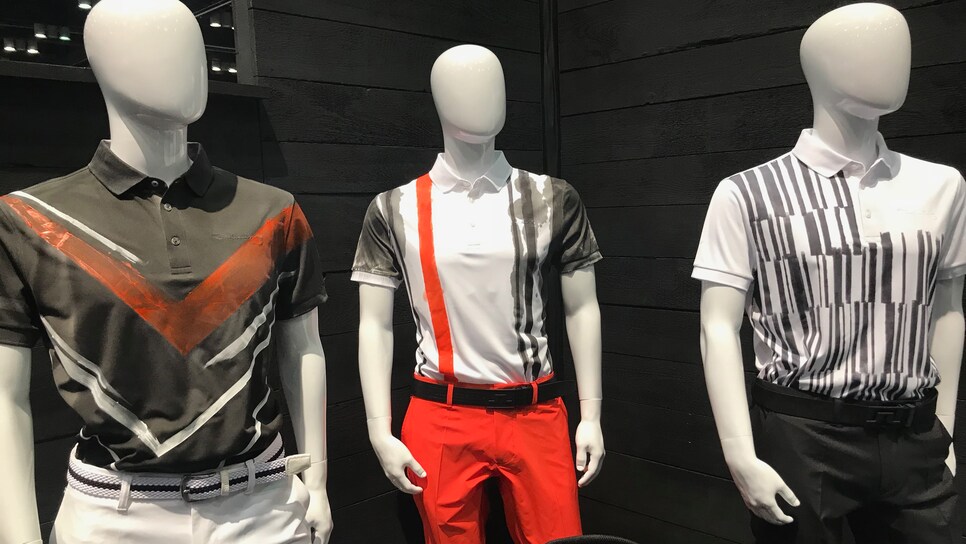 J.Lindeberg is all in on technical pieces that can be worn on and off the course. Calling it "techno-casual," the Swedish brand is careful to not sacrifice style or comfort when designing perormancewear. Most surprising is the cashmere Coolmax turtleneck sweater that the more style savvy can wear on the course, as it is breathable and moisture wicking. The 2018 collection also continues the brand's creative logo placement across sleeve panels and cuffs, collars and with mixed material. From the fall 2018 collection, the Ash Polo features a large JL logo across the back of the shirt integrated seamlessly into the material. —B.R.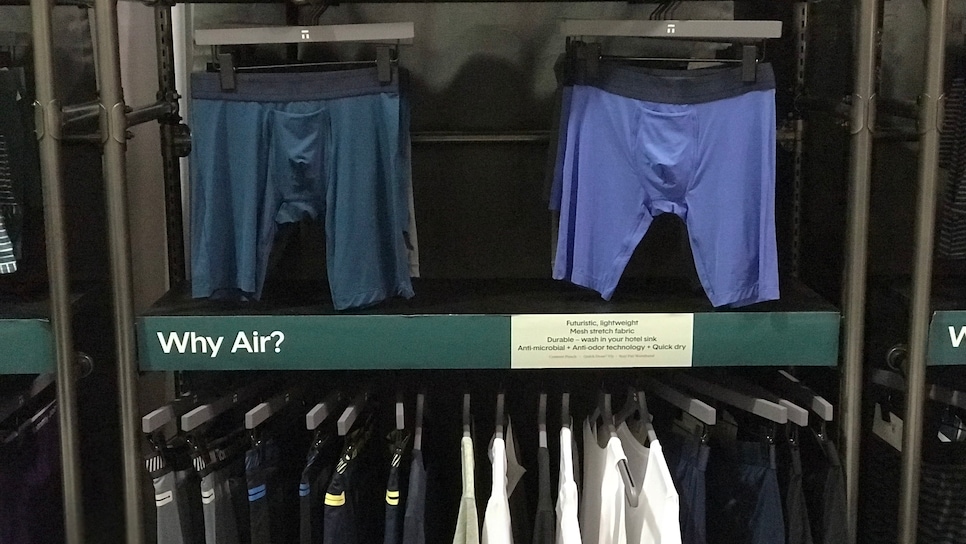 Listen, the last thing any of us want to think about when we tee it up is our underwear. That's why Tommy John has released its Air trunk ($45) and boxer brief ($48), which each weigh just two ounces. If you're wondering, that's about the weight of 84 feathers. Additionally, the Air underwear is antimicrobial, anti-odor and moisture wicking, and they hang dry in just two hours. —A.M.