The Loop
Confessions of the caddie who called in a penalty on Stacy Lewis, and almost cost her the No. 1 world ranking
Two weeks ago I was on a golf trip in Florida with a friend and her dad. After playing a few holes, it came to light that my caddie didn't just loop at the private club; he was also a Web.com and occasional PGA Tour caddie. I told him what I did for work, and we started telling golf stories, which eventually turned into a game of one-upmanship. When he told me that he was the TV viewer that called in the penalty on Stacy Lewis at the Founders Cup in Phoenix last March, I knew he'd won.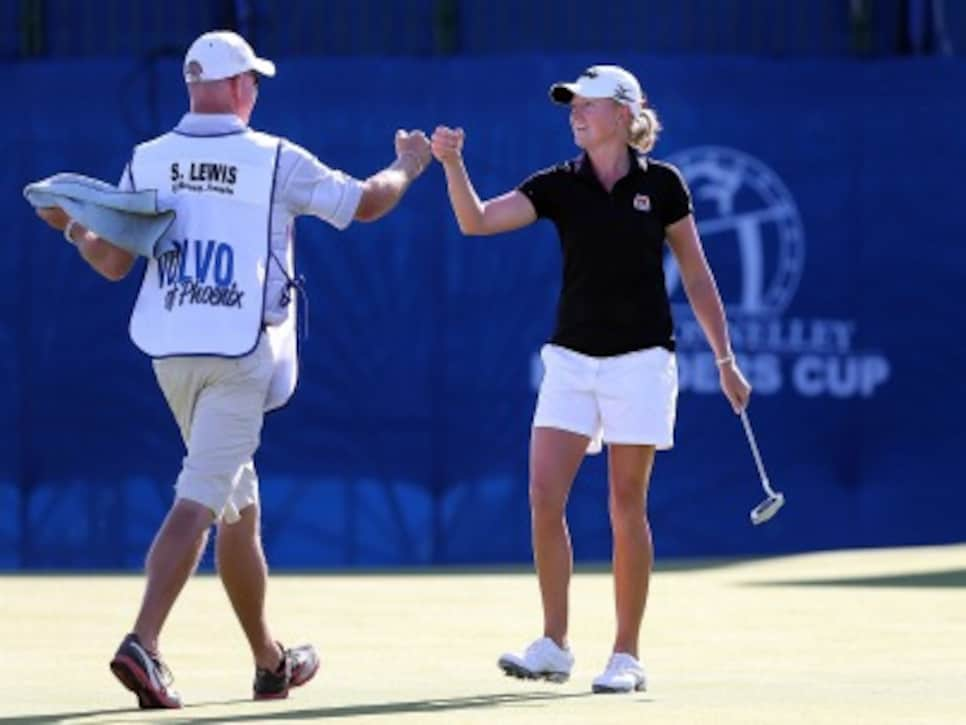 That day, my caddie (for this piece, we'll call him Ralphie) said he'd been out on the golf course in Florida, played a little poker when he came in, and was drinking a few beers with a friend while they watched the LPGA Founders Cup event on TV.
"I don't ever watch women's golf. I'll watch women's tennis . . .  But it was on, it was the third round, so we watched it. Stacy Lewis was in a bunker on 16, and she walked in first. She was asking her caddie, Travis, about the shot. When he walked in, I saw him do something with his foot, move it around, getting a feel for the surface."
As someone who's caddied for seven years on the Web.com and PGA Tours, Ralphie knew right away that what Travis did broke the rules.
"I said to my buddy that it was a penalty. He didn't believe me. He said I wouldn't call it in, so I did. I called the pro shop and this kid answered. He had no clue what was going on. So I called back and finally got a lady on the tournament committee. I told her there was a penalty, and she was freaking out. I explained to her what happened, and told her to go tell a rules official. Later on in the broadcast, they said an anonymous viewer had called in a rules infraction (Rule 13-4) and that Stacy Lewis had been penalized two strokes. I felt so bad. I still feel so bad now."
There were a few reasons why Ralphie felt guilty about calling in the infraction. First, he hadn't known that a win for Lewis in the Founders would mean the No. 1 ranking in the world.
"When's the last time an American woman was No. 1? What if she hadn't come back and won? That would have been partly on me."
Second, as a caddie, he knew how terrible Travis felt.
"That's the worst thing that can happen to a caddie. You never want to cost your player strokes. That's the last thing you want."
Finally, Ralphie hated the way that he called the penalty.
"I didn't have any emotion in it. I just knew it was a penalty. I don't have any connection to Stacy -- positive or negative. I guess I thought it would be kind of funny. It is a little funny that anyone can have an influence like that."
But what made the situation funny at the time made it pretty miserable after he made the call. It's easy to hide behind the anonymity of a phone call. I asked him if he'd been at the event and seen it happen in person, would he have found a rules official and reported it?
"Not a chance in the world. And I would never call in another rules infraction. I called the Golf Channel and talked to someone, saying that no one should be able to call things in. They wanted to talk to me more about it, but I didn't want to give my name."
How badly Ralphie felt about what he did was mirrored in the reactions he received from people he told. "I've never told anyone about what I did and received a good reaction. Nobody's like, 'Nice job, man.' I told some of the caddies I work with; I wasn't getting any high fives in the caddie shack. I think it's because people get that it wasn't my place to do that. Someone just hanging out in their apartment -- they could be the 50,000th best golfer in the world -- shouldn't be making calls that are going to affect the No. 1 golfer in the world."
Lewis went on to shoot an eight-under 64 in the final round to win by three shots, becoming the first American to take over the No. 1 spot in the world ranking since Cristie Kerr in October 2010.
Ralphie said that after Lewis won, she thanked the viewer that called in the penalty and said that it inspired her to play better. "That was the only bright side to the whole thing."